Bacardi Tour – More Info, Fewer Ads, Same 2 Free Drinks
Posted on Apr 9th, 2009 by
Gwenn
• Updated on Jan 6th, 2012
4/11 update: They are back to the original movie and they now require drink tickets for every drink (even children's sodas). But we still enjoyed the visit, tried a few new rum flavors and got a close up look at the new wind turbines.
Personally, we are Bacardi Gold drinkers. So we have a special place in our hearts for the Bacardi Rum Factory Tour or the Cathedral of Rum . We have been there many times — with guests and friends, to shop, and, sometimes, just to stop in for a free drink!
Recently (9/09), we stopped in and did the tour — and it had changed! The last couple of times we went, it was more of an infomercial for Bacardi — with videos that had sexy dancing girls, catchy music and little information. Now, it is more informative and educational.
The Tour
You still take the 1-minute trolley ride to the visitor center, where they tell you about Bacardi's signature bat symbol and the early years of rum making. I always find that part interesting. Then they show you a video — now educational, about how Bacardi is made and how it it differs from other rums. It is bi-lingual (actually, mostly English, with some Spanish and subtitles). It was mainly members of the Bacardi family talking about their family, Bacardi rum, and the history of the company.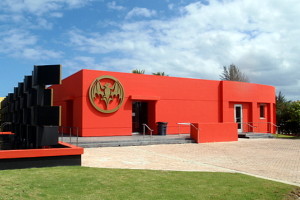 Personally, I kinda liked the other video better (it was more entertaining) — but this one is a bit less commercial and a bit more educational.
The rest of the tour is the same — you go trough the same room of old stills and historical things from Bacardi. You can go at your own pace and read each description. They also have videos of each step in the rum-making process that you can watch. And they have the sniffing barrels, so you can smell the differences in the rums. The fruit flavored ones smell so good! Then the "bar" where they show & tell you how to make some typical rum drinks. After the mixology lesson, you can send your friends back home a video postcard and tell them about all the fun things they're missing in Puerto Rico.
The Gift Shop & Free Drinks
Then it's back on the tram, where they whisk you around the outside of the actual factory and to the gift shop. The gift shop has been remodeled and is now smaller. Prices here are not great — you can find the rum for cheaper elsewhere. But it is one of the few places where you can buy Bacardi Reserva Limitada (Limited Reserve).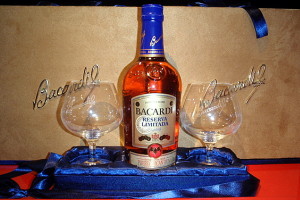 After the gift shop (or before your tour) it's on to the bar for free drinks. I find the pre-mixed drinks to be blah. If you get the bartender to mix you a drink, it is nice and strong! Try something different every time.
I think this tour is appropriate for all ages. Children will be fine, though maybe slightly bored. But they also get 2 free drink coupons, and since sodas and fruit drinks don't require a drink ticket, you can use their tickets! My niece and nephew (ages 8 and 10) thought themselves so cool walking up to the bartender and asking for their drinks. The bartenders actually made them some concoction with juices, soda and a cherry. And we got to use their tickets for a "real" drink!
There are also clean bathrooms and a small snack bar. Everything is handicapped accessible and air conditioned.
After all … It Is Free
Some people aren't impressed with the tour because you don't get to go into the actual factory and see any part of the actual rum-making process. I think, as long as you realize what you will be seeing and haven't spent a lot of money to do this tour, it is quite enjoyable. And you get at least 2 free rum drinks. How bad can a free tour be?
Bacardi does not charge for the tour – it's free! However, if you go with a tour operator, it will cost you anywhere from $25 – $40 per person. That is a rip and the tour isn't worth that much. But, if you do this tour on disembarkation, you get this tour and then a ride to the airport with them taking care of your luggage, then it works out to be a nice way to spend a few hours before your flight.
The tours are available 7 days/week — Mon – Sat from 9 am – 6:00pm (last tour @ 4:30pm) and Sun 10am – 5pm (last tour @ 3:45pm). Open 357 days a year- closed only 3 Kings Day (1/6), Good Friday, Easter Sunday, Mother's Day, Father's Day, Thanksgiving, Christmas Day and New Years Day
Don't forget to tip your bartender. Though they "technically" can't accept tips, if you throw a buck or two their way, they will appreciate it! I bet they show you some love in return.
Allow 2 – 3 hours.
phone: 787-788-8400
website: www.casabacardi.org
Directions from San Juan – By car, get out of San Juan, go on Rt 18 until Highway 22 W, get off at the exit for Catano / Road 165. There is a little brown Bacardi sign. Take Road 165 until km 2.6 – follow the brown Bacardi signs. The Bacardi factory is visible on the right side just before the exit. You can also turn right at the light at Int 888 (it is in an industrial park area). And as always, don't drink and drive.
From Old San Juan – Take the ferry from Pier 2 to Catano, for $0.50 pp, each way. When you arrive in Catano, go to the right for a taxi to the factory for about $3.00 pp each way.
Use this map to locate places mentioned in this article. You can click on a placemark to view the GPS coordinates for that place.