Balneario Punta Santiago: A Neglected Beach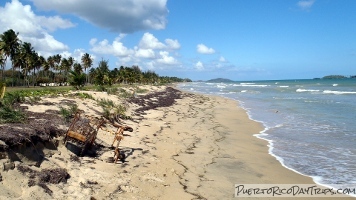 Parque Nacional Balneario Punta Santiago is a government-run beach in Humacao that is advertised as offering facilites and the things that one needs for a nice day at the a beach — like life guards, bathrooms, and food kiosks.
Do not be fooled. The balneario has been abandoned by the government. It is in disrepair and in need of serious maintenance. It is a real shame.
Years ago, we would go to this beach during the "winter months" and it was open. It was almost always empty. It was windy and it had some decent surf, so the kids used boogy boards in the waves.
We always enjoyed our time at this beach. It is in a nice location, because often, when the surf was too rough at the beach on the north coast, this eastern beach was calmer. And it also has a great view to Cayo Santiago (aka Monkey Island).
The Difference a couple Years Can make
Over the last few years, something has changed at this balneario. The sign on the gate still says it is open. The web site of the Compañia de Parques Nacionales still says it is open. Various other web sites still say the balneario is open. We've called the Compañia de Parques Nacionales to ask about this balneario, and they assured us that it was still open, staffed, and not in disrepair.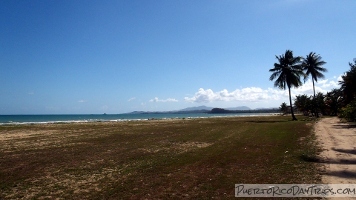 In reality, this balneario is not open. We have stopped by a few times over the last few years wanting to go and the gates have been closed every time. We finally just parked outside the gate and walked in through one of the many holes in the fencing.
What we found was a disgrace. The sand was over grown with grass and sand burrs. The tiny, sandy beach area that is left (really just at the high tide line) was trashy. The buildings were vacant. There were no facilities available.
The day we were there, the water had some under currents. Without lifeguards, you really have to be careful about entering the water here.
It's Not all bad
On a positive note, the children's water park (called Parque Acuático Infantil Punta Santiago) is open in the summer months. So, in the summer, the gate is open and you can enter. This water park is mainly for little kids (12 years and under).
The Centros Vacacionales de Humacao Villas (which are local vacation rentals, where you supply everything, including sheets, towels, dishes, cooking utensils, etc.) are also still open. The beach near the rentals was a little bit better, but still not very nice.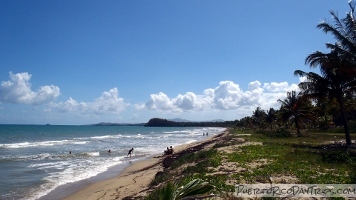 It is possible that, someday they will fix the beach up and reopen it. If they ever do, I will update this article.
But, as of now, my suggestion is that you don't bother with the balneario nor beach here.
If you want to go to a local beach on the eastern shore, head north on Route 3 just a little bit to Playa Punta Santiago. This is a public beach, with no facilities nor lifeguards, but it is a nice beach. There is an open area along the road, where you can pull your car in under the coconut trees to park, and then enjoy the views and a small sandy beach area. This beach is very popular with locals, so don't even think you will have privacy and/or quiet!
If you want peacefulness, head a little farther south and you will find long, sandy beach that runs south from the Punta Santiago boat/fishing pier all the way to the Humacao Nature Reserve. This area is quiet and tranquil. But there are no facilities nor lifeguards here either, so enjoy at your own risk.
Quick Update: The Way It Was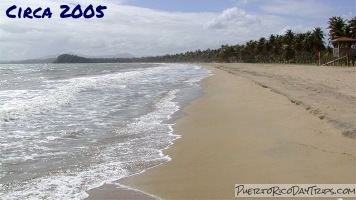 Shortly after we published this article, our friends over at Villa Sevilla sent us this photo taken at Balneario Punta Santiago back in 2005.
This photo was taken from a spot on the beach a just little bit north of where we took the photo we used above. If you compare the two, you can really see how much the quality of the beach has deteriorated in just 6 or so years.
Balneario Punta Santiago is on Route 3 at KM 72.4.
Use this map to locate places mentioned in this article. You can click on a placemark to view the GPS coordinates for that place.
PuertoRicoDayTrips.com assumes no responsibility regarding your safety when participating in the activities described in this article. Please use common sense! If your mother or that little voice in your head tells you that you are about to do something stupid … then don't do it!