Watch Bizarre Foods with Andrew Zimmern in Puerto Rico
Posted on Jun 7th, 2009 by
Ray
• Updated on Jun 18th, 2010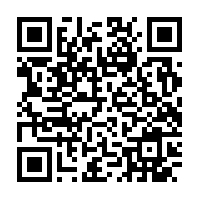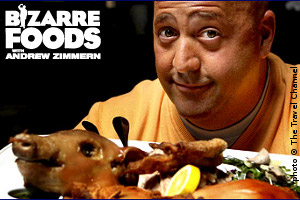 Andrew Zimmern and the Travel Channel's Bizarre Foods crew was in Puerto Rico recently to film an episode that will be airing on Tuesday, June 9, 2009.
On this episode, Andrew takes a tour of Puerto Rico where the flavors of the food tell the history of the island. From the deep-fried treats brought in by Africans, to the roasted pork made popular by the Spanish, Andrew tries a variety of traditional foods.
Andrew's culinary tour kicks off with stops not usually seen by the average tourist. First is a local bakery in Old San Juan where he tries Mallorcas (a Spanish pastry) and Cocas (similar to pizza, but with vegetables and sardines). Next, he visits Plaza del Mercado de Rio Piedras to find some unique local products including: Algarobba, Mavi (a drink made from sugar and tree bark), Corazon, and Caimitos (a star shaped pulpy fruit).
What would a trip to Puerto Rico be without pork? On Sundays, Puerto Rican families like to pile into the car and take a trip up into the mountains to the town of Guavate, where they pig out on roasted pork. There are a dozen of lechonaras that serve pork along the so called "Pork Highway", but the original is El Rancho Original. In Andrew's own words, "That little bite that I had there is the best pork I've ever eaten in my life!".
Where Did Andrew Eat in Puerto Rico?
the kiosks in Piñones
La Bombanera on Calle San Francisco in Old San Juan
El Rancho Original in Guavate
El Nuevo Guayabo in Arecibo, RT 681, Ceti only available Fri- Sun. Tel # 787-879-5172.
Pikayo Restaurant on de Diego Avenue in San Juan
a private family residence for a real home-cooked meal
He also took a Segway Tour in Old San Juan and took a tour in the Toro Negro Forest
So remember to tune in to the Travel Channel at 10pm eastern/pacific on Tuesday, June 9 and have a pen and paper ready to jot down some notes to help you find your own bizarre food during your visit to the island!
A special Thank You goes out to the Travel Channel's online community team for contacting us and providing us with the episode description and trailer for use in this post.
You can locate the lechonaras in Guavate on our Interactive Island Map