Take a Cheese-making Workshop in Old San Juan
7/1/2018 Post Maria- Casa Lila was severely damaged by Hurricane Maria. They are reconstructing, so currently, not they are not making cheese.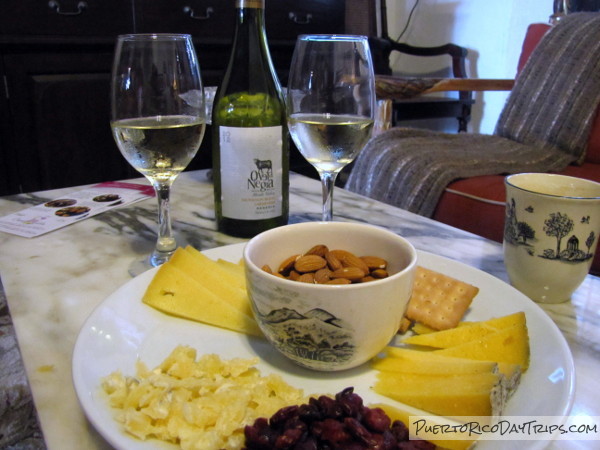 Beaches and rain forests are usually at the top of most people's to-do list when they plan a trip to Puerto Rico. For something a little different, you can add a cheese-making workshop to that list.
I was always impressed when people would mention that they make their own cheese at home … it sounds artsy and complicated. But after taking a short cheese-making workshop at Casa Lila in Old an Juan, I now know that, with a little knowledge and some simple supplies, anyone anywhere can make their own hand-crafted artisan cheese at home.
During this 2-hour workshop, we had made some delicious soft cheese, and we were armed with confidence, ideas, and recipes for making some other cheeses on our own at home.
Rosa Avalo Franceschi (aka "Lila") invites you into her beautifully restored 300 year old home (Casa Lila) in Old San Juan, and shares her knowledge and love of cheese making with guests. Lila grew up in the Puerto Rican countryside, where she and her family made white cheese (queso blanco) at home with extra milk from their dairy farm.
Several years ago, Lila and a friend started Quesos Vaca Negra cheese company, making aged cheeses from local Puerto Rican milk. Now, Lila has decided to share her cheese-making knowledge with tourists and locals alike, by offering short but interesting "crash courses" on how to make cheese at home.
Our Hands-on Lesson
We had met Lila previously, when we did the Quesos Vaca Negra cheese workshop in Hatillo. While their cheese is excellent, it is a larger scale production using ingredients and methods (like aging) that the average person can't easily replicate. And, Hatillo is a bit out of the way for most people visiting the San Juan area. When Lila contacted us and said she has a cheese-making course for home users, I was interested. And, since it is in Old San Juan, it is easy to get to.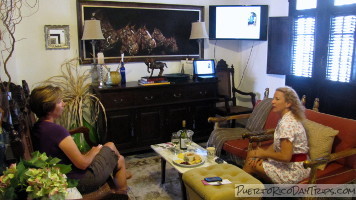 Lila welcomes you into the kitchen of her beautifully restored home. Here, she has the milk already warming and has added the coagulant. While that works, you sit in her living room where she gives a presentation about the origin of cheese and the different types of cheeses from around the world. I learned lots of new stuff that I never knew!
While you are learning, there are samples of the local Vaca Negra cheese with wine to try. During her presentation, you learn how cheese is made, and the differences between making cheese at home and large scale cheese-production.
We would be making a soft cheese (not aged), namely the Puerto Rican white cheese (queso blanco).
After the presentation, the "hands-on" part starts. The first thing we do is we cut the curds to separate the solids from the whey. Next, we have to drain off the whey, collect all the curds into a strainer, and let the whey drain out.
While it was draining (about 10-15 minutes), she took us on a tour of her beautiful home. The view from the bedroom and the upstairs deck is amazing.
Next is when the artistic part happens. We put our warm blob of curds into a bowl, and we had to what flavor cheese we wanted to make. She had all sorts of flavors — including local fruits.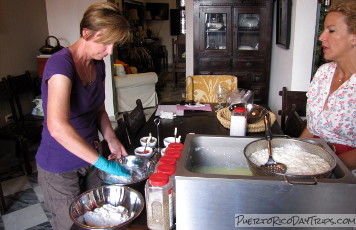 We made a sweet ginger and honey cheese, and another one with garlic and onion. Lila told us how to mix the curd blob — depending on how you squish/mix it, different types of cheeses will form. The cheese was then put into the cooler for a few minutes to thicken a little, and then it was ready for us to take home. If refrigerated, it would remain good for about 2 weeks. But we ate it pretty quickly over the next couple of days!
Lila gave us a couple pages of different recipes that require only a few kitchen tools and simple, everyday ingredients. She also gave us a worksheet to record future cheese-making endeavors (and results).
I have to proudly say that my cheese was really delicious! And now I can say how I make my own cheese at home. I sound so artsy!
Normally, when we review an activity that is not free to the public, we pay the admission price out of our own pockets. However, we just want you to know that the folks at Casa Lila were kind enough to offer us this workshop for free. While we don't feel that this free ride influenced our review one way or the other, we felt that we should tell you, just as a matter of fact.

Details
Cost of the 2-hour workshop described above is $50 per person.
Cheese-making workshops for tourists (English language) are available during the week. Days and times can vary depending on demand. Will work around cruise ship schedules. Spanish language workshops are available at other times, depending on demand.
Lila also offers a cheese-making workshop for locals called Locales Locos por el Queso, usually on the last Friday evening of every month. This class for Spanish-speaking locals. This is something the whole family can do together. Workshops can also be geared toward children, if needed. Check her Facebook page or website for info.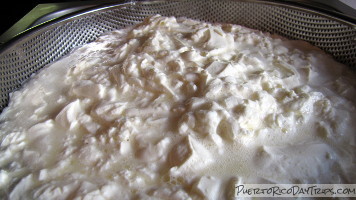 The workshop that we described above lasts about 2 hours.
You can call Casa Lila at 787-237-1671 or email to rosa@casalilapr.com for more information.
You can visit the Casa Lila web site for more information.
Casa Lila is also available for vacation rental, parties, weddings, and private meetings.
Casa Lila is located at 422 Calle Norzagaray (the lilac purple building next to the corner) oceanfront, across the street from the ramp at Fort San Cristobal.
Use this map to locate places mentioned in this article. You can click on a placemark to view the GPS coordinates for that place.
PuertoRicoDayTrips.com assumes no responsibility regarding your safety when participating in the activities described in this article. Please use common sense! If your mother or that little voice in your head tells you that you are about to do something stupid … then don't do it!