Finger-lickin' Good Food at the Smokin' Hot BBQ Competition
The next Smokin' Hot BBQ Competition will be 18-19 February 2017 at Coco Beach in Rio Grande.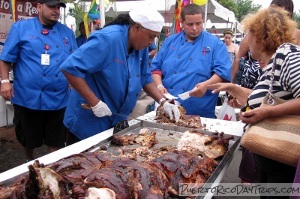 Barbeque … The word alone makes your mouth start watering for some smokey delicious meats. For me, the word conjures up the mental picture of family and friends, standing around the grill, drinks in hands, cooking and enjoying a sunny day. And barbeque can have that same meaning in Puerto Rico and across all of the Caribbean islands and beyond.
The funny thing is that every griller thinks they do it best and that they deserve the title of Master of the Grill!
The Smokin' HOt BBQ Competition has been held every year since 2008 to settle the debate about who is the best Pit Master. Luckily for us, they offer samples to everyone! So grab a bib and mark you calendars for February 18-19, 2017.
New Venue this year! The venue for this competition is the paved and grassy areas at CocoBeach Beach Club in Rio Grande, so it's kinda like one big, backyard party. It's a 2-day, weekend competition.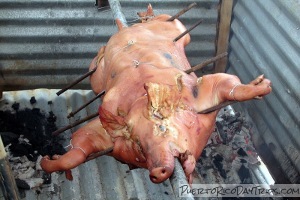 On Saturday, they have Grilling contests day including "Build A Better Burger Challenge", "Grilled Wings of Fame", "Grilld Pork Chop" and "Grilled Steak". A number of competing teams use traditional or modern roasting techniques, and their own secret seasoning recipes.
Sunday's competition is a KCBS sanctioned BBQ.On Sunday, they have Professional Chef's Invitational Challenge featuring Grand Champions categories of beef brisket, pork ribs, pork shoulder, and poultry.
On both days, there are samples of meats, drinks, and lots of other goodies. They also have live music, cooking demonstrations, Chef Challenge competitions, hot wings eating contests, items for sale, and things to keep the kids occupied, like a video arcade, play area, and more.
We went on the Saturday afternoon and enjoyed it! That year, lechón was the primary thing that we sampled, but there were also burgers, hot dogs, chicken, steak, and side dishes given out as samples. Even though these were only samples, there were a lot of them, so we were stuffed by the end of the day!
We got there just after it opened, and it was not that crowded. Though it got more crowded as the day wore on. It was an overcast day, with threatening-looking rain clouds, so maybe that kept some people away.
Pointers & Details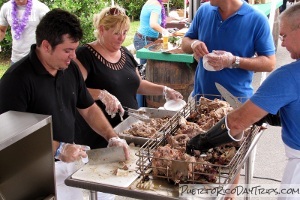 This is an outdoor event, with only a little shade. Wear a hat, sunscreen, casual clothes, and comfortable shoes.
Try to be hands-free. There are few tables and chairs available, and you will need 2 hands to eat and drink while standing. Trying to juggle a handbag and camera while trying to eat is makes for a challenging day.
There were a number of hand-washing stations available, so you can wash your greasy hands between sampling stations. The restrooms were porta-potties, and there were a number of those, too.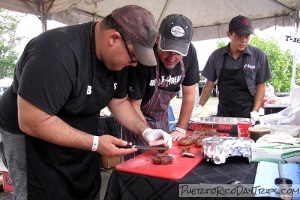 Admission fee is $20/day, and $10 for kids (6-10), kids under 6 are free. The fee includes samples (while they last). Some of the booths gave unlimited samples, while others limited it to one sample/person. Drinks of all types were available for purchase. Parking is $5.
Saturday 2 pm – 8pm, Sunday 12noon – 7pm. Samples are available usually about 1 hour after doors open.
You can visit the Caribbean BBQ Association web site or their Facebook Page for more information or if your BBQ team wants to be part of the competition next year.
Use this map to locate places mentioned in this article. You can click on a placemark to view the GPS coordinates for that place.
PuertoRicoDayTrips.com assumes no responsibility regarding your safety when participating in the activities described in this article. Please use common sense! If your mother or that little voice in your head tells you that you are about to do something stupid … then don't do it!