Farmers' Markets: A Growing Trend
Back in the day, each town in Puerto Rico had a Plaza del Mercado (market), which was a building near the center of town local residents could buy fresh produce from a bunch of different sellers. But, today, with fully-stocked supermarkets all over the island, these local markets are becoming a thing of the past.
But recently — with renewed interest in buying fresh, local, and (when available) organic food — local farmers markets are starting up all around Puerto Rico. You may still find that some of the towns have a mercado near the plaza with produce available every day, the current trend is an open-air market, usually just once a week or twice a month, where local farmers, other small growers, and artisans come together to sell their goods.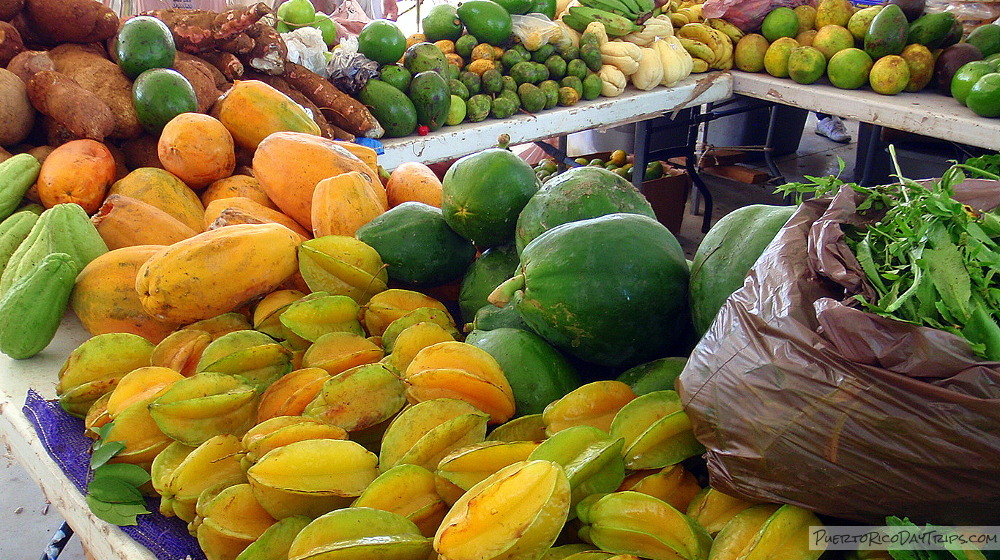 If you are looking to buy fresh, locally grown or made items, then a Farmers' Market is for you. These markets are where you will find some really unusual and wonderful stuff. And it is not just for health nuts. Buying fresh and local is a win-win for everyone — you get fresh food or some local products and handicrafts, and you help support the local economy. The money you spend stays here, helping the locals.
Buying at the larger local mercado buildings in town (like Río Piedras, Placita in Santurce or the Caguas mercado) helps the local economy, as they are locally owned and operated. But the inventory is not always from local farms, as they may have to go an importer to have enough goods on any given day.
So trying these smaller, pop-up farmers' markets really increases your odds of meeting the grower, and getting fresh locally grown (or made) stuff. Either way, make sure to get there early as the supply is limited.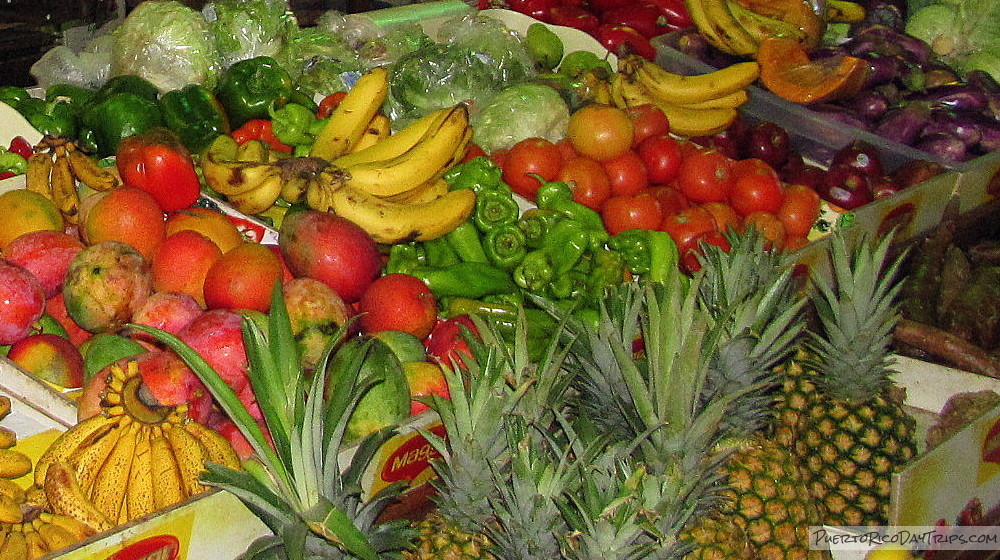 A List of Farmers' Markets
Here is a list of the markets I have compiled. If your favorite market is not mentioned here, please leave a comment below, and let me know about it!
Old San Juan
Organic Market — Every Saturday 8am – 1pm
Calle Norzagaray #150, in the Museo de San Juan more info
San Juan Metro Area
Farmers' Market at Plaza — Thursday to Sunday
Plaza las Americas Mall, on the third level across from the JC Penney entrance
Rio Piedras Market — Open daily 9am – 6pm (closes earlier on Sundays) more info
La Placita — Open daily 9am – 6pm (closes earlier on Sundays) more info
Mercado Urbano — first Sunday of the month (weather permitting) 10am – 5pm
Ventana al Mar on Ashford Avenue in Condado more info
Cooperativa Organica Madre Tierra — first, third & fifth Sundays 8:30am – 1:30pm
In the Town Plaza on Roosevelt Ave in Hato Rey more info and on Facebook
Organic Market On Calle Loiza — Second Sunday every month 10am – 2pm
1706 Calle Loiza, In Kamoli Kafe's parking lot, corner of Calle Loiza and Taft more info on Facebook
El Departmento de la Comida — Market open W-Sun 10am -6pm. They also have a restaurant that is open later.
2413 Calle Laurel, Punta las Marías, SJ more info on Facebook
East of San Juan
Luquillo Farmers' Market — second and fourth Saturday of the month 8am – 1pm
Centro de Arte and Cultura Route 3 KM 38.4 in Luquillo more info
Carolina Farmers' Market — Fridays 9am – 3pm and Sundays 8am – 2pm
Calle Dr Barbosa, on corner Bernardo García
Vieques Farmers' Market — in the morning on Tuesday, Wednesday & Friday
On the corner of Road 201 and 200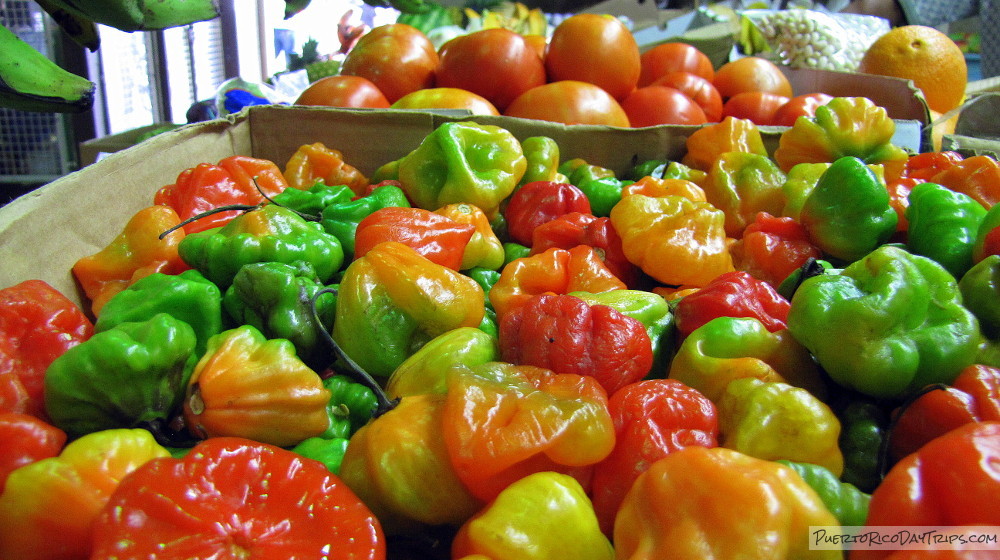 West of San Juan
San Sebastian Farmers' Market — Fridays starting at 7am
Route 111 KM 18.5 in San Sebastian more info
Mercado Agro-Ecocological — Sundays from 8am – 2pm
Town Plaza in Rincon more info
Mercado Urbano — third Sunday of the month, starting at 12noon Plaza Recreo in Arecibo
Aguadilla Farmers Market — Saturdays from 8am – 12noon
In the parking lot of One Ten Thai restaurant on Route 110 KM 32.2 in Aguadilla more info
South of San Juan
Farmers' Market La Placita — Fridays, Saturdays & Sundays
Plaza del Caribe Mall in Ponce, on the second level in front of Sears more info
Mercado Agricola Natural de Ponce — Saturdays (starting 12 March 2016) 10am – 3pm
Calle Auroa 34, in Ponce (near the Museo de Masacre) more info on Facebook
Mercado Ecológico de Ponce — second & fourth Sunday of the month
On the Lands of la Secretaría de Deportes, Ave Las Américas at Corner of 2R in Ponce
Mercado Agrícola Verdes Sombras — second Saturday of the month from 9am – 2pm
Parque Verdes Sombras on Los Verteranos Ave at UPR campus in Cayey more info on Facebook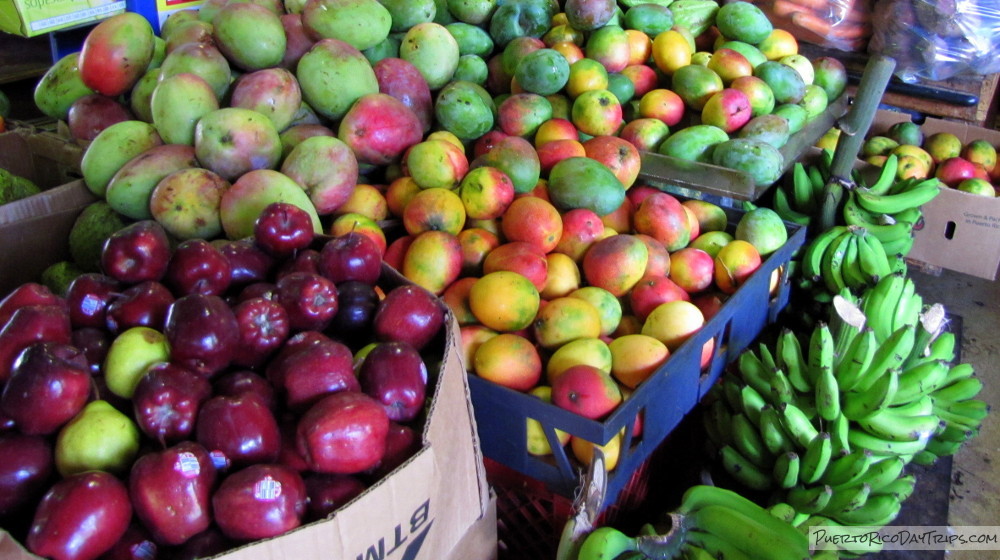 Town Plazas del Mercado
Here is a list of town plazas del mercado. These are typically open daily.
Plaza Del Mercado in Caguas — Ave Rafael Cordero, corner Route 189
Plaza del Mercado in Mayagüez — Calle Pablo Casals, corner Muñoz Rivera
Plaza del Mercado in San German — Calle Luis Muñoz Marín
Plaza del Mercado in Aguada — Calle Muñoz Rivera
Plaza del Mercado in Cabo Rojo — #12 Calle Carbonell
Plaza del Mercado in Jayuya — Carretera #92, Calle Guillermo Esteves
Plaza del Mercado Ismael Vega in Jayuya — Calle Figuras (in front of Universidad Metropolitana)
Plaza del Mercado Isabel II in Ponce — Town Plaza in Ponce
Plaza del Mercado in Bayamon — Ave #167 Intersección #2 Near University MET
Plaza del Mercado in Luquillo — Calle Efrain Corsino
Plaza del Mercado in Manatí — Town Plaza in Manatí
Use this map to locate places mentioned in this article. You can click on a placemark to view the GPS coordinates for that place.
PuertoRicoDayTrips.com assumes no responsibility regarding your safety when participating in the activities described in this article. Please use common sense! If your mother or that little voice in your head tells you that you are about to do something stupid … then don't do it!