Prepare Local Cuisine at a Cooking Class
Posted on Jan 29th, 2012 by
Gwenn
• Updated on Jan 21st, 2013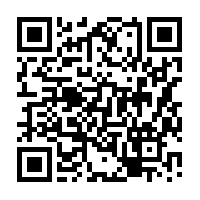 This class has been revamped and updated…now with more hands on actual food prep. We will be reviewing the new tour and writing it up soon.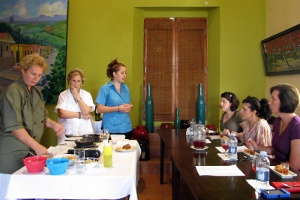 While some people can just wing-it and teach themselves new recipes, most people learned to cook while they were growing up by being there and watching someone (usually a parent or grandparent) at home in their kitchen. Getting to see, smell and taste it while it is being made really helps you learn.
I have to say that I was always surprised that there were not any cooking classes offered for tourists here in Puerto Rico. But now there is! Flavors of San Juan has an intimate cooking class experience, where you can learn how to make all sorts of delicious dishes.
What is it?
Flavors of San Juan now offers "Interactive Cooking Classes" in Old San Juan. Prior to your class, you choose the menu you would like to make (Puerto Rican, Spanish, or Spanish Tapas), and the restaurant chef not only gives you their recipes, but they make the dishes in front of your eyes. You are just feet away, so you can see the prep, smell the food cooking, ask questions, and then you get to taste it hot from the pans.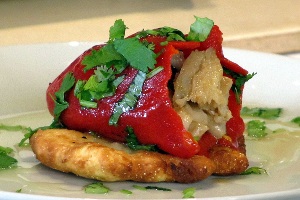 I think this is a great concept.
Local Puerto Rican food isn't hard to make, but it uses different seasonings and vegetables than many people are used to. On top of that, local cookbooks are mostly in Spanish. Those two things make it difficult for people to learn how to make Puerto Rican food on their own.
This intimate class really helps the budding international chef get started.
Our Cooking Class
When you book your class, they'll tell you when and where to meet for the class. This is not a walking tour, you just meet at the restaurant in Old San Juan and get started on the class.
There were four of us in the class, and Spanish Tapas were on the menu. Since there were just a few of us, everyone was able to see and smell the cooking process, and interact with the chef while she cooked.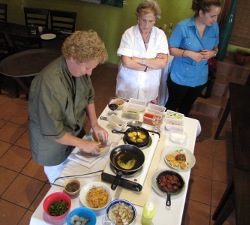 The chef for our class was from Spain, so she spoke only Spanish. There were a few interpreters for the class, who also were cooks, so they added some of their own ideas and comments.
It was all very personal and pleasant. They provided us with written recipes, so we were able to follow along with what they were doing. Having the recipes to bring home was really nice, so now we can try some of these dishes on our own.
Here's a tip: Bring a pen to clarify and/or add notes to the recipes they give you.
I really enjoyed this class. The food was outstanding, and, as it turned out, really easy to make. Even I think I can do it (and I am a terrible cook!).
It was more of a cooking demonstration, not a hands-on class. But it was so personal, that I didn't feel I needed to stir the pot to understand how to make the dish.
We only took this class last week, but they have already made some changes! Though it's still mostly a cooking demonstration, they do ask for volunteers to help the chef with measuring, mixing, etc. So you can have it either way: roll-up your sleeves, or sit back and take notes.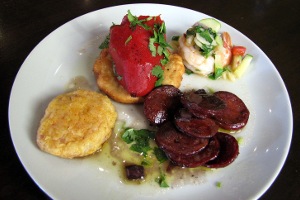 As I mentioned, the menu for our class was Spanish Tapas. We made a big pitcher of sangria, and 5 different tapas. There was a little bit of Puerto Rican fusion in this menu — we also made mofongo and coconut arepas as a base for the more typical Spanish tapas.
In addition to Spanish tapas, you can choose from Puerto Rican or Spanish (paella!) menus for your class. The way it works is that the first party to book a particular class gets to choose the menu for that class. Anyone else who signs up for that particular class will be getting the same menu.
The class lasts about 2 hours, and you get a decent amount of food to eat. Classes start at 10am, so the food made a perfect light lunch for us!
Our class took place at AireNumo at the corner of Calles Luna and Tanca in Old San Juan. The food was outstanding. Even if you don't want to take a class, make a point to stop by this restaurant. You will really enjoy the food!
There is another tour company that is now offering cooking classes in San Juan called "Get Shopped". They have a "Mofongo and Mojito Tour" which offers a part cooking class with a part shopping time in Old San Juan. See the Get Shopped web site for more information.
Normally, when we review an activity that is not free to the public, we pay the admission price out of our own pockets. However, we just want you to know that the folks at Flavors of San Juan were kind enough to offer us this class for free. While we don't feel that this free ride influenced our review one way or the other, we felt that we should tell you, just as a matter of fact.


Details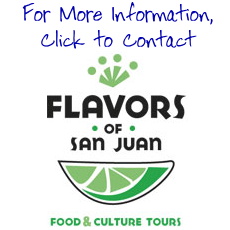 The cost of this cooking class is $115 per person.
Tours are usually offered daily at 10am. Tour times and frequency may vary by season.
Minimum age to participate in this class is 10 years old. They will get a non-alcoholic beverage.
Contact them if you have any food allergies, or requests (vegan, etc.), as they may be able to alter the menu to accommodate you.
Restaurant and menu may vary. Menu may vary depending on availability or seasonality of ingredients. Other dishes may be substituted without prior notice.
This class lasts for 2+ hours.
You can call 787-964-2447 for more information or to make a reservation.
You can visit the Flavors of San Juan web site for more information.
The restaurants for these classes will be in Old San Juan.
Private classes are available and transportation can be arranged at additional cost.
Use this map to locate places mentioned in this article. You can click on a placemark to view the GPS coordinates for that place.