Flavors of San Juan Premium PR Rum Tasting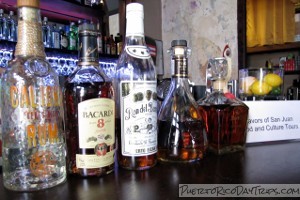 Rum is the fifth highest selling spirit category in the world, and it is even more popular in the Caribbean. It is the liquor of Puerto Rico, where a number of different rum brands are produced.
Most people know rum as the liquor used in many of the delicious cocktails, like Piña Colada or rum and Coke, but rum can be so much more than that. There are many blended and aged rums that are smooth, rich and flavorful enough to be sipped straight like a cognac or aged scotch.
Puerto Rico has a number of top-shelf, fine, aged rums. So how do you know if you should pay a premium price for these liquors? You taste them first! Flavors of San Juan offers a tasting tour that incorporates Puerto Rico's premium rums. The tour is not only delicious, but it will also educate you in what to look for in a premium rum.
Premium rum differs from regular mixing rums by a number of factors, most notably the time spent aging in the barrels. But the origin of the aging barrels, the distillation process used, the climate during aging, and the blending of rums all combine to produce premium rums that are usually darker in color, richer in scent and flavor, and smoother than non-aged mixing rums. The premium rums of Puerto Rico also differ from other countries' rums due to careful quality standards imposed by law on all Puerto Rico rum producers.
Our Tasting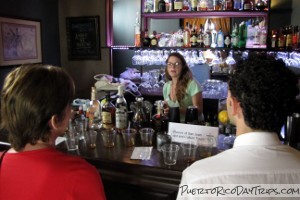 We met our guide, Mikol, at the bar in Old San Juan, along with the one other "taster" on our tour that day. Our glasses of rum were all ready for us, lined up with the bottles of premium Puerto Rican rums.
Mikol started with a brief history of rum, from the origin of sugar cane, through many of rum's original blends, up to the rums we have today. Then she explained how the strict standards set by the governing board help to differentiate Puerto Rican rums from other rums produced elsewhere. That was all really interesting, but next came the best part — the rum tasting!
We were sampling 5 types of aged Puerto Rican rum: Caliche, a clear, aged rum, and then 4 types of gold aged rums — Bacardi 8, Ron de Barrlito 3-star, Trigo, and Don Q Gran Anejo.
She started telling us some of the "how-to's" of tasting rums … what we were looking for and might expect to find. From the swirl and visual test, to the sniffing and then the slow sipping. They provide a note pad for writing your impressions of the different rums.
As we tried each type, Mikol told us a little about the company, the barrels used and their distilling process. Each rum was totally different in almost every aspect. It was pretty interesting to experience it like that — taking the time to compare them. It was also interesting to hear each person on the tour describe what they smelled, felt, tasted, and their overall impression of each rum. Everyone had different feelings and favorites.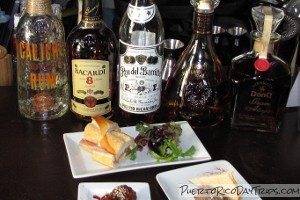 I didn't finish all my rum in the first sipping round — so after I finished sampling all 5, I went back and compared. I found it really interesting to compare my first impressions of the rums to this second go round. Rums I thought I liked or were mellow, were less mellow after having tasted more aged rums! I think appreciation of quality comes from tasting and comparing, so this tour gives you the experience you need to really know quality rums.
Afterwards, we each had a yummy tapas/appetizers to snack on while we relaxed and talked a little bit more about the rums, where to buy them, and the general prices of each of the products.
They've changed this tour a little since we took it. Now, they sample 4 top shelf Puerto Rican rums.
Normally, when we review an activity that is not free to the public, we pay the admission price out of our own pockets. However, we just want you to know that the folks at Flavors of San Juan were kind enough to offer us this tasting for free. While we don't feel that this free ride influenced our review one way or the other, we felt that we should tell you, just as a matter of fact.

details
The price of this rum tasting is $39.99 per person. Participants must be 18 years or older.
This tasting tour is offered Tuesday 2:30pm, Thursday 9pm, Fraiday 2:30pm all at LOCAL TIME *not* ship time Reservations are required.
The tasting tour is scheduled as a 1-hour tour.
You can call Flavors of San Juan at (787) 964-2447 for more information.
You can visit the Flavors of San Juan web site for more information or to make a reservation.
These tasting are held in Old San Juan. They may use different bars. You will be told the location when you book your tour.
PuertoRicoDayTrips.com assumes no responsibility regarding your safety when participating in the activities described in this article. Please use common sense! If your mother or that little voice in your head tells you that you are about to do something stupid … then don't do it!