Take the Controls on an Ultralight First Flight Training Lesson
Posted on Nov 6th, 2011 by
Gwenn
• Updated on Apr 25th, 2013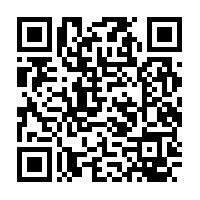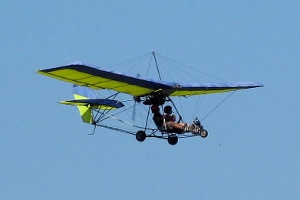 As many of you already know, we love the beauty of the north coast and we also like adventure. So when we found out you take a flight an ultralight plane over the north coast, we had to do it.
Fly 4 Fun in Arecibo offers "First Flight Training Lessons" in a totally open, ultralight plane. The idea of the training flight is to give you an idea of what it's like to be an ultralight pilot.
But even if you are just along for the ride and the views, it is an amazing experience. While I never really thought about flying a plane before, all I can say is OMG! This was really thrilling and beautiful (just look at some of these pictures)!
Ariel Acevedo is a sports pilot, and is also a certified ultralight instructor. He owns and operates Fly 4 Fun as a school for people interested in becoming ultralight pilots.
He offers "First Flight Training Lessons", which are short, 20-minute flights. During these flights, he explains some of the basics of the plane and how to fly it. He is lucky enough to be located right near the most beautiful coastline — so you get great views during the trip. According to FAA regulations, Ariel cannot, and does not, say this is a great sightseeing tour … but believe me … it is!
Our Trip
I waited until the night before to book our flights, so I could check the most recent weather report. Weather is an issue, if it is too windy or raining, they can't do the flights. Lucky for us, we had a beautiful day.
When we got to the tiny Antonio (Nery) Juarbe Pol Airport in Arecibo, had to sign-in at the desk, then we went out onto the tarmac to meet Ariel. Note that there are restrooms and vending machines in the main part of the airport … take advantage of these.
The morning we went, there were 2 other "test pilots" that arrived before us, so we watched as they went on their flights.
The ultralight Ariel uses looks like a go-cart with wings … but no windshield, no doors, and no floor. It has 2 seats — one for Ariel and one for you. You buckle into your seat, don your helmet (which has a communication system) and off you go!
Ariel explains what each lever and pedal does, then you taxi down to the end of the runway, turn around, and he starts picking up speed on the runway. Once you hit 40mph, he pulls back, and you start lifting off the ground and you're up!
Once you're airborne, Ariel reviews the instructions on how to use the controls, and then lets you take over flying the ultralight (if you want to). Of course, this is a training plane and it has dual controls, so he can take control quickly, should the need arise! It was easy and a really neat feeling — I can fly!
If you really decide that being the pilot is not for you, Ariel will take control and you can just enjoy the ride (and have 2 hands available for taking photos/videos!).
My Observations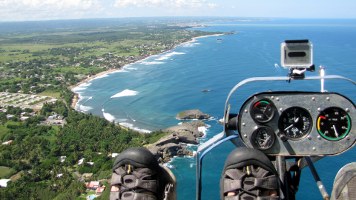 This was so cool — I wished the flight had lasted more than 20 minutes! The movements of the ultralight were very soft and calm, unlike helicoptors or when you hit turbulance in a plane. There were no rapid rises or drops. So I was very pleased with that. Since Ray is prone to motion sickness, he did take Dramamine prior to the flight, though after the fact he felt he probably didn't need it. But better safe than sorry!
When you're up in the air, you are going 40-60mph, without a windsheild, so you have quite a bit of air pressure pushing on you. It was an odd senstation (not at all painful, just force).
You need sunscreen and sunglasses. Wear an old shirt or at least a dark shirt — we both got some oil/grease spatter on us from the engine (which is over your head).
If you have a fear of heights, this is probably not the right trip for you! You can look straight down through the floorless ultralight to the ground.
I think it is really reasonably priced for the fun you get, very much worth it!
The Details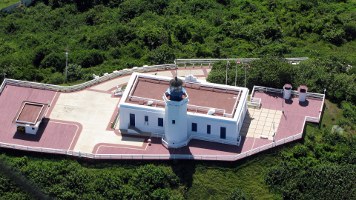 The cost is $65/person for a 20-minute First Flight Training Lesson.
If you're happy, let them know it — Don't forget to tip your your bartender, tour guide or trip operator if you enjoyed yourself. Gratuities are appreciated and typically aren't included in the price they charge you.
First Flight Training Lessons are offered mainly on weekends (Friday, Saturday and Sunday) from 9am to 6pm, subject to weather conditions. Call about doing flights during the week- he may be able to do it, though there may be a minimum number of participants. Reservations are needed for flights.
There is a weight limit of 200 pounds. Passengers must be over 16 years old to fly. Passengers under 18 years old must be accompanied by a parent or guardian.
Bring a bottle of water and sunscreen. You could be out on the tarmac awaiting your turn for a while.
The flight lasts about 20 minutes. So if you're there with a family or group, allow 25 or 30 minutes per person (by the time you get in/out of the ultralight, taxi in and out, etc).
You can call Fly 4 Fun at (787)546-3161 for more info or to make a reservation (Ariel is fully bilingual).
They don't have a web site, but you can check out the Fly 4 Fun Facebook group for more info.
The meeting spot is at the Antonio (Nery) Juarbe Pol Airport in Arecibo, which is on Route 2 at KM 69.5. See map below for directions.
It takes about 60 minutes to drive to Arecibo from the San Juan area.
Use this map to locate places mentioned in this article. You can click on a placemark to view the GPS coordinates for that place.