Go Everywhere on this Amphibious Off Road Adventure
Posted on Jan 17th, 2011 by
Gwenn
• Updated on Oct 31st, 2011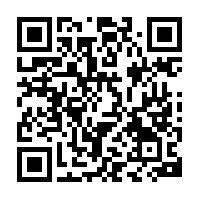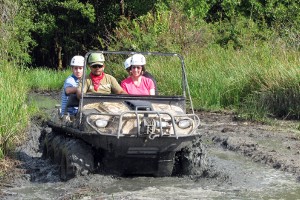 What do you get when you cross an ATV with a small boat? You get the ultimate all terrain vehicle — a UTV.
What the heck is a UTV? It's a Utility Terrain Vehicle that is capable of going where no ATV would dare go … in super deep mud and even into deep water. It's an amphibious vehicle with the power to go anywhere.
What do you get when you can go anywhere? A super fun time and just a little bit muddy. Frontier Adventures has brought UTVs to Hacienda Campo Rico, so now everyone can experience the freedom of amphibious travel.
The Vehicles
Frontier Adventures has four Argo 8×8 UTVs. They have 8 fat tires each, with serious treads. And some of the UTVs have a "track" around the tires (like a tank has) which really helps it get through the serious mud.
These vehicles work like a tank — to turn, one side of tires stops and the other side goes forward. It takes some time and training to get the hang of driving one of these things, so there is a guide that drives them. They don't have a suspension, but the soft tires help smooth things out, so it is not a hard, bouncy ride.
Our Tour
This adventure takes place at Hacienda Campo Rico, just outside of San Juan. The hacienda is a huge place (2200 acres), so there is plenty of room for you to play. After meeting at the office and getting the usual paperwork done, we were fitted with helmets, applied insect repellent (just in case), and we hopped into the UTVs.
These are cushy, multi-passenger vehicles. You can fit up to 5 passengers (plus the driver) per UTV, but I think that 3 or 4 passengers is a more comfortable maximum. Our guides were Shannon and Joelle. After a quick spin around the parking area, we set off into the fields, forest and bogs.
During the first part of the tour, they stop every so often to talk about the hacienda, its past and current uses, and they point out plants and crops growing at the hacienda. They tell you about surrounding area, and Puerto Rico in general.
We went over dry land, moist land and down right totally muddy/wet areas. It was almost unbelievable what these things could get through. They would drive through mud a foot or 2 deep, and they one with the tracks could make it through even deeper bogs.
After about an hour of educational fun, we arrived in a mangrove forest. We rode along an old raised trail through the mangroves that they think was the road for the old sugar mill.
The mangroves are beautiful — cool and swampy, really mysterious. The forest was full of birds calling and fish jumping from the water. We took a break here, in the shade, and had some cold water to drink and snapped some photos while they told us about the significance of the mangrove forest.
After this break, it was all "fun" and no more rest stops. They went hog wild! Joelle loves driving these things — we were doing 360° circles in place and really going for the mud puddles. He did ask if we minded getting wet/muddy, and since we were all OK with it, he didn't hold back.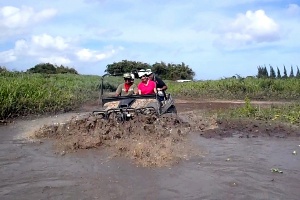 Speaking of getting muddy — it is amazing that we really didn't get that muddy! We got just a little bit of spatter, but not the head-to-toe coating that we expected. Joelle said he would take it easy if people didn't want to get muddy.
After playing around in the mud we actually drove into a pond, just for a short time, just to see how these cars could actually "swim". The water in the pond was only about waist deep, but it was deeper than the tires, so we were boating! The deep tire thread is what provides propulsion in the water, so it is not a real fast boat, but it does get you around. It was pretty cool. And, when we were done, we just drove out of the pond and back up onto land. Sweet!
Some Observations
This adventure is great for a family. Since one of their employees was driving through all these different terrains, it was a relaxing, yet exciting tour. You might want to bring a change of clothes, and in case you get really muddy, there are showers available. Restrooms are available at the office, too. We also recommend sunscreen and glasses or sunglasses (to keep mud out of your eyes).
Normally, when we review an activity that is not free to the public, we pay the admission price out of our own pockets. However, we just want you to know that the guys at Frontier Adventures were kind enough to offer us this trip for free. While we don't feel that this free ride influenced our review one way or the other, we felt that we should tell you, just as a matter of fact.


The Details
The cost is $89 per person (regardless of age). Ask about multi-person discounts. They provide bottled water and some fresh local fruit.
If you're happy, let them know it — Don't forget to tip your your bartender, tour guide or trip operator if you enjoyed yourself. Gratuities are appreciated and typically aren't included in the price they charge you.
They offer two 2 to 3-hour tours daily. One at 9am and the other at 2pm. Reservations are required. There is a 2-person minimum.
Minimum age is 5 years old. There is no weight limit.
There are no seatbelts in the UTVs. You have to be able to hold on.
Allow 2½ to 3½ hours, which includes time to fill out the paperwork and get cleaned up afterward.
You can call 787-974-6717 for more information or to make a reservation.
You can visit the Frontier Adventures web site for more information.
They can arrange transportation from the San Juan area for you, at an additional cost.
Bring your camera (and something to keep it clean/dry), sunglasses, a hat, closed-toe shoes, sunscreen, and a change of clothes/shoes (in case you get muddy).
Driving Directions: Take Route 26 to Campo Rico Ave. Take Campo Rico Ave. north until it ends. Directly across the street you will see a closed, chain-link gate. Drive up to the gate and tell the guard you are going to the Frontier Adventures tour and he open the gate and let you in. Then turn right, left, right and follow the road to the office.
Use this map to locate places mentioned in this article. You can click on a placemark to view the GPS coordinates for that place.