Take a Snorkel Trip on the Fun Cat
Post Maria- Sadly, the boat was destroyed in the hurricane. However, the company is looking for a new boat to start tours again. We will update this post when they restart!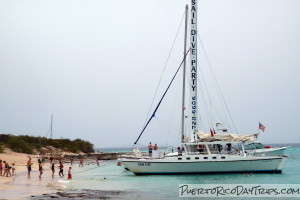 From time to time, we like to re-do activities that we've done in the past to see what has changed or been improved. Sometimes, we use the same operator that we used in the past. Sometimes we use someone different, so we can see the differences between companies.
It has been (amazingly) almost 5 years since the last time we had been on a snorkel catamaran trip (we last went on the Spread Eagle II). Thanks to a kindly invite from Captains Greg and Jim, we recently spent the day on The Fun Cat out of Fajardo's Villa Marina.
Our Day at Sea
We met at about 9:30am at Villa Marina and got settled on the boat. We left at 10:00am. It is not like they can control it or anything but, the weather did not cooperate and it was a tough ride out — rough seas, rainy and cold. People were thinking we should just give up, turn around and go home. But as soon as we got to Icacos, and stepped foot on the beach, the sun came out and it became a glorious day. So the moral of the story is that you can't change the weather, but stick it out and you will be rewarded!
We made a short stop at Icacos beach, where they give a snorkel lesson to beginners. They supply snorkel and mask (no fins) and floaties along with the lesson. Ray and I strolled on the beach and enjoyed the sun, though some people snorkeled. When we got back to the boat, we found that lunch was being served a little bit early. Lunch consisted of a lunch-meat buffet (with PB&J for the kids, if they preferred), tuna fish, fresh fruit, chips and cookies. Sodas and water was available throughout the entire trip. The only alcohol available before and during our snorkel stops was beer (for $2/can). Once we were finished with our second snorkel stop, they brought out the rum punch!
After lunch, our captain (Capt. Jody) made haste to the outer reef at Icacos, so we could have the reef to ourselves for a while before the other snorkel boats got there. During this second stop, due to the depth of the water, they require everyone to wear a personal flotation device around your waist while snorkeling.
After snorkeling, we dried and warmed ourselves on the deck in the sun, and then enjoyed fresh fruit and conversation with other people on the boat. The kids had a great time snorkeling with the fish close to the boat (especially when they got to feed leftover bread from lunch to the fish) and just jumping off of the boat!
On the way home, they had rum punch for the grown ups and dancing and instruments and music for everyone. Despite our rough start in the morning, it turned out to be a great day!
The Reefs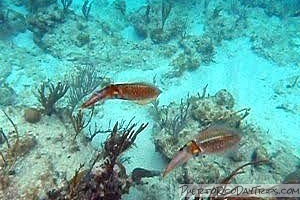 Since we enjoy snorkeling very much, this trip was right up our alley. Because of the weather, the first stop we did at Icacos was not at the usual reef, so snorkeling wasn't great at this spot. But it is a good spot for beginners to get the hang of snorkeling! They usually stop at a different reef that has better snorkeling, but the Captain decided to choose a safer/calmer spot given the weather when we first arrived at Icacos. The second stop was out in deeper water, farther away from the island. Because the coral is too deep to stand on, much of it is pretty healthy and there are a lot of different fishes.
Ray and I went in the water quickly on the second stop and really enjoyed ourselves. As SCUBA divers, we are very comfortable in deep water, so we had a great time going all around this reef. As it turned out, we went a bit further out were able to observe a pair of reef squid exhibiting courtship (pre-mating) behavior — that was pretty spectacular to see.
Why is it Called the Fun Cat?
Each boat that goes out seems to have it's own thing that makes them special. Captain Greg's Fun Cat has a party on the way home. The rum punch flowed for the grownups (and after a few, I can say they didn't skimp on the rum!). Captain Jody let the kids control the rudders for a couple minutes, they had a blast — and Captain Jody had his hands full trying to reduce the zig-zagging pattern the kids seemed to favor!
Right before we got back to dock, they started the dance party. The crew pulled out instruments, turned up the music and … instant party! It was really fun to dance around with the other boat passengers, that is if you weren't too tired from the sun and snorkeling! It really was a good time!
Practical Info
You can wear your bathing suit to the boat or change below deck. There are restrooms on the boat. Bring a hat, towel and sun screen. Bring lots of sun screen — you will get sunburned! For snorkeling, bring a T-shirt (to protect your back from sunburn) and don't forget to put sunscreen on the backs of your legs. If you're prone to seasickness, take OTC motion sickness medicine (like Dramamine) at least 30 minutes before boarding the boat. There is a dry area below deck to store towels, a change of clothes and other things that you don't want to get wet.
Normally, when we review an activity that is not free to the public, we pay the admission price out of our own pockets. However, we just want you to know that the guys at the Fun Cat were kind enough to offer us this trip for free. While we don't feel that this free ride influenced our review one way or the other, we felt that we should tell you, just as a matter of fact.

The Details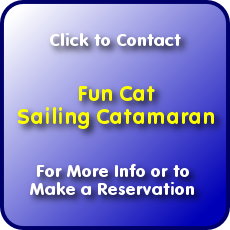 The cost is $70/person, plus 7% tax plus $3.00 Department of Natural Resources (DRNA) fee. They offer transportation from San Juan area hotels (starting at 8:00am) for $30 extra/person. You can pay with cash, credit card or PayPal.
Hotel pick-up begins at 8:00am. If you're driving yourself, you should be at the dock by 9:30am. They return to the marina somewhere around 3:00pm or 4:00pm. Don't drink and drive.
Allow a full day for this trip.
You can call 787.728.6606 for more information or to make a reservation.
You can visit their web site for more information. If you want to go it alone, they also have a smaller sailboat that you can charter for the day and sail yourself (with a USCG Captains License).
The catamaran departs from Marina Puerto Chico in Fajardo.
Use this map to locate places mentioned in this article. You can click on a placemark to view the GPS coordinates for that place.
PuertoRicoDayTrips.com assumes no responsibility regarding your safety when participating in the activities described in this article. Please use common sense! If your mother or that little voice in your head tells you that you are about to do something stupid … then don't do it!