Fun for Families at Fun Valley Park
June 2015 – Fun Valley Park has closed.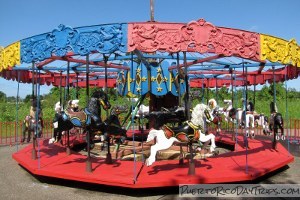 There are a number of wonderful sights and places to visit in the Arecibo area. If you are doing something else in the area, and you have kids, consider a stop at Fun Valley Park.
This small "amusement park" (think permanent carnival) will keep the kids entertained while not breaking your bank account, or your vacation schedule. It's probably best for kids 5-12 years old, but I think anyone can have fun there, if they just go with it.
Amusements from Days-gone-by
I guess one of the neat things about traveling in Puerto Rico outside of the San Juan metro area is that it feels like time slows down. Things are less developed, less commercial, and more quaint. You get a better feeling of what it was like 15-20 years ago.
Fun Valley Park is like that. Located just 2 minutes off of Route 22 in Arecibo (maybe 45-60 minutes from the San Juan area), this little park reminded me A LOT of the old "church carnival" my family went to when I was young.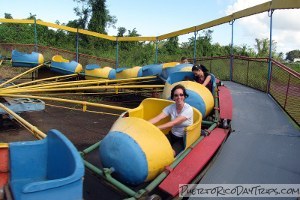 You pay one small price to get in, and then you can ride all the rides (there are height and age restrictions on a few of the rides) all day, as many times a you want. I don't think the park ever gets too busy, so lines are minimal — which means that you can get in a lot of rides in a short amount of time.
They had a few rides for really little kids (maybe for 4-5 years old), and about 8 rides kids 5 and older could go on. All in all, there are about 12 rides in the park.
Go-karts, jumpy house, bumper boats, merry go round (where the horse actually goes up and down), about 4 different "spin you until you puke" rides, and a tiny museum of the "Birds of Puerto Rico". It looks like they might have bumper cars, a small kiddie train ride, and a tram ride — but these were all closed when we went. There is also a video arcade and a snack bar, but those are not included in the entrance fee.
Our Visit to the park
I convinced Ray that we had to visit the park so that we could write this article, but really, I am just a big kid and wanted to go. Sure, the rides are old-fashioned … or as Ray called them … "lame", but I just got in the spirit of the park and had a ball!
There were maybe 10 other people in the park the day we went (mid-week during a holiday week), so there were no lines at all. They had one employee running about 2 or 3 rides in each area.
We would walk up to a ride, the employee would come over and start up the ride for us, and let us ride for as long as we wanted (or until someone else came up for a ride). When we finished a ride, we walked to the next one and they would start that one up for us. We continued that way around the whole park.
We went on the go-karts for about 20 minutes before someone else came up for a turn. Insider tip: Go for the yellow single go-kart. That's the one Ray used and he zoomed past all the other cars on the track.
Old-time Rides with Old-time Safety
Here's one litte caveat that I need to mention … You know how I said this park reminded me of the carnival when I was young? Well I believe these are physically the exact same rides we had back then! They are old, and they are from a time when we didn't have all the crazy-strict safety bars and restraint systems that we have today. For example, the go-karts had seat belts, but with no buckle!
Also, I can't say that the park employees were too concerned about whether guests were strapped-in or not. So, you will personally have to make sure that your kid is strapped-in, or tell them to make sure they sit up straight and hold on when they go on one of the spinning rides.
But, hey … we lived through the 1970s and 1980s alright, without all that fancy restraint stuff.
Other Stuff to do in the Area
You probably can't spend a full day at Fun Valley Park, so you'll want to tack this on to some other attraction that you're visiting nearby on the same day. Some of the other things in the area include Rio Camuy Caves Park, the Arecibo Radiotelescope, Lago Dos Bocas, Cueva Ventana, Cueva del Indio, Caguana Indigenous Ceremonial Park, and the Arecibo Lighthouse Park.
Details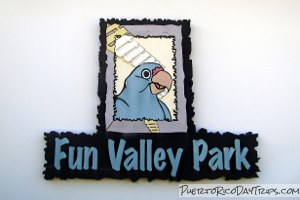 5/15- Fun Valley Park is temporarily closed. Before going, call them to see if they have re-opened.
Cost of admission is $8.95 for kids 3-10 years old, and $10.95 for folks 11 years old and over. Prices do not include tax.
Hours are 10am – 6pm Monday through Friday, and 10am – 7pm on Saturday & Sunday. Closed on Tuesdays when school is in session, and January 1, Good Friday, Mother's Day, Father's Day, Thanksgiving Day, and December 25.
You can call Fun Valley Park at 787-817-0415 for more information.
You can visit the Fun Valley Park web site for more information
Driving directions: Take Route 22 to exit 75B, then take Route 10 south to KM 83.0. The park will be on the right.
Plan on a 45-60 minute drive from the San Juan area.
Use this map to locate places mentioned in this article. You can click on a placemark to view the GPS coordinates for that place.
PuertoRicoDayTrips.com assumes no responsibility regarding your safety when participating in the activities described in this article. Please use common sense! If your mother or that little voice in your head tells you that you are about to do something stupid … then don't do it!