Horseback Riding Along the Beach in Manati
Posted on Feb 6th, 2011 by
Gwenn
• Updated on Oct 25th, 2011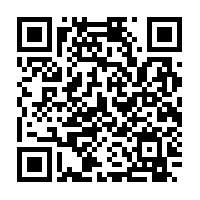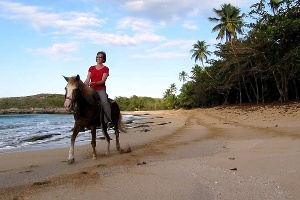 Hoping to do some horseback riding during your tropical island vacation? How would you like to ride through a lush valley, across thousands of acres of a protected nature reserve, and then end up on a beautiful beach? Horseback Riding Puerto Rico in Manatí can make that happen for you. And, they have other trips suited for all members of the family, even non-riders.
Kerry's Horses
Kerry Soto is part-owner of Horseback Riding Puerto Rico in Manatí. They have 30 horses available, most are mixed, some are Paso Fino. Kerry says he tries to keep groups small. He will choose a few horses that he feels will best meet your needs, depending on experience, age, etc. He leads all the horseback rides, so you will have a chance to get to know him. He is a character — very talkative, pleasant and friendly. He knows each horse, and he treats them like his beloved pets — little things count, like taking the bit out of their mouths as soon as we finished the ride. It was nice to see.
The horses are used to doing the trail rides, so they are pretty much aware of where they are going and how to get there, but Kerry changes up the routes, so everyone has a change of scenery. He also lets them grab a quick mouthful of grass or greens on route. His philosophy is a that a snacking horse is a happy horse!
Our Afternoon of Horseback Riding
Ray and I don't ride often, so since we were going to be in Manatí and Kerry invited us to ride with him on the beach, we hopped on the opportunity. We met him and his friend (who would join our ride) at his stables in Manatí.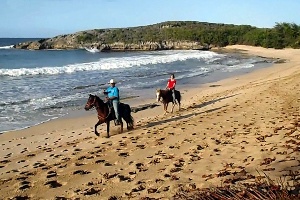 After the typical paperwork, we got on the horses, got a quick refresher course in riding (you know — turning, stopping and going). Kerry says he gears the training toward the experience of the riders — beginners get lessons until he and they both feel comfortable with their abilities.
The stable is located close to Hacienda La Esperanza nature reserve. Kerry has permission from the Puerto Rico Conservation Trust to ride across their reserve, so you get to see some beautiful landscapes. There are just so many colors of greens here, with some birds flittering here and there.
The ride to beach is about 45 minutes or longer, mainly through these fields, forests and wildlife areas. We did have a mixture of riding on the street, up and down hills, flat open fields, and through forested areas. There are a few routes they use, to different beaches. The total trip depends on how much time you have and what you want to do.
We went to Las Palmas beach, which was lovely. Kerry usually lets people enjoy the beach (swimming, sun bathing, relaxing) for about 1 hour. It was a beautiful beach. After relaxing (both us and the horses), we did some riding on the beach — not too much … maybe 10 minutes … because it is not easy for the horses walk through the sand. Then we turned around and started our trek back home.
Kerry usually supplies bottled water, but he forgot, so we did the local thing — we rode to, and hitched our horses outside of, a local colmado (bar/gocery store) and stopped in for a refreshment or two.
Then it was time to head back to the stables, back along the dirt path through the fields and forests. One really great thing about the field part is we were able to gallop for a nice long way (since this dirt road had no rocks in it to stumble the horses' steps). All in all, it was a lovely afternoon!
Other Tours & Options
One other thing about this operation that is a real bonus is they have horse-drawn carriages available. So, if you have members in your party that can't ride, they can still go on your tour. They have a smaller carriage for 4 or 5 people, and a larger carriage for about 12 people. These are also available for parties or group beach trips.
The trip that we did was a bit of an overview off all the different trails that they use. In addition to their beach tour, they offer valley tours, on which you ride primarily through the nature reserve, and overlook tours, on which you get some unbelievable views of the ocean and valleys, and pony rides on Sundays.
Normally, when we review an activity that is not free to the public, we pay the admission price out of our own pockets. However, we just want you to know that the guys at Horseback Riding Puerto Rico were kind enough to offer us this trip for free. While we don't feel that this free ride influenced our review one way or the other, we felt that we should tell you, just as a matter of fact.


Details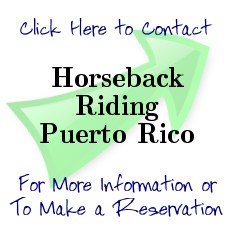 Contact them for tour prices.
If you're happy, let them know it — Don't forget to tip your your bartender, tour guide or trip operator if you enjoyed yourself. Gratuities are appreciated and typically aren't included in the price they charge you.
Kerry does 2 tours per day, 1 in the morning and the other before sunset. He tries to avoid being out in the hottest part of the day. Tour times change throughout the year. Contact them for the exact tour times.
Closed-toe shoes are required, no flip-flops! A hat, sunglasses, and pre-ride application of sun screen are recommended for the ride. If you go to the beach, you will need to bring beach supplies (a knap sack would work to carry them).
Allow about 2 hours.
You can call 787-202-5292 for more information or to make a reservation.
You can visit the Horseback Riding Puerto Rico web site for more information.
Typically, Kerry will meet you at exit #46 off of Route 22, at the end of the off ramp.
The Manatí area is about a 1-hour drive from the San Juan area.
Use this map to locate places mentioned in this article. You can click on a placemark to view the GPS coordinates for that place.