Junglequi is Ziplines, and More, Close to El Yunque
Posted on Sep 17th, 2012 by
Gwenn
• Updated on May 6th, 2013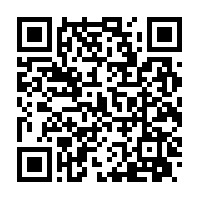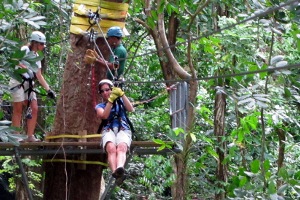 I am all for a one-stop place that has lots of fun things to do for the whole family that is in close proximity to a number of other natural attractions. So when Junglequí Rainforest Eco Adventure Park opened in Spring 2012, we went first thing. It is located right off of Road 191, on the way into El Yunque National Forest.
They have a few different activites open already, including zip lines and river activities like tubing and kayaking. They are planning on having a bunch more activities that take advantage of their natural setting in the future. They want to make it an ecologically-friendly area where families (both local and tourists) can come and enjoy the wonder of nature.
About Junglequí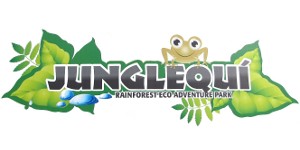 Junglequí is located in Rio Grande, in the rain forest region, just outside of El Yunque National Forest. In their marketing, they tout themselves as Toro Verde Jr., though they are not associated with Toro Verde Adventure Park. According to the manager at Junglequí, Toro Verde installed the ziplines for them.
Junglequí is located at the end of a small road, just off of Road 191 that goes up into El Yunque National Forest. So it is very convenient to add a little "zip", a relaxing water adventure, or nature tour to the day that you visit El Yunque.
Junglequi has a large forested property, that has the Mamayes River flowing through it. Within these areas, they have created nature fun courses — a nature walk, a zip line and rappel course, and river adventure with swimming, tubing, and snorkeling. Currently they have 7 canopy ziplines, so you are tree top level — usually 40-90 feet above the ground. There is one assisted rappel from one of the first two platforms.
Our Visit to Junglequí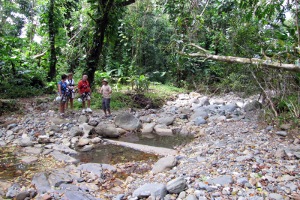 We went to the ziplines very sloon after they opened (April 2012), so not everything was opened/completed at that point. We went on Tour 2, which consists of the last 5 of their 7 zip lines. We went with some friends who had zip lined once before.
As many of you know, Ray and I have done all sorts of ziplines, and other high adventure things. We love Toro Verde Adventure Park (easily the best zip line tour on the island), so we had high expectations for "Toro Verde Jr."
They had plenty of free parking just a short walk downhill from the office. You go in, pay, sign the usual release, and then they gear you up. Use the bathroom now because you won't see another until the end of the tour (and with the harness on it will be impossible to do anyway!).
They help you put on your harness (with a top strap too so that you don't lean back too far). Note that they need to reach in and around some personal places (you wear the harness like pants and the top strap goes across your chest). They are not getting fresh, they are just making sure you are safely and tightly strapped in! You also get a helmet, carabiners, trolleys, and gloves. After gearing up, we met our guides and then we started our adventure.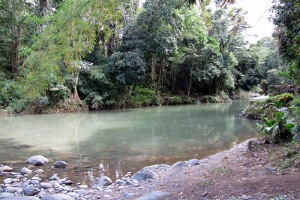 We started with a short nature tour given by a local guide. Our guide told us about the area, the history of the property, and the plans for the future (with educating people about the importance of conservation and getting back to basics). He discussed the river, and the plants and wildlife around it.
There is an area of the river that has a beautful deep pool that he said we could come back to afterwards and swim. We played with some of the river rocks that the pre-Columbian people used to paint their skin. The kids will enjoy that!
This was mainly an easy walk — mostly level, until the end where there were some steps and an uphill trek that led up to the zip line course.
The guides gave us a lesson on how to do this zip line. Each zip line place is a little different, so it is important to know their specific rules. They have a "brake" set onto the line that stopped you, so they didn't want you touching the lines at all.
The zip lines themselves are beautiful, coated steel double cables that were quieter than usual steel cables. At every line, there was one guide at the start to hook you onto the lines, and another at the other end to take you off the lines. Once on the lines, you sit down, the harness holds you, and you just let gravity do all the work.
Our small group quickly did the 5 lines. Zip, zip, zip, zip, zip! The lines ranged from 175 feet to 600 feet long. One of the last lines is connected to this huge rock — it was beautiful!
Afterwards, we enjoyed playing in the river. We really felt that they wanted you to feel like you could hang out and enjoy the beautiful forested park, which we did!
Thoughts, Observations & Comments
I think their set-up is state-of-the-art, and safety-oriented. We felt they had excellent quality lines and equipment, and a strong emphasis on safety. For example, for the river swimming and other activities, they monitor the water levels and flow rate of the river to ensure people's safety. Flash-flooding is very common in rivers around El Yunque, so this is important!
While we had fun, we all felt it was not as exhilarating as other courses we had done. They advertise themselves as Toro Verde Jr., which is a good marketing plan. But the truth is that Junglequí is WAY junior as compared to Toro Verde. This course is not nearly as amazingly exciting, long, high or breath taking as Toro Verde.
But Junglequí has less strict height and weight restrictions, which allows younger people (kids) to try the sport of zip lining. This is a great place for families with kids — I am sure they would love it! But this may be too tame for real hardcore adrenaline junkies.
They sometimes offer discount coupons, so during those periods, weekends and especially during summer and holidays, there may be a number of people on each tour. It is better with fewer people as you can get through the course faster without the adrenaline draining waits.
The staff was great. Everyone we met was very attentive and into their jobs.
Other Offerings Besides Zip Lines
They have a river tubing adventure that looks like it would be very relaxing, as the Mameyes River is not a raging river. They also offer river kayaking, for those folks who want a little upper body exercise. The river course is not too long (½ mile or so). But you will enjoy the cool water and the lush tropical scenery of the rain forest around the river. The guides will descibe the birds and plants you see/hear along the route. And you can jump in at the deeper pools that you pass to swim/frolic.
Both of these activities depend on the height of the river, so you need to call ahead to make sure levels are appropriate (not too high and not too low).
River snorkeling will also be available in the future.
One of the really cool things I liked about Junglequí is that they have a great river spot with a nice deep pool and rope swing. They encourage you to enjoy the spot, to relax before or after your other tours, and make a nice day of it. And even if you don't want to do any tours, they invite you to come spend the day enjoying the grounds and river (for $5 per person). Tere are picnic tables near the parking area (coolers are not allowed by the river).
Future plans include a campsite. They also have plans to offer night time nature tours in the forest during which you could hope to see snakes, coquis, and other nocturnal critters. And maybe some of the glowing mushrooms that can be found in the El Yunque area!
Some Other Info
They have a gift shop, snack bar, and clean bathrooms with showers.
You need to wear closed-toe shoes (sneakers). If you are going zip lining, we recommend that you wear longer shorts or pants so that the webbing on the harness doesn't rub bare skin. Sunglasses are recommended. Also, something like a small backpack or tummy pack that you can use to hold your important stuff (keys, wallet, camera). You don't want that stuff falling out of your pockets!
If you plan to jump into the river, bring a bathing suit, towel, and a change of clothes.
Details
Junglequí offers 2 different zip line packages: 7 zip lines & 1 rappel for $125; or 5 zip lines for $90. BUT you will need to check if prices include the 7% IVU sales tax and other fees (sometimes there is a "park service fee" of 11% and a $10 "conservation fee"). Parking $5. If you want to just picnic and use the river /property without doing any tours $5 per person.
If you're happy, let them know it — Don't forget to tip your your bartender, tour guide or trip operator if you enjoyed yourself. Gratuities are appreciated and typically aren't included in the price they charge you.
Zip line tours are offered year-round at 9:30am, 12:30pm, 2:30pm. During the summer (May to August) they have an additional tour at 4:30pm. Reservations are required for zip line tours.
Zip line participants must weight between 70 and 265 pounds, but if you are above or below limits, call first to see if they can accommodate you. Minimum age for zip lines is 7 years old.
Allow 1½ hours for the zip line tour, though could be more or less depending on the number of people on your tour.
You can contact Junglequí (from 9am to 5pm) at 787-500-7555 for more information.
You can visit the Junglequí web site for more information, though it is still incomplete and does not have info about all of their offerings.
If you need transportation, Dragonfly Adventures can arrange that for you. Call them at 787-889-7430.
Junglequí is located at Carratera 990 KM 1.2 in Rio Grande.
Drive time from the San Juan area is about 60 minutes.
Use this map to locate places mentioned in this article. You can click on a placemark to view the GPS coordinates for that place.