Canyoning in South El Yunque with Kalichi Adventures
Post Maria- Kalichi is not running tours at this time. Montana Explorer has tours of the area.
Puerto Rico is full of natural beauty, from the beaches and coastline, to the mountains, rivers, and forests. These can really be appreciated when you are able to visit some of the most remote and unspoiled parts of the island, and immerse yourself in the wonders that abound.
The south side of El Yunque has a number of rivers that are the beautiful playground of a lucky few who are brave enough (or maybe crazy enough!) to get dirty and wet exploring some of the most wonderful parts of the rain forest. But accessing this part of the forest is not an everyday walk in the park, and few people ever experience these areas first-hand. Kalichi Adventures offers an amazing canyoning tour that puts you right in the middle of what we think is the most beautiful part of the island.
Some Background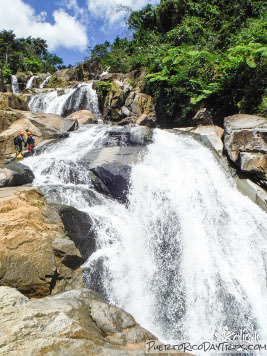 El Yunque National Forest encompasses about 28,000 acres of forest, much of which is mountainous and untouched. The Luquillo Mountains, which make up most of the forest land, rise to a height of 3533 feet above sea level. These mountaintops trap the moisture-rich clouds, which in turn can dump over 16 feet of rain per year into the forest. All this rain comes down the mountainsides in a network of rivers, and it is a fresh water source for a large portion of Puerto Rico's population.
Some of the most beautiful, and least seen, rivers and waterfalls are on the south side of El Yunque. But access is limited (due to their remote locations), so few people get to see them up-close and personal.
The sport of canyoning (or canyoneering) is described as traveling up and down a river by a variety of techniques including walking, scrambling, climbing, floating, jumping, swimming, and rappelling. It is super fun, but it is a sport that takes a lot of skill, strength and knowledge. And like any extreme sport, it has inherent risks. Participation in this sport requires that you (or the people you are with) are familiar with the area where you are canyoning, the equipment you are using, and in the case of an unforeseen situation, safety and rescue techniques.
Our Day-long Adventure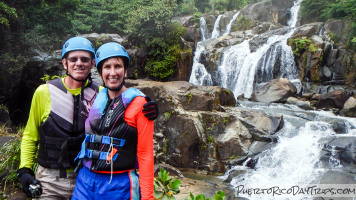 We have gone hiking, river-trekking, body-rafting, canyoning, and rappelling in various parts of the island, and we've loved it. We've been canyoning in the rivers on the south side of El Yunque in the past — the area is so beautiful that we've wanted to go back. When the guys at Kalichi Adventures asked if we wanted to check out their canyoning trip, we jumped at the opportunity.
After signing up for their trip, we received a big information packet (via email) that explained everything from what to expect, what we should bring, what we should leave at home, to what kind of clothing and shoes we should wear. It seemed like we were off to a good start — we were prepared and the guys were organized.
One of the most difficult parts of this trip is waking up so early on vacation. But believe me, it is well worth it. All you have to do is roll out of bed, pull on your canyoning clothes, and get to their basecamp. Kalichi Adventures can arrange transportation for you (from your hotel), or you can drive yourself to a meeting point and then follow them up the mountain to their basecamp.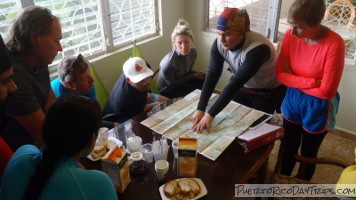 Their basecamp is a nice house, high up in the hills on the south side of El Yunque, with a changing area, a secure place to leave your stuff, restroom, and showers (for after your adventure).
Once you get to basecamp, you'll meet your guides, the rest of the Kalichi team, and your fellow explorers. An added bonus is the hot breakfast they'll offer you before your trek into the forest begins.
During and after breakfast, Ricardo (our lead guide that day) gave us info about what we were going to be doing during the day, how we would be doing it, and how their team of guides would be helping us. He also gave us a run-down of the safety and rescue training the team has had, and other safety measures they would be taking during our adventure. One thing that we really liked was that they have a team member stay at basecamp to monitor the weather and the water level in the rivers the whole time we would be in the forest. Once we were fueled-up with breakfast, our fears eased, and psyched up for the trip, we were ready to get going!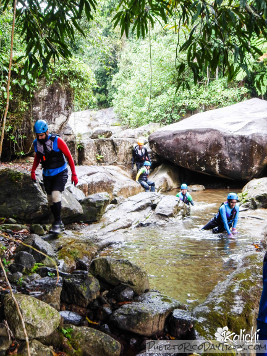 They took us downstairs to their equipment storage area, where they outfitted each of us with helmet, gloves, kneepads, and lift vest.
One really excellent thing Kalichi Adventures does is they offer canyoning shoes available for rent (in most sizes). While other types of shoes will suffice, canyoning shoes are really an important piece of safety equipment. We've done this type of activity before (without proper footwear), and having the right shoes makes a huge difference in the experience. We now own our own 5.10 canyoning shoes. Our advice? If you don't have your own, pay the extra couple bucks and rent their shoes.
The fun starts shortly after leaving the house. Rivers run downhill, so you need to hike downhill to get to the river. It had rained the night before, so the downhill trek was less of a hike and more of a mud slide through the forest. If you've ever seen the movie Romancing the Stone, you'll remember the scene with Kathleen Turner sliding down the mountain — it was like that, but with a little more control.
During our mud slide (I mean hike), and throughout the day, the guides took some breaks so people could catch their breath. During these rest breaks, they told us about the forest, nature, and history of the area. Look Mom — There is some education mixed in with all this crazy fun!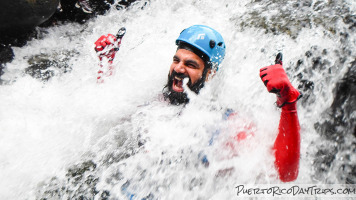 When we finally got to the river, we were muddy and hot — so there was no hesitation to jump into the river. The water was brisk, so it cooled us down from the trek quickly! After cleaning up and cooling off, we started our journey down the river.
We did water slides, body rafting, swimming, and some small jumps. The river is beautiful, with huge boulders and rocks, white-water, natural pools, and cascades. The day we went, the water level in the river was low, so some of the areas were not as deep or fast-moving as usual, but it was still really fun. When the water level is higher, it must be insane!
The Kalichi team knows that "if there's no photo to post on Facebook, then it didn't happen". So there are some things they have you do just for fun or to get some great photo, like sitting under a waterfall or posing near the edge of a cliff with a fantastic backdrop. They will change up the route depending on water level and what is safe and fun to do on any given day…it keeps things interesting and fun!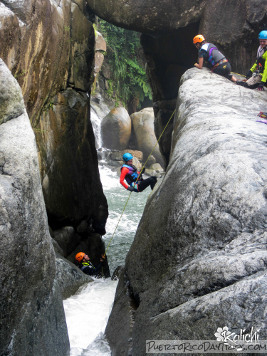 All the while, we are working down river to where the Río Camuy meets the Río Icacos. It is at this point where you see Taino petroglyphs, and then the most beautiful waterfalls I've ever seen in Puerto Rico.
The highlight here is a free jump from the top of the falls into the pool 35 feet below. This was thrilling to say the least! Adrenaline to the max!
Then the rappel down into the river – wow! And more jumps. Some rope work to get down the steeper parts. Lots of exercise pushing through the river currents. All of this in those amazing falls. It was beautiful, thrilling, and really amazing all at once!
Then it was time to head back home. Since it was a trek downhill in the morning, it was a trek uphill on the way back to basecamp. The first part was up the Río Camuy, but then there was a 30-minute hike uphill through the forest. It wasn't easy in some spots, but the promise of cold drinks, snacks, a hot shower, and dry clothes kept us all going. And it didn't hurt that we were hiking through a beautiful forest area. Update 7/15- they now offer a car ride back for those that don't want to do this hike uphill at the end! How great is that!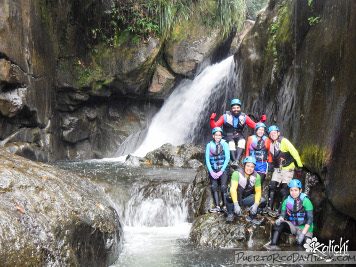 Our group of explorers for the day was 10 guests, some with lots of adventure trip experience, but most with no experience doing this type of activity.
It is always amazing to me how in the beginning of the tour, no one knows each other, and then, by the end, you have bonded over your mutual experience — helping each other up/down the hard spots, encouraging people to push their comfort zone, cringing when someone takes a hard fall, and cheering when someone does something spectacular. This is an amazing team-building exercise. And, all the time, the guides are right there, making sure you go the right way, encouraging you, and giving you a boost or a hand.
Once we were back at the house, we got cleaned up, changed into dry clothes, sat down together, chatted, and ate freshly-prepared local goodies and drinks — just like old friends!
Some Thoughts & Observations
The guys at Kalichi Adventures seem to want people to experience all the thrills and chills of this extreme adventure, but to do as safely as possible, which we liked a lot. We have done this before, with a different operator, and we both came home with (minor) broken bones. So, though this was something we wanted to do again (and again!), we were hesitant based on our first experience. Today, we're glad we went back and did this again!
I was impressed with Kalichi as a team — their safety practices were great, everyone on the team was certified in some kind (or multiple types) of safety/rescue/first-aid.
The fact they leave someone at basecamp to keep an eye river water levels and weather conditions throughout the trip, was a great thing that we've never seen with any other adventure operator here in Puerto Rico. The guides in the river are in constant radio contact with basecamp, so they can have up-to-the-minute info on changing river/weather conditions.
Kalicihi also goes above and beyond in making the trip as easy as possible for their guests — Their guides carried backpacks with everyone's water and snacks, and all the equipment for the trip. It was easy, and much safer than each person carrying their own backpack.
They also suggest leaving your cameras at basecamp. Between their guides, they had 3 cameras. About a week after our trip, we received an email with a link to over 250 photos and a long video of our trip, that we could download. We used some of those photos in this article because they were a lot better than the photos that we took!
They have alternate routes around the really scary parts of the river. If there's something that you aren't comfortable doing (like the 35-foot waterfall jump), they offer an optional way to get up or down the river. That is a really important point, since only you understand what you're comfortable with, and you are ultimately responsible for your own safety.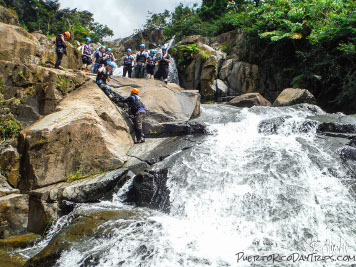 This trip is not something you should just decide on the spur of the moment. You need to plan ahead. You need to follow the info they send.
You need to have the right clothing for the trip. You will be wet for hours — having the right clothes will keep you warmer and less scraped up. Don't wear expensive clothing — you will get rips and tears in your clothes. Most of what you need (non-cotton, fast-drying, form-fitting) can be purchased in the exercise clothing section of WalMart or Target. And, like already mentioned … just rent the canyoning shoes from Kalichi. You'll be glad you did.
This is an extreme sport. You probably will get hurt a little. You will use muscles you didn't know you had. You will slip, fall, and hit rocks hard. We got some black and blue marks, and our muscles ached for days afterward. Other people on our trip got skinned knees and elbows, and there were a few cuts. But it is such a cool trip — they are part of the proof you did these amazing things! Everyone agreed that the whole thing was absolutely incredible and so worth it!
This tour is extreme. It is for physically fit people. You need to be able to hike for miles, and bend, twist, jump, crawl, and not be afraid of being in deep water.
Normally, when we review an activity that is not free to the public, we pay the admission price out of our own pockets. However, we just want you to know that the guys at Kalichi Adventures were kind enough to offer us this trip for free. While we don't feel that this free ride influenced our review one way or the other, we felt that we should tell you, just as a matter of fact.

Details
The cost of the trip that we took is $175/person. Transportation is extra. Private tours are available, at a higher price.
If you're happy, let them know it — Don't forget to tip your your bartender, tour guide or trip operator if you enjoyed yourself. Gratuities are appreciated and typically aren't included in the price they charge you.
Kalichi Adventures offers tours every day, but most are on weekends. Tours start at their basecamp around 7am. Trips may be canceled at the last minute due to changes in weather or river conditions. Be flexible – better safe than sorry.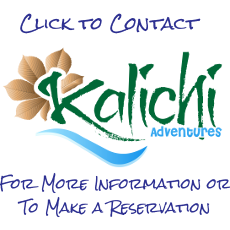 Minimum age to participate in the entire trip is 16 years old. They have different routes for kids under 16 years old. All minors must be accompanied by an adult.
Their guides are trained in wilderness rescue by Wilderness Medical Associates International, swift water rescue by Rescue3 International, CPR/First Aid by Emergency First Response Corp., and rope rescue under NFPA standards.
Typical tours are comprised of 5 to 10 guests.
Bring a complete change of clothes, including shoes, and a towel, bottled water, and snacks (like granola bars).
Guides are all bilingual (Spanish/English).
The average tour lasts 5 to 6 hours. Allow extra time to travel to/from their basecamp.
Check the Kalichi Adventures web site for more information.
Call 787-365-3401 or or send email to info@kalichiadventures.com for more information or to make a reservation.
It takes a good 90 minutes to travel from the San Juan area to the Kalichi Adventures basecamp on the south side of El Yunque, South 191.
Some of the photos used in this article, and some of the footage used in the video, were provided by Kalichi Adventures, and are used with their permission.
We are in the process of updating the maps we use on our web site. While we're working on that, you can click on the GPS coordinates below to view the location on Google Maps ...
PuertoRicoDayTrips.com assumes no responsibility regarding your safety when participating in the activities described in this article. Please use common sense! If your mother or that little voice in your head tells you that you are about to do something stupid … then don't do it!