Kayak & Snorkel with your group along the Northeast Coast
Puerto Rico has thousands of miles beautiful beaches and tons of aquatic life. If you want to get close to nature and learn something about what Puerto Rico has to offer, you can go on an eco-friendly kayak trip. We had the pleasure of joining Kayaking Puerto Rico (KPR) on a kayak/snorkel tour in the north-eastern-most corner of the island ( however they only do this now for groups). Pure Adventure now also offers this tour for small groups. A kayak trip is a great way to get some exercise and see and learn about the natural aquatic beauty in this part of Puerto Rico. There are a few different options for snorkel tours in the northeast past of the island. There are the catamaran trips; and a kayaking trip. Both types of trips are fun, but they are totally different. Each type fills its rightful niche. If you are active, don't want to be part of a crowd, want to experience and learn about nature, and/or want to explore somewhere a little less traveled, then this group kayak trip might be the way to go. Kayaking Puerto Rico offers groups 2 different daytime kayak trips that leave out of Fajardo, near Seven Seas Beach. One is a kayak/snorkel and the other is an eco kayak and beach exploration trip. These are for groups of 10 or more only. I think they should make a bigger deal about how much you will learn while on this trip. The guides are loaded with information about Puerto Rico and its history, from the original inhabitants (the Taino Indians) to the flora and fauna of the island, sky, and water. They show you things and then talk about it. It is obvious how proud they are of their island and how sincere they are about keeping it clean and preserved for future generations. They picked up trash while we were walking on the beach and they even collected trash from the reefs underwater while were were snorkeling.

Reservations, Getting There & Getting Started
We were scheduled to meet them at 9:30am at the Seven Seas Malecon (pier) in Fajardo (just between Seven Seas Beach and Las Cabezas de San Juan Nature Reserve). Parking is across the street along the edge of the road.
First, make sure you are well hydrated, and second, make sure everyone is wearing sunscreen. And then get fitted for fins, masks/snorkels and life vests. They will teach you the basic "how to kayak" course. It is a quick lesson. If you've never kayaked before I found you don't have to worry, you really learn by doing and trial & error in the water. They kayaks the sit-upon ocean kayaks are are very stable, so it's almost impossible to tip them over.

And Off We Go
The guides for our trip were Julio and Percy. Dalberto stayed behind at the dock to watch any things that shouldn't get wet – like car keys! They usually go to a few different spots to snorkel. It all depends on the wind/ocean conditions. They wanted to go to Playa Colora (Red Beach), but after sending a guide out to check it, they decided it wasn't going to be good, so we headed off to a different spot. We were kayaking in a protected area, so there were no waves – just very calm water. Along the way, Julio explained about the 7 different eco-systems that we were/would be encountering in the Seven Seas Beach area. We kayaked right along the shores of Las Cabezas de San Juan Nature Reserve. The water was clear and the beaches were empty. We were lucky enough to have a beautiful sunny day. What more could you want!
We stopped half way to our destination for a "talk" about the area, but I bet it was to give us a break!. Julio told us about the lighthouse to our right and El Yunque behind us. You get a great view of both from out on the water!
Land Ho!
After a little more paddling, we arrived at our goal – a beach located on the edge of Las Cabezas de San Juan Nature Reserve. After another water break and sunscreen check, we went on a guided nature walk along the beach and shoreline.
The two guides both had loads of knowledge to impart to us. We got to touch sea cucumbers, see an octopus, fire worms, termite nests, lots of shells, etc. Both Percy and Julio were very good with the kids, patiently answering the many questions and keeping them entertained. They showed us rocks that the Tainos used to make paints and even did some creative body painting for the kids! It was all very interesting and not the usual nature lesson.

Into the Water
Now, the snorkeling begins. We waded out from the beach into waist-deep water so that everyone can try snorkeling in a safe area while we got accustomed to the snorkel gear. In this area, there's mostly sea grass but it's a good spot for beginners so they can get the hang of snorkeling. The usual mask leaks happened, but after a while, and some equipment adjustments, everyone caught on and was comfortable in the water. Once we all felt comfortable with snorkeling, we kayaked out to deeper water. Percy had his kayak anchored and we all tied our kayaks onto his. Then we jumped in. Each guide took a few people out, so it was not crowded at all. The reef is in good condition. There were some very nice corals and lots of colorful fans. Much of the coral was healthy. There were not a ton of fish, but there were many different varieties around. It was very pretty.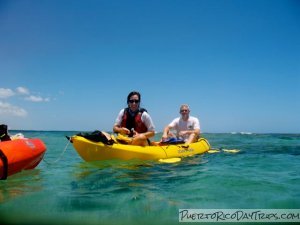 After about 30 minutes of snorkeling around the coral heads, we have to head back to shore. Back at the dock, we all talked about the trip. It was a really enjoyable half day. We all talked about the Fajardo biobay kayak tours that they offer. I am happy to say that since the start of the "No-Swimming" policy in the Fajardo biobay, they report that the biobay is recovering well and is really glowing brightly. I highly recommend one of the BioBay tours for everyone visiting Puerto Rico as a must do.

Don't Forget Sunscreen
For this half day kayak/snorkel trip you are best wearing a T-shirt the whole day, even when you are snorkeling. Put on a lot of sunscreen, and reapply after going in the water. Don't forget the fronts and backs of your legs. We missed those … ouch! When you are snorkeling your entire back and backs of your legs are just at or below the surface of the water. You will get sunburned! With the breeze and being wet, you don't realize how quickly you are burning. Believe me, sun protection can't be emphasized enough! And wear sunglasses and water shoes (or Crocs).

The Details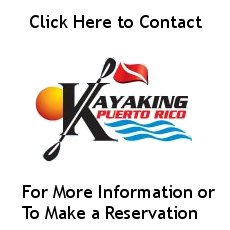 Aquafari 2.5
Cost: Kayak/snorkel trip $45.00 per person, minimum of 10 guests on a trip
Duration: 2.5 hours
available March – August only
One beach stop and one snorkeling session.
Skill level: Appropriate for everyone, including first-time snorkelers & children 6+ years.
Individual, Light Snacks, water and refreshments served.
Morning excursion – trip departs at 9:30am and finishes at 12:00pm
Eco-Kayak and beach exploration trip is $35 per person for groups of 10 or more.
If you're happy, let them know it — Don't forget to tip your your bartender, tour guide or trip operator if you enjoyed yourself. Gratuities are appreciated and typically aren't included in the price they charge you.
You can call them at 787.435.1665 or 787.245.4545 for more information.
You can visit their website for more information.
The meeting place for this trip is about 90 minutes from the San Juan area. Round trip transportation is available. Contact Kayaking Puerto Rico for rates (which may vary by hotel location).
Pure Adventure now offers a similar tour for groups of 8 or more. Contact them for more information. Phone: 939-246-4943 or (787) 202-6551 or (787) 314-4347. visit their website for more information

.
Use this map to locate places mentioned in this article. You can click on a placemark to view the GPS coordinates for that place.
PuertoRicoDayTrips.com assumes no responsibility regarding your safety when participating in the activities described in this article. Please use common sense! If your mother or that little voice in your head tells you that you are about to do something stupid … then don't do it!