Fun for the Whole Family at Moisty Skate Park in Caguas
Note as of February 2013, Moisty Park HAS CLOSED. If you need to contact them about pre-paid passes or something, call (787) 903-0504 or (787) 903-6064.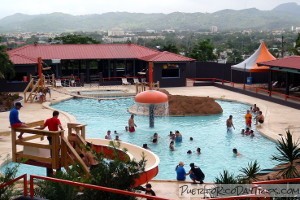 Imagine all sorts of fun, outdoor activities like swimming pools, water slides, a paint ball field, skate ramps for skateboard and in-line skates, an "inflatables" park, a rope obstacle course, go carts, pony rides, and food. Now put them all together in one spot and what do you get? Moisty Skate & Family Park in Cagus, that's what.
This park, opened in June 2009, is a nirvana for kids — and it's pretty cool for adults, too. And a really good thing about this park is that it's all available for a reasonable price — so you can actually afford to bring the family for the day and have a lot of fun without breaking the bank.
It is a great concept — this is actually one large 40-acre park in Caguas, which is about 35 minutes south of the San Juan area. It has a number of separate operators/vendors each offering their own activity. So you get the best of each activity. For example, there are experts who know and enjoy skate boarding who have made world class skate park ramps. Or there are expert rope and adventure course people who made the rope course challenge course. Not only does this make it better, it also makes it safer. And these experts can offer their advice and instruction for those of us who are novices at an activity.
The way they charge at the part is a novel idea. After paying to park your car. Once in, you can wander around to see what each person wants to do. Then you pay just for the activities you want, or buy one of the activity package deals with will include many activities for one low price.(There is a general admission fee for those who don't want to "do" anything but watch their kids outside the pool area). You can spend just an hour doing one thing, or all day doing one or many things. It is all up to you. Check their website for current prices of each activity.
Skate Park
I have to say up front that I know nothing about skate boarding, but I know this place had lots of ramps! They allow skates, skate boards and scooters. It looked cool, we watched a kid do a few moves. It seemed like you could have a lot of fun if you know what you are doing. There is a cost to use the area, but that is for all day. Bring your own equipment or you can rent it there very reasonably. Classes are available for an additional charge.
Moisty Go Carts
They offer single and double cars. Each turn is about 5 minutes — maybe about 5 laps around the course. These are easy-to-drive carts with bumpers (though you are not supposed to bump anyone). You have to be a minimum 4′ 8" to drive (so that you can reach the pedals), but little ones (3 years and older) can be a passengers. The course is a little bumpy in spots, but it is not too bad.
Water Park & Pools
This consists of a couple pools, and water slides. There are always life guards on duty at all of the areas. There is a small pool for infants and babies 1 year and older. It is attached to the larger pool. This small area is a perfectly calm, shallow area for parents with infants to safely enjoy the water, while still being able to watch your older children in the main pool.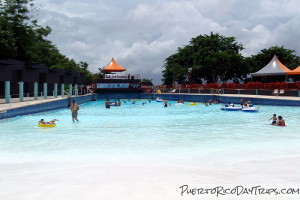 The main pool area is for everyone 1 year and older. Kind of a kid pool. It has a few small water slides, waterfall areas and a rope bridge. It ranges depth from 0-about 4 feet deep.
There is another "passive" pool where it is more calm. You can just hang out in the water, or there is an area where you can rent boats. It has what I would call a "cement beach". You can rent floats to use in this pool. And the best part — they have an area with 3 large, fast water slides. Very fun! But the slides and the passive pool may only be open during the high season. Slides are only for kids 8 years old and up. They offer all-day passes to get into the water park which includes pools and slides.
There are some lounge chairs in the sun and some in the shade. There are picnic tables in the shade, also. If you want a lounge chair, get there early.
They have restrooms and lockers in the pool areas. We found the toilets in the bathrooms to be were unusually high off the ground, so children may have trouble reaching the tall toilet seats — someone may need to go with them. The day we went, there was no running water in the restrooms sinks. This was the only real problem we noticed in the whole park.
Adventure Rope Challenge Course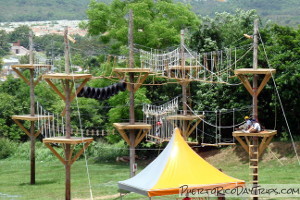 This activity is pretty neat. It has 4 tall posts in the corners and one in the center, with rope challenges connecting them. It has 2 levels of challenges, with 8 on each level. That's a total of 16 challenges. Each challenge is about 40 feet long and consists of rope, cable and wooden things you need cross to get from one platform to the next. It is all you — your balance, strength and courage against the ropes.
We tried this course. I was able to do some with no problem. Others were more tricky. Ray even "fell off" of one, but of course, he was safely attached by his double safety lines, so he didn't really fall or get hurt. But he had to get back upright on the line and keep going. You can do 8 challenges or pay to go up another 10-15 ft and do 8 more! Of course you have to sign the typical liability waiver, but that's expected since it is an adventure and all. But you wear a harness and helmet at all times. If you are afraid of heights, you may not like it, but face your fears (you are always on a safety line or two) and try it. It is tricky, wobbly and exhilarating, but appears safe.
The cost of this activity is really reasonable. This includes all needed gear — harness and helmet. The maximum weight is 275 pounds and participants must be 8 years and older. To go to the second level you have to be 12 years old and up. If you get scared or can't finish, they will help get you down. You are always attached to a safety line to prevent anyone from falling and a guide is always there to show you how to do each challenge. You must wear sturdy closed toe shoes (like sneakers) and it is a good idea to wear long shorts (or pants) to protect your thighs from being chafed by the harness.
They are usually open every day the park is open, but during weekdays, it is best to call and make a reservation. You can contact them at 787-633-7165 or email them at airelibrepr@gmail.com.
Gotcha Paint Ball
This one looks like a teenager's paradise! They have set up a paint ball field and supply you will all the gear you need to shoot paint balls at your friends. They will let you go out with between 2-10 people at a time, separated into 2 teams. You get a certain amount of balls and the game ends when you run out of paint balls. There is a referee inside to make sure it is played safely. Reservations are required during the week, but they are open Friday- Sundays from 10am- 6pm year round. Players must be 8 years and older. I did not do this, but we watched a group. I would suggest you wear some clothes you don't mind getting paint on them! The cost includes all gear you need.
Pony Rides & Mini Ranch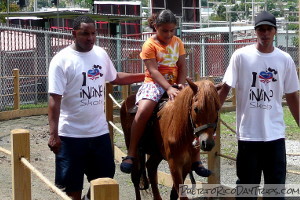 This is so cute. They have ponies of all sizes — anyone 3 years and older can do it. They have small ponies for little kids and larger ponies for kids up to 12 years old. You must wear closed toe shoes. They have helmets available for the riders if you want. There is a fee for every 3 laps, but once in this area you can also enjoy a small water pool for the little kids to play in and a small petting zoo and inflatables.
Tickets & Other Details
Note as of 2/13, Moisty Park HAS CLOSED. If you need to contact them about pre-paid passes or something, call (787) 903-0504 or (787) 903-6064.
Use this map to locate places mentioned in this article. You can click on a placemark to view the GPS coordinates for that place.
PuertoRicoDayTrips.com assumes no responsibility regarding your safety when participating in the activities described in this article. Please use common sense! If your mother or that little voice in your head tells you that you are about to do something stupid … then don't do it!