Some Scenic Views in the Coastal Town of Quebradillas
If you are a nature lover, an avid photographer or anyone who just wants to make a nice pit stop on the way on your way out west, head to Quebradillas. This little town is on the north coast, as you head west, not far from Arecibo and just east of Isabela. There are beautiful beaches, but swimming is not recommended because of the rough, north coast surf.
On our recent trip to the west coast, we decided to see some of what this town had to offer. We had limited time, so we only got in a few sites — they were interesting. I do plan on going back to this area to explore some more. The photo opportunities are endless!
Our Short Visit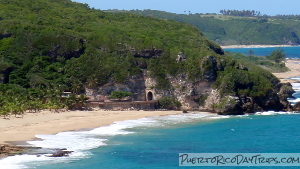 We went on a Monday in mid-October, which is during low tourist season. Our first stop was at the Merendero Guajataca. This little park is located high above the water, where the views are great. It had paved walking trails through the wooded park that lead down close to the beach. This was a nice pit stop — it had clean restrooms, covered picnic pavilions, a nice breeze, and great ocean views. It was a welcome place for us to stretch our legs after a couple-hours' drive from Río Grande!
To get to the park, turn at the flashing yellow light at about KM 103.2 on Route 2. You will see a sign on corner for it — turn toward water. It is just north of the Guajataca Overlook.
Next, we stopped at the Guajataca Mirador (Overlook). This scenic overlook is right on Route 2 and it offers great views of the north coast, the old train tunnel across a river in Isabela and the beach. The negative was there was graffiti, road noise, and some trash there.
The overlook is located on Route 2 at KM 103.7. Look for the sign and the huge flag.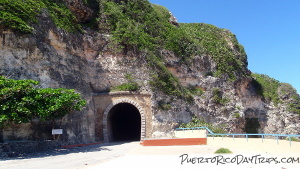 After the overlook, we went down to the Tunel de Guajataca and the Playa Guajataca. These two are right next to each other. We hadn't eaten yet, so we set up a our picnic lunch on the beach, which was empty except for us!
The beach was lovely — lots of soft sand and it was pretty clean, too. I have read they don't recommend swimming since the surf is rough. There were a few stray dogs on the beach which we shared our lunch with. The views were great and we got some great pictures of the surf breaking on the rocks and the tunnel.
There are no facilities at this beach, though there was a restaurant (which was closed) that may be open during high season … I can't promise anything!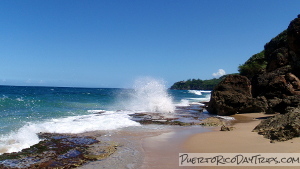 After lunch, we took a walk through the tunnel. Called El Tunel Negro, this tunnel is part of the old sugarcane train route. Today, it is a great photo spot and a nice walk! It seems the tunnel is just inside the Isabela town boundary, and is also called Tunel de Guajataca (but I think both towns share the tunnel).
You walk through the short tunnel (it is not pitch black in there, but the bats don't seem to mind!). Of course the local kids thought this piece of history needed "decorations" so there is some graffiti on the walls, but it is still nice. At the end of the tunnel, there is a small cave that people enter if they have the desire and a flashlight (which we did not so we didn't go in).
The walking path continues along the old train route about ¼ mile or so. It ends at a beach.
To get to the beach and tunnel, follow the sign on Route 2 as you go south, just after the bridge. Go down toward the water to the end where there is parking for the beach and tunnel. There is no security here, so don't leave anything of value in the car.
Is That All There Is?
We will be back! The town was once a pirate's hideaway, so I need to look for treasure at Puerto Hermina . We also want to visit Lago (Lake) Guajataca and check out some of the rivers for waterfalls and swimming holes.
Not too far south of Quebradillas, you can find the Guajataca Forest with its interpretive trail and la Cueva del Viento (the Cave of the Wind).
Use this map to locate places mentioned in this article. You can click on a placemark to view the GPS coordinates for that place.
PuertoRicoDayTrips.com assumes no responsibility regarding your safety when participating in the activities described in this article. Please use common sense! If your mother or that little voice in your head tells you that you are about to do something stupid … then don't do it!