Not Your Typical Trail Ride on a River Horse
Posted on Sep 26th, 2010 by
Gwenn
• Updated on Aug 12th, 2012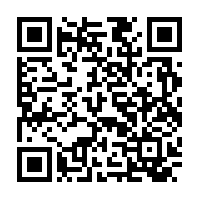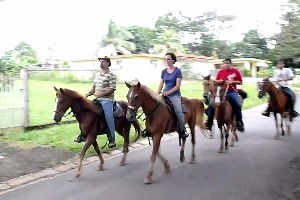 One of the interesting things about living in the Puerto Rican countryside is seeing real locals just living their lives and following centuries old traditions. Cabalgatas (literally, horse parades) are part of life in rural Puerto Rico — getting together with friends and riding your horses through the streets together to meet other friends and hang out for the afternoon. Maybe stopping along the way for a drink or to swim in a river.
Recently, I got to experience this unique part of Puerto Rican culture first hand … well … sort of! Unlike other horseback trail rides, PR4Less Tours offers a horseback riding trip that is more what I would call a Puerto Rican adventure. Let me tell you about our day.
Hacienda 2 Hermanos & their Horses
We met owner & tour guide Rafael Torres at his house/Hacienda 2 Hermanos in Corozal, deep in the heart of island. This is the real Puerto Rico, so it is not all shiny and gated, just his simple house and horse stable. Rafael owns 12 horses, that he treats as pets. They are all full blooded Paso Finos and are trained with voice commands. It is easy to see that he really takes pride in his horses, their care & training, and their blood line.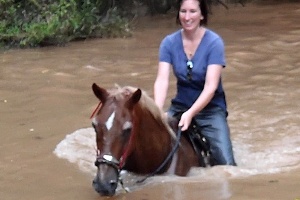 Before getting started, Rafael took some time to gain an understanding of our horseback riding experience in order to help him decide which horses to give us. I was on Coqui and Ray was on Chocolate.
After saddling up the horses, Rafael explained how to handle his horses. They are voice controlled, which was a first for me!We never had to kick the horse to make it move or do what you wanted it to do. You just had to talk to it. There were 3 basic commands to remember — heet to start moving, chachacha to slow down and sshhhh to stop. It was pretty cool seeing the horses listen to the verbal commands, even when we were the ones telling them what to do.
Our Trip
We were on the 2-hour tour. Since we had some previous horseback riding experience, we got on our horses and Rafael walked with each of us until he felt comfortable with our ability to control our horse. Then we all did a small practice trail so that he could get a better feeling for our riding abilities. Once he got a sense of our capabilities, he decided on the route we would use for our tour. Rafael says that he can change the tour, horses used and number of guides depending on how experienced and comfortable the riders are.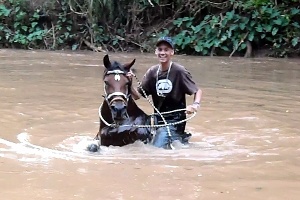 Since we were alone on this tour, and we needed other riders for the video, he had some local kids who help him at the stables come with us. We all had fun!
We started out by riding around his property on trails cut through the woods. Rafael told us about the different trees and bushes along the way — their names, uses and other interesting factoids. Then we hit the streets. These are small, (mostly) empty country roads and we were able to cantor and gallop a lot! Super fun. Of course we had to slowly walk whenever a car came by, but the locals are so used to people on horses (and, of course, Rafael) that they all stopped and waited for us to pass before proceeding.
We stopped at a local colmado (bar), tied our horses up outside, and stopped in for a drink (included in the price of the tour). Our timing was perfect because, while we were having a soda, the sky opened up and poured buckets of rain for about 10 minutes. But we had a nice conversation with Rafael and another patron of the bar about Puerto Rico, the town and the other tours that Rafael offers.
Once the rain stopped, we proceeded on the road for a bit. This was actually a nice part of the tour — it is a real community of local homes and people.
We ended up back at Rafael's house and then we went on another trail down to the river. It was super muddy, but the horses did a great job.
Once we got to the river, they told us about another voice command — agua. That command lets the horse know that we want it to go swimming.
The horses didn't seem to mind a bit. I was amazed to see them swim the doggie-paddle. Or is it the horsey-paddle? Either way, it was a really neat experience — walking slowly into the water, a quick swim in the deep part, and then a gentle climb up to the bank. Watch the video to see what I mean.
Note that you will get wet and probably muddy. The horses went neck-deep into the water, which means that we were in the water to mid-chest.
After a couple of dips in the river, we rode the horses farther downstream through (and along) the river, until we got to a bridge. At that point, we turned around and retraced our steps back to the stables. All in all, a great and different afternoon!
Observations & Comments
We had recently had a lot of rain here on the island, which made this trip extremely muddy — and that much more fun. Did you ever notice that we seem to measure enjoyment on some of these excursions by the mud factor? Regardless, you will get wet on this trip, so bring a complete change of clothes. Rafael let us use his bathroom to get changed and cleaned up.
Leave anything that cannot get wet (cameras, cell phones, etc.) in your car. Make sure you have a dry bag for anything that you take on the horse that must stay dry.
Rafael's horses are active, lively animals. They each had their own likes & dislikes. Ray's horse, Chocolate, is trained as a guide horse, so Ray was usually galloping off ahead of the group. My horse, Coqui, liked to take it easy, but did not want to be last in line. He was gentle, and did like to follow what the other horses were doing, but would listen to me if I didn't want him to follow them.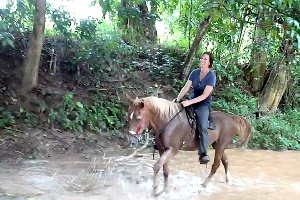 This trip might not be for everyone. It is active, wet and fast (at least it was for us). Rafael says that he gauges the speed and difficulty of the tour to the ability level of the group. I assume that with beginners it would be a little less lively. But in any case, I bet it will be different than any other trail ride through the woods!
These horseback trips are limited to about 6 people at a time, so it is more personal. Rafael will schedule and run the tour with only 2 people, but will try to get a few more people scheduled on the same trip.
Rafael is a trained and certified tour guide, endorsed by Puerto Rico Tourism Company. He is the sole owner & operator … a one man show. He returned our emails and calls promptly, but if he is out on a tour, you won't hear back from him until he is finished.He usually likes to do the 2-hour horseback trip in the morning, and the 1-hour trip in the afternoon (due to traffic on the road), but he can be flexible to help fit into your schedule.
For the horseback trip, we drove ourselves to his place, but he has a van and can supply transportation for either his horse trip or any other tour you may be interested in. He also has a network of contacts/friends at other companies, so he is able to offer discounts to many other tours that you may want to do on the island.
Normally, when we review an activity that is not free to the public, we pay the admission price out of our own pockets. However, we just want you to know that the guys at PR4Less Tours were kind enough to offer us this trip for free. While we don't feel that this free ride influenced our review one way or the other, we felt that we should tell you, just as a matter of fact.


Details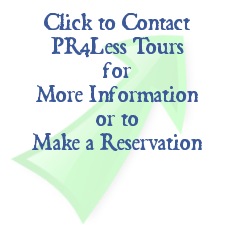 The cost of the 2-hour river horse adventure is $70/adult and less for children (ages 7-11). Or there is a 1-2hr horse back ride of the area that is less. Check their web site for different specials that they offer from time to time. He can also provide transportation for an additional cost.
If you're happy, let them know it — Don't forget to tip your your bartender, tour guide or trip operator if you enjoyed yourself. Gratuities are appreciated and typically aren't included in the price they charge you.
Tours are offered by reservation only. Call or send an email to get the process started.
Long pants and closed-toe shoes are required for the horseback adventures. There is a weight limit of 210 pounds.
Allow about 30 minutes more than your tour length for signing release forms, getting changed, etc.
You can call 787-627-9552 or 787-627-5214 for more information or to make a reservation. Leave a message if there's no answer.
You can visit their web site for more information.
They have good driving directions on their web site. Note that the directions tell you to follow the signs once you get to a certain point. Those signs are no longer there. Rafael can meet you at the cultural center about 5 minutes from his place. Look for the huge metal gear on the right side of the road.
Travel time from the San Juan metro area is about 45 minutes. Allow a little extra if you've not driven much in Puerto Rico before.
Use this map to locate places mentioned in this article. You can click on a placemark to view the GPS coordinates for that place.