Enjoy a Yummy Rummy Night in Old San Juan
Posted on Dec 10th, 2008 by
Gwenn
• Updated on Sep 8th, 2012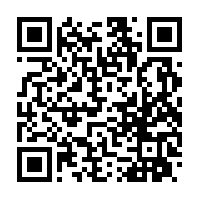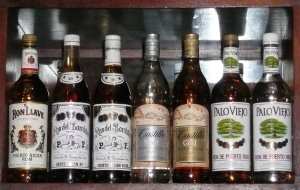 San Juan has been called the Culinary Capital of the Caribbean. And Puerto Rico is the Rum Capital of the World. Legends of Puerto Rico has put these two together to make a really fun, and delicious, night out!
We recently went on the Spirits of Puerto Rico Rum Tasting & Dinner Tour. Our guide was Debbie (who we originally met on Night Tales in Old San Juan walking tour). Legends of Puerto Rico developed this new tour to help people appreciate the rums of Puerto Rico.
Start with Some Rum
Spirits of Puerto Rico is about Puerto Rican rum and food. The tour takes place at one of the great restaurants in Old San Juan (or a restaurant on a beach outside San Juan). They change venues on occasion, so the food experience will be different on different nights, but I bet it is always delicious!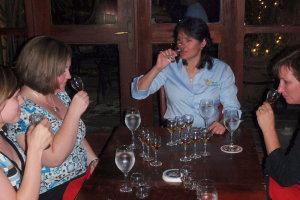 We met Debbie at the restaurant. We had a private room just for our tour group. We were an intimate group of 4 people, with one tour guide. Once you get seated, you are ready to get down to the business of eating and drinking!
We started with some rum. Debbie explained how to do a rum tasting, so you know how to taste and differentiate between types of rums produced on the Island. It was a "blind" tasting – we were not told what type of rum we were tasting, so our experiences and prejudices could not influence our comments. We started with 4 rum samples. We sniffed and then tasted each sample. After tasting all 4 samples, Debbie asked our opinions and comments about each sample. We each decided which we liked best, then she revealed the brands and type. It was interesting how different one rum is from another. We were off to a great start!
Add Some Food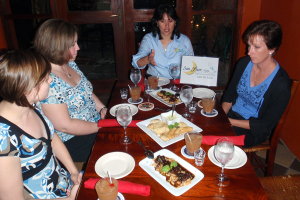 After we finished our first round of rum tasting, the waiters showed up with some food and a rum cocktail. During our time eating, and throughout the whole tour, Debbie told us a lot about Puerto Rican rum, it's history, how it is made, the different companies in Puerto Rico that produce rum, and more. Now we know lots of rum factoids. She explained why Puerto Rican rum is so good – the aging time, which smooths out the flavor, is mandated by law! She also gave us ideas to help prevent hangovers (which I was thinking was going to come in handy!). All very interesting stuff.
Repeat as Necessary
Next, we had some water to cleanse our palettes, and then time for more rum tasting! 4 more types to sniff, taste and discuss. We all liked these! Then more food and another cocktail and a shot … I am really beginning to like this! More water, then 4 more rums to taste, again yummy, then more food and another cocktail … and another cocktail and then an after dinner drink made with … you guessed it … RUM!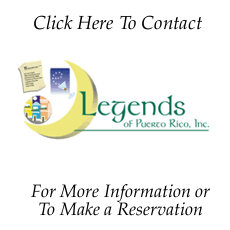 New Friends & Good Food
These tours are very intimate, with a maximum of 12 people. I thought one of the really fun parts of the tour is the interaction with the other tour participants (especially after everyone has a few drinks in them!). The food is usually served "family style" – so everyone digs in and shares and passes the food around. It is a great way to meet other people, and there are plenty of opportunities for socializing and fun conversations with your guide and the other people in your tour group. You might even get some Rums of Puerto Rico souvenirs!
We really enjoyed the restaurant. The staff was great and the food was tasty and beautifully presented. Throughout the 2 hours, we had a little bit of everything – chicken, beef, fish, turnovers and more. We had a wonderful waitress and even the manager waited on us. The manager explained what we were eating, and told us how to make each cocktail that we were drinking. At the end of the evening, we got to meet the chef. A delicious experience all the way around.
By the end of the tour, we were all feeling fine and had eaten our full. Time for the ride home, or you can stay in the Old City to enjoy more of the night life.
Flavors of San Juan also now offers a similar tour of rum education, rum tastings, cocktail preparation (and drinking!) and appetizers all in an ocean view setting in Condado. You can contact them for more info: info@flavorsofsanjuan.com
You will be drinking quite a bit of alcohol during this tour. Please do not drink and drive. You should make transportation plans ahead of time. You can take a taxi from/to your hotel. Have fun. Be safe.
The Details
The cost of the tour is $85 per person, plus tax. This cost includes 8 different rum samples during the tasting, 1 shot of Puerto Rico's traditional rum shot, 2 different preselected rum cocktails, 4 food plates served "family style" and 1 rum "dessert" drink and rum cake for dessert. This cost covers gratuity for bartenders and wait staff. It does not include a gratuity for the tour guide.
If you're happy, let them know it — Don't forget to tip your your bartender, tour guide or trip operator if you enjoyed yourself. Gratuities are appreciated and typically aren't included in the price they charge you.
This tour is offered 6 days/week (Monday – Saturday), at 6:00pm.
Minimum age on this tour is 21. The tour is in English. Tour groups are between 6 to 12 people. Wear comfortable shoes and casual clothing. NO shorts, NO sleeveless shirts, NO T-shirts.
The rum tasting lasts 2 hours.
You can call 787-605-9060 for more information.
You can visit the Legends of Puerto Rico web site to for more information or to make a reservation.
You will be given the name and address of the restaurant and meeting time when you get your email vouchers one week prior to the tour.