Take a Relaxing Sail in San Juan Bay
Posted on May 27th, 2012 by
Gwenn
• Updated on Feb 24th, 2013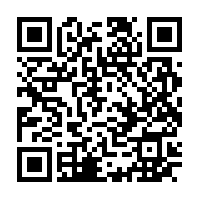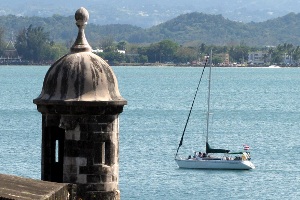 Old San Juan is one of my favorite places in Puerto Rico. The history, the architecture, and the photo opportunities all make it a must-visit place.
Of course, you can walk around in the city and see what there is to see. But for a whole different perspective, how about sitting back and relaxing while taking in the views of the old city from the sea?
We recently took a trip in the San Juan Bay with Sailing Dreams, and it was one of the most relaxing hours I have ever spent in Old San Juan. Oh, and we got some great photos, too!
About Sailing Dreams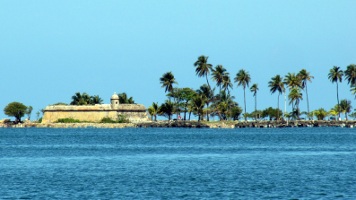 Sailing Dreams docks their 38-foot Jeanneau sailboat, the Poema de Amor Libertad (Poem of Love and Freedom), at the San Juan Bay Marina (behind the Sizzler).
Captain Judith and her first mate are the crew for a number of different tour options, ranging from a 1-hour tours to all-day excursions. They take a maximum of 6 passengers, so there is plenty of room to spread out on deck, as well as a nice table area to sit together and hang out.
During the trip, they offer beverages and snacks (depending on the tour), and provide a narrative about sights around the San Juan Bay, and other interesting tidbits about the history of Old San Juan.
Our Tour
We went out on a Sunday morning for a 1-hour tour. Finding the place was easy, and there was free parking at the marina. Captain Judith was so nice, and she is prompt — she won't keep you waiting to start your trip.
She welcomed us, gave us the safety and trip briefing, asked about our music preferences, and off we went. We had beautiful weather that day. Make sure you apply a lot of sunscreen as the water reflects the sun rays and you can get a pretty bad sunburn in only an hour on the water — we found out the hard way!
Because it was only a 1-hour trip, it was too short a trip to put up the sails, so we motored in the San Juan Bay, past the huge cruise ships and other boats docked in port. Captain Judith knew a lot about some of these other boats and yachts, which was made the trip more interesting. They do hoist the sails for longer trips, like their Sunset Sail.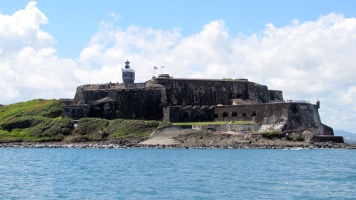 The boat has some nice comfy seats around the front area, so Ray and I sat at the very front, at the bow. They served us drinks (both alcoholic and non-alcoholic available) and snacks.
We had the sun, the sea, the breeze … it was really nice. We slowly rounded the corner into the channel, past La Fortaleza, the San Juan City Gate, and El Morro. And because the ocean was calm that day, we were able to go out a little way into the ocean to get more great photos.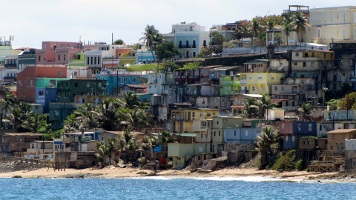 On the way back, Captain Judith told us all about what we were passing, with lots of history and other information about Old San Juan. It was interesting, educational, and relaxing — but over all too soon.
One other thing to note is that the ocean is full of all sorts of wonderful sealife, and you never know what you may see. We saw a number of different types of sea birds, and even watched some pelicans diving for fish. The day before, they had a long visit with a pod of dolphins, and at other times, manatees and even stingrays have been seen at the surface.
Details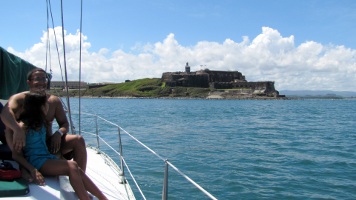 The cost of our 1-hour sail was about $50/person. Call or check their web site for current rates. Minimum age to go on the boat is 5 years old.
If you're happy, let them know it — Don't forget to tip your your bartender, tour guide or trip operator if you enjoyed yourself. Gratuities are appreciated and typically aren't included in the price they charge you.
They offer 1-hour bay sails 4 or 5 times per day. The Sunset Sail is about 3½ hours. They also offer moonlight sails. The sailboat is also available for private charters and special events. Reservations are required, and you must book/pay online through their web site. Tours require a minimum of 2 people, and a maximum of 6.
Wear sunscreen, sun glasses and a hat. With the breeze, you don't feel the sun, but it is there!
You can call 787-519-5000 for more information. Reservations must be made online, not over the phone.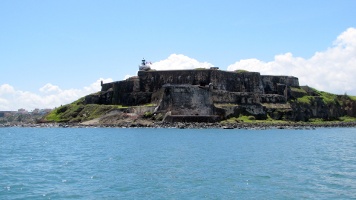 You can visit the Sailing Dreams web site for more information or to make your reservation.
Tours can be given in English, Spanish, or both.
You will be required to leave your shoes on the dock and go barefoot on the boat. This helps keep the boat clean, and it's safer for you. You'll get your shoes back at the end of the trip.
The 1-hour tour came with 1 glass of champagne. You are welcome to bring your own if you want more, or something special to drink.
There is also another sail company that does sailing trips in Old San Juan- called Sail Old San Juan. Capt Sebastian is available for tours during the "winter" – from about mid November to mid May. Room for 6 guests on his boat. English or Spanish narrative of the sights of Old San Juan. He does 2 hr trips for about $125 per person (with drinks/snacks) Call for info and reservations: 787-340-7567.
Located in the San Juan Bay Marina, slip 64 (right next to the big building in the middle of the marina). The marina itself is located behind Sizzler, and accessed from the south side of the bay (the side with the Puerto Rico Convention Center).
Use this map to locate places mentioned in this article. You can click on a placemark to view the GPS coordinates for that place.