Take a Seaplane Flight Over Old San Juan
The seaplane is generally only available in "winter months". Usually from November until April or so. Call to check!
Anyone old enough to remember the 1980′s TV series Fantasy Island will understand our excitement when we first saw the seaplane landing in San Juan Bay. "De Plane, De Plane!"
That is right — Seaplanes in Paradise offers seaplane rides over the San Juan area and beyond. They take off right from the Bahía Urbana along the bay in Old San Juan. Their offerings include quick flights over the immediate San Juan area, and a number of half-day tours to tropical locations around Puerto Rico.
So, to experience a seaplane ride (something that has been on my bucket list since I was a kid), we hopped on a San Juan Diaries tour — which is a 20-minute flight over Old San Juan — and had a great experience. I predict it will not be my last seaplane ride!
About Seaplanes in Paradise
Seaplanes in Paradise currently has one (soon to be two) seaplanes that they use for tours. It is a 9-passenger, amphibious Cessna 208 aircraft. There are 8 seats in the cabin and 1 co-pilot seat. The best seats for taking photos are on the left side of the plane, but everyone could see out all the windows for views. The person in the co-pilot seat needs to be tall enough to see over dashboard (or maybe sit on your legs to boost yourself up).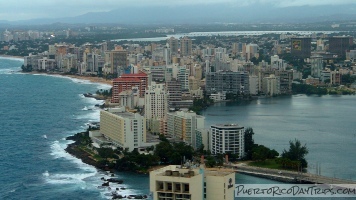 They offer a few short tour options over the metro area, and half day trips to exotic and beautiful places like Culebra, Vieques, Caja de Muerto, Mona Island, and the Virgin Islands. They are constantly adding to their list of destinations. As long as they use buoys or piers to anchor the plane, studies show that seaplanes cause almost no physical impact to the natural environment (much less than any boat does).
Our Flight
During my brother and sister-in-law's recent visit, we decided to check out the new Bahía Urbana waterfront area in Old San Juan. "De plane, de plane!" We saw the seaplane tied off at the dock and we decided to check it out.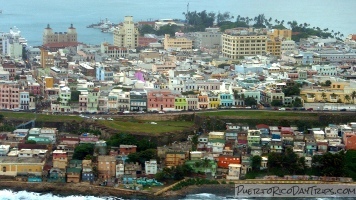 At that time, they were offering a 15-20 min tour (of which about 12 minutes are spent in the air) over Old San Juan and westward along the north coast. Similar to their "San Juan Splash" tour now. So we went on a flight.
I have been on regular 8-seater commuter planes and found the take off and landing a bit hair-raising, because of how they sway and swerve on the runway. But the seaplane had none of that. Take off was smooth and landing was smooth on the water.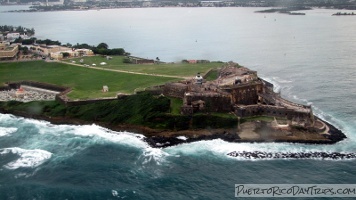 The views — now that is what it is all about! It was hard to know which way to look. On the way out, we saw "new" San Juan (part of Condado), the Escambron Beach area, and along the north coast of Old San Juan.
The capitol building, Fort San Cristobal, El Morro, the Bacardi factory and Catano, Isla de Cabras, Punta Salinas, and the green waterfront road to Toa Baja. It is amazing to see just how thin parts of Old San Juan really are.
Then we made a turn-around and we got to see it all again from the other side. We compared pictures afterwards, and both sides of the plane got some great (and slightly different) views.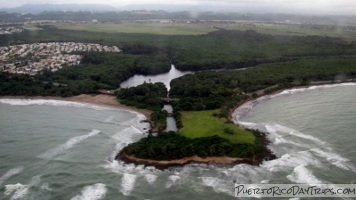 Landing was also smooth. We had one little bounce and then we were down. There were 2 cruise ships in port that day, and it was fun to land right behind them … people on the ship were cheering at our touch down!
Our only regret is that it was not sunny that day. There was light rain, so the pictures just don't do it justice. And the flight was over way too soon!
Our one suggestion would be to get some narration during the flight. While we knew what area and sites we were seeing, a visitor would not know what landmarks and area they were flying over. Afterward, I spoke to a company rep and he said in the future they will have headsets and a list of informational narrations, or music, for people to enjoy during the flights.
Normally, when we review an activity that is not free to the public, we pay the admission price out of our own pockets. However, we just want you to know that the guys at Seaplanes in Paradise were kind enough to offer us this trip for free. While we don't feel that this free ride influenced our review one way or the other, we felt that we should tell you, just as a matter of fact.

Details
Prices for flights start at $159 per person, and go up depending on the tour. They offer different sightseeing tours (of various duration), a sunset flight, and private charter flights. There may be a minimum number of guests needed for tours.
Reservations are needed. You can reserve online on their website. They operate flights 7 days/week, during daylight hours during tourist high season (Winter), during the Summer call them to see if they are available. Contact them for specific tour hours.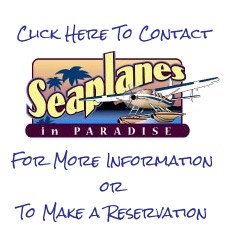 There is no minimum age for kids, although kids under 2 years of age need to be in a car seat (bring your own). There is no maximum weight limit, though all passengers must be able to fit in their seat belt.
You can call them at 888-842-2055 or 602-377-8470 for more information or to make a reservation.
You can visit the Seaplanes in Paradise web site for more information and make a reservation. You can also check their Facebook page for special offers and newest destinations.
You need to be able to climb up a few steps into the plane, but they help you up if needed (hand holding). There is no restroom on the plane.
Seaplanes in Paradise is located on the Bahía Urbana waterfront area, just steps from the cruise ship piers.
Use this map to locate places mentioned in this article. You can click on a placemark to view the GPS coordinates for that place.
PuertoRicoDayTrips.com assumes no responsibility regarding your safety when participating in the activities described in this article. Please use common sense! If your mother or that little voice in your head tells you that you are about to do something stupid … then don't do it!