Get Some Variety with Del Encantos Eco Tours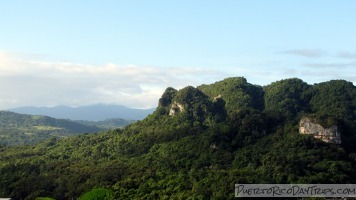 I love exploring the karst region of Puerto Rico. The landscape is ruggedly beautiful, the caves hold many secrets from the past, there is a great diversity of plants, animals, and geological formations in the area.
I have tried multiple times to find something interesting and accessible to explore in the towns of Florida or Ciales, and had always come up empty-handed. That is until I found a tour offered by Tierra del Encantos Ecotours. They have access to private land that hold a myriad of cave and river treasures, and we jumped on the chance to check it out.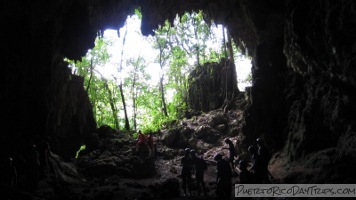 The karst region runs through much of the northern part of the island. While the "haystack" hills are easily seen from the highway, you need to turn inland a bit to get to the large sheer cliffs, valleys, caves, and underground rivers. While Rio Camuy Caves Park is the most promoted and visited cave system on the island, there are many other caves, some wet, some dry, some with pre-Colombian artwork, and some with huge underground waterfalls.
The towns of Florida and Ciales are smack dab in the middle of the karst region, and they boast an amazing cave system and huge underground river system. Florida is even locally called The Land of the Enchanted River (La Tierra del Río Encantado).
Some caves are easily visited, if you know where they are. But many of them require serious spelunking experience and a knowledgeable guide, for safety purposes.
Our Tour
After a few false starts, our tour group got its collective act together and made it to the starting point for this excursion, which was a small farm in Ciales. Once everyone arrived, we met our guides and were issued our safety helmets. There was one English-speaking guide (Benji) who stayed with us throughout the tour, to translate and explain things along the way.
We started out with a walk through the karst forest. You really had to watch your step, there were lots of rocks sticking up, just waiting to trip you. All in all, it was a relatively long walk, probably longer than most people are used to. I would guess that we walked 2½ to 3 miles round trip.
Our first stop was at Cueva Las Golondrinas. This was a highlight for me because it was loaded with pre-Colombian petroglyphs. This is an open cave, with a few pretty stalactite/stalagmite formations which made for nice photos.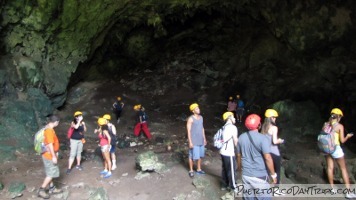 After some time in that cave, we continued walking a bit and came to some other pretty areas. In the Valley of Death (Cañón de la Muerte), the lead guide (Noel) told us about how caves form over many hundreds of thousands of years. He showed us "baby caves", that were on only a few hundred thousand years old and just starting to form.
The area was pretty, with a number of neat, natural formations. The flora of the area is pretty tough, with long root clinging to the limestone rocks. There is one beautiful tree with all its roots exposed- great picture!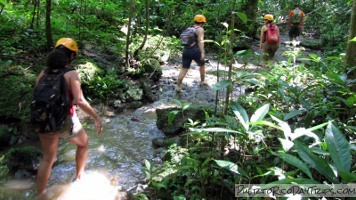 We passed a crystal-clear stream, called the Manantial, that runs more than a mile, both above and below the ground.
We eventually got to Wind Cave (Cueva del Viento) where we had a rest stop and were issued headlamps for our helmets. Then we descended into entrance fissure of the cave, where you could feel a cool breeze coming out. We spotted a little Puerto Rican boa relaxing right on top of this entrance!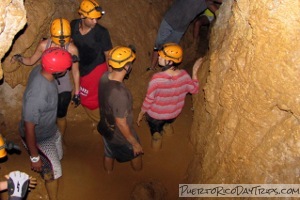 The cave had some very nice formations. They refer to this cave as "the mud spa" because it is muddy inside. Really muddy. Your feet get glued in the mud, and then at the back of the cave there is knee-deep mud that you wade through. More than one person had a shoe sucked off by the mud. Very funny! In the end, everyone was an orange, muddy mess!
After some time in the muddy cave, we walked for about 20 minutes and arrived at some nice little pools in the Manantial stream, where we were able to wash the mud off of our shoes, feet, and legs. It took a little rubbing, but it does all wash off.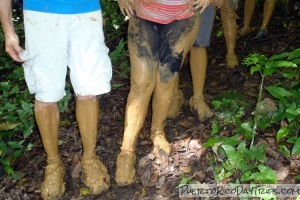 After this, we began heading back to our starting point, but via a different route — so there were different things to see, both natural and man-made. There were fossils of reefs and clam shells from back when the area was formed millions of years ago. There were also the remains of some out-houses, left over from the 1930s and 1940s when these trails were footpaths that connected the small villages in the area.
We eventually crossed a stream and started walking up to this really cool white rock water cascade, which looks totally different than other rocks in the area. Called La Vega del Tapia, it was created millions of years ago by lava from the center of the earth, probably during the tectonic plate collision which formed the area. It was the coolest thing, due to it being limestone, it was rough, which allowed yo to walk up it without slipping. I felt like Spiderman!
There were some nice little Jacuzzi pools where you could sit and splash around a bit. There wasn't a lot of water coming down it the day we went, but during rainier periods, it must be amazingly pretty.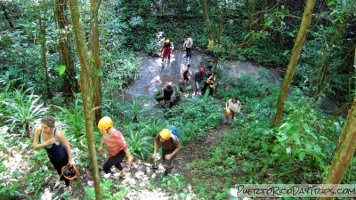 After that, we continued on until we got to the Pozo Azul or Blue Well. This was a cenote — a deep hole in the limestone rock that allows the fresh underground water to come to the surface. The water is clear and when the sun shines on it, it looks blue due to the mineral content. You could jump in here and try to touch the bottom, which a few people tried!
When everyone was done playing, we started our forest walk back up to the starting point at the farm.
Some Comments on our Trip
While we enjoyed this trip, there are a few areas that we think need improvement. Tierra del Encantos Eco Tours is a new tour company as of 2012, so they are still working out the kinks. But the tour felt a bit cold to me. It was as if we were just following a stranger through the forest leading us to see some neat stuff, as opposed to being welcome guests on a tour.
For the most part, it seemed to me that the guides didn't interact with the people on the tour (with the exception of our guide, who was explaining stuff to us in English). At the stops along the way, the guides did explain about what we were seeing, but they didn't chit-chat with the participants very much.
It didn't seem like there was any communication about basics that you have on most other tours — things like asking if everyone is OK, or if anyone needed a break, or if they were walking to quickly, or if anyone needed to make a bathroom stop, or even a "Do you want me to take your group's photo".
At the end of the tour, the guides (including the owner of the company) just went off to change and the participants got into their cars and drove away. Unless I missed it, there was no "Thanks for coming", "Who is coming with us for lunch?" (lunch at a local restaurant was offered as an option in the description of the tour), or even directions on how to get back to the main road from the farm.
Spanish was the language of most of the participants, so Spanish was the language of choice on the tour (which makes sense). While they did have a guide who spoke English, all other communication (emails and text messages) prior to the tour were in Spanish, or English that was Google-translated from Spanish (so those emails didn't make much sense). That could be problematic for non-Spanish speaking participants.
In order to move through the Cueva Viento, you had to hold onto the walls at times. I was a little concerned that some formations in the cave might be damaged by the participants.
Things to Keep in Mind
It is a long, humid walk. Bring snacks and about 2 liters of water per person. There is no bathroom on the tour, nor at the meeting places, so take care of that ahead of time. The forest makes a lovely open-air bathroom in a pinch. For footwear, you need sneakers or shoes that tie onto your foot and can get wet. Slip-on shoes will get sucked off of your feet in the muddy cave. Since you'll be walking on rocks and in some streams, the soles of your shoes must be "grippy". It would be a good idea to bring a change of clothes. Gloves would be helpful, too.
Details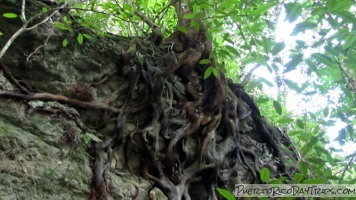 The cost of this tour is $120 per person. Kids from 8 to 12 years old are $40. If you have a group of 15 or more people, the cost is $60 per person. They offer special rates to residents of Florida (the town in Puerto Rico, not the state of Florida). Lunch at a local restaurant is optionally available for $6 per person.
Tours are offered Friday through Sunday, starting at 7:30am. Reservations are required.
The minimum age for this tour is 8 years old. Persons under 18 years of age must be accompanied by an adult. There is a maximum weight limit of 250 pounds. Tours are subject to weather conditions. You must be in good physical condition for this adventure, and you will be required to fill out a liability waiver. This tour is not for people who are claustrophobic.
The tour lasts approximately 5 hours.
You can call 787-567-9056 for more information or to make a reservation.
You can visit the DelEncantos Eco Tours Facebook page for more information.
The meeting point is at the Paseo Lineal Juan Antonio Corretjer in Ciales. From Route 22 in Manati, take Road 149 south toward Ciales. The park will be on your right.
Use this map to locate places mentioned in this article. You can click on a placemark to view the GPS coordinates for that place.
PuertoRicoDayTrips.com assumes no responsibility regarding your safety when participating in the activities described in this article. Please use common sense! If your mother or that little voice in your head tells you that you are about to do something stupid … then don't do it!