Get Some Culture and Adventure with Tropical Adventure Guides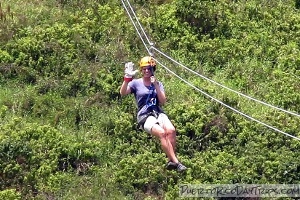 When you are on vacation on a large island like Puerto Rico, which has so many things to see and do, it's often the case that you don't get a chance to do everything you would like to. Usually, something gets missed.
If you are interested touring some of the Puerto Rican countryside and doing an adventure tour — now, don't have to choose. Tropical Adventure Guides (TAG) has a "culture and adventure tour" that offers a little of both!
Background
The owner and top guide at TAG, Alfonso Vazquez, has 20 years of experience with zip lining, rock climbing, rappelling, and adventure tourism companies. Recently, he and his wife decided to open their own adventure company. He knows most of the other adventure tour operators, and wanted to offer something a little different — something that combined an adventure activity with his love of little towns in Puerto Rico.
They found a farm (Finca La Plata) in Toa Alta that has the right topography for ziplines, with room to expand to other fun sports. They provide transportation, and during the ride to the farm, they offer a wonderful narrative of the beautiful scenery and countryside you are driving through.
Our TAG Adventure
When our family comes to visit, we get a lot of time to try new activities around the island. We had a very busy April! We took this trip with my sister and our teenage nephew, neither of whom had been ziplining before.
We met Alfonso and our other guide Cesar (aka Pito) at Plaza Las Americas mall. They usually do pick-ups from hotels in the Isla Verde and Condado areas, but since we weren't staying at a hotel, we drove in from Rio Grande and met them at the mall.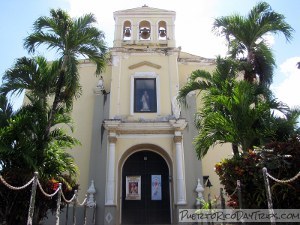 We left the mall and started off toward the farm along a beautiful coastal road that had great ocean views. They pointed out the Bacardi distillery and various beaches along the way. We stopped at a local farm stand to pick up some local fruit and Alfonso told us all about the history of the area, how fertile and important the land was to the Tainos, and later to the Spanish.
As we continued on, he pointed out the beautiful Hacienda where they grew tropical produce to ship back for the Kings of Spain. We also stopped at one of the oldest churches in Puerto Rico — Parroquia San Fernando Rey. Alfonso told us about the town, town squares, and other interesting things. We had the chance for a bathroom break at a gas station (great idea since the farm doesn't have one), and we passed a thoroughbred horse farm, a cock fighting farm, and then we finally arrived at Finca La Plata.
Once at the farm, they got us geared-up with the safety harness, helmet, and gloves. Alfonso gave detailed safety instructions and explained about the zipline equipment. They follow National Cave and Rescue Commission rules for equipment — strong carabiners, harnesses, helmets, and gloves. They told us about the strength of the cables they use, and some of the standards they followed when constructing the zipline courses.
My sister and nephew had never done anything like this, so they were a little apprehensive. TAG have a small, low practice zipline where Alfonso showed them how brake, land, and basically enjoy themselves. He had them each go down this line a few times until everyone felt comfortable with the skills.
Then on to the fun! We walked/hiked through grasslands and a forested area to the first zipline. Alfonso pointed out birds and other animals along the way, while making sure everyone are doing OK with the walk.
There are short walks between the ziplines. It is not necessarily an easy walk, but it is not too bad. You definitely need to wear shoes that will give you some traction. Along the way, we found Stinky Toe; an edible fruit used in a Puerto Rican children's game called gallito. We took one home to try later. It smells bad (thus its name), but it tastes OK.
On to the zip lines! When we went (April 2011) they had 3 zip lines and one rope bridge ready. They will be expanding over time.
The Mango line was almost 800 feet long. This one goes from a tree across a grassland valley. You can see the town from this zipline. Next, we went into a forested area where we did the other 2 ziplines, and crossed the rope suspension bridge.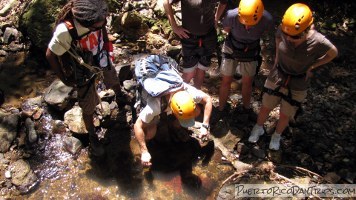 After the ziplines, we went for a river walk, where we saw a snake, fresh-water shrimp, and eventually got to a natural pool. You could swim in the pool, but we didn't opt to do that. They also have an optional 60 foot rappel in the river gorge, but we didn't do that.
After the river, we walked back to our starting point, and enjoyed some views from the top of the hill. They also have an optional lunch (typical Puerto Rican meal), but we had packed our own sandwiches, which we ate at lovely Lago La Plato.
Some Thoughts
We have done a lot of zipline courses, but this was all new to my sister and nephew. Alfonso described his tour as being "well suited for first timers and for families with young children". My sister and nephew agreed, and they really enjoyed it. My sister felt very safe after the safety explanation (about how much weight the lines, harnesses, and carabiners can hold) and the practice zip line. My nephew loved it, and really enjoyed the rope bridge.
While this is not the most hardcore adventure experience on the island, it offers both exciting moments and some relaxation, too. I think, once they get this course fully open, and another zipline or two up and running, this will be quite an active and fun day for everyone, both first timers and people who have ziplined before. And, they have priced it right.
We went on this La Plata Zipline adventure tour before it was officially open, so expect that the tour will expand and change over time.
Details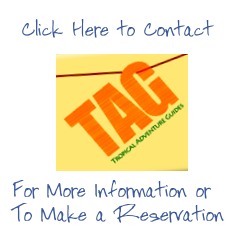 The price of this trip varies, depending on what you want to do during the tour. For a group of 4 to 10 people, they can customize the trip.
If you're happy, let them know it — Don't forget to tip your your bartender, tour guide or trip operator if you enjoyed yourself. Gratuities are appreciated and typically aren't included in the price they charge you.
This is a half day tour that is best to do in the morning, when it is cooler.
Alfonso prefers to take people from only 1 group (family, etc.) at a time. But, if you're just a party of 2, he can include people from other groups, if you're OK with it.
Allow a good 4 or 5 hours to complete this trip.
You can call Tropical Adventure Guides at (787)460-2316 for more information or to make a reservation.
You can visit the Tropical Adventure Guides web site for more information.
Finca La Plata (where the ziplines are) is about 30 minutes from the San Juan area, and about 15 minutes from Dorado
In addition to this zipline tour, Tropical Adventure Guides offers Northen Limestone Rock Climbing Adventure, Rock climbing clinics and courses, Customized tours and adventures, and Corporate Team Building. In the future, they are hoping to add some horseback riding to the mix.
Normally, when we review an activity that is not free to the public, we pay the admission price out of our own pockets. However, we just want you to know that the guys at Tropical Adventure Guides were kind enough to offer us this trip for free. While we don't feel that this free ride influenced our review one way or the other, we felt that we should tell you, just as a matter of fact.

PuertoRicoDayTrips.com assumes no responsibility regarding your safety when participating in the activities described in this article. Please use common sense! If your mother or that little voice in your head tells you that you are about to do something stupid … then don't do it!