A Fun Day of Waterfalls, Hiking, Climbing, Rappelling, and Ziplines
Post Maria- The forest area they used got badly destroyed, so they will not be doing this tour in 2018. We will check back for next season.
New for 2012- a 100 ft waterfall rappel! Amazing! This is one fantastic trip- it has it all!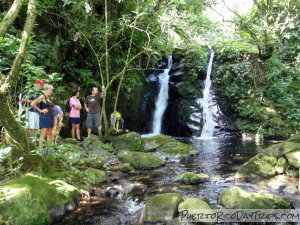 If you are the adventurous type, Puerto Rico is full of activities for you. We decided that we should try a guided adventure tour that included hiking, swimming, climbing and zip lining. There are a number of companies that offer these type of day-long adventures but after reading the descriptions of the different trips, we decided that Acampa's Toro Negro Rainforest & Zipline Adventure was the one for us.
Are We There Yet?
The Toro Negro rainforest is located in the middle of the island, and transportation from your hotel in the San Juan area is included in the package. If you're not staying at one of the hotels that they go to, then they'll meet you at the Plaza las Americas mall. We met the rest of our tour group at 7am in the mall parking lot. Our group that day consisted of 8 people, plus the two tour guides Raymond and Jaime. After introductions all around, we loaded into Acampa's air-conditioned van and we set off for the 90-minute drive to our destination – the town of Juana Diaz and Toro Negro Forest.
Some people slept during the trip, while the rest of us chatted with Raymond about Puerto Rico, it's culture, it's history and things we were seeing along the way. The drive across the island is beautiful. It offers a nice way to see the south side of the island and how different it is from the north side.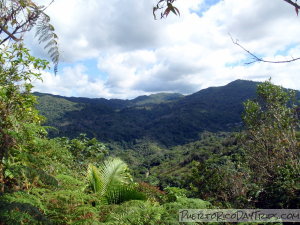 Once we get to the town of Juana Diaz, we began the ascent into the mountains, up about 2000 feet, along a super thin, twisting road. Note that if you get car-sick, you might want to take something like Dramamine prior to the trip. When we about 10 minutes away from our destination in the rainforest, we stopped at a small store where we could buy some snacks and drinks. I would suggest that you pick up a bottle of water for each member of your party just to have with you on the trails later in the day.
Another tidbit that our guides pointed out was that this store has the last flushing toilet that you'll see for the rest of the day. Really, they mean the only toilet. So take advantage of the opportunity. For the remainder of the day, you'll need find a tree or big rock to go behind. You wanted an adventure, right?
Finally, We're There!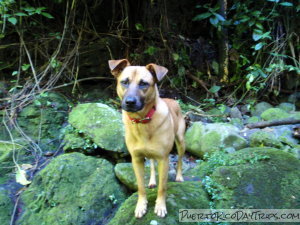 Once we arrived at Acampa's property in Toro Negro, we were greeted by our special four-legged "guide", Pancho. Pancho is a friendly dog who has adopted the Acampa group and spends the whole day with you on the trails and near the water. Acampa owns the 30-acre property in the Toro Negro rainforest where you spend the day. The land used to be a coffee farm. It is a beautiful piece of property, full of fruit trees and all kinds of tropical plants, with a wonderful waterway going through it. And it's all along that waterway that you'll find the many waterfalls and natural pools that are the real attraction for the day.
As we prepared for our morning of hiking, our guides handed out the helmets, gloves, and harnesses that we would need over the next couple of hours. Since you'll need to carry your own equipment throughout the day, it's advisable to bring a small backpack or daypack so that you can keep your hands free.
Let the Adventure Begin!
Once everyone was ready, our journey began. Our first stop was a short hike from where the van was parked. It was a nice spot with two small waterfalls. Our guide pointed out a small pool at the base of one of the waterfalls and announced that it was 12-feet deep and that we would be jumping into it, one by one. Not wanting to get soaking wet so early in the day, we were hesitant to do it. But then we figured that we were going to spend most of the day wet, so why not? The water was so refreshing (that's tourism-speak for cold!). It definitely wakes you up! But go ahead and do it, you are going to get soaked anyway, you might as well experience it all!
Once everyone had finished their wake-up call, we put on our helmets and started our climb up river. The path up the river varied.
Sometimes we were climbing up alongside of the a waterfall. Sometimes the path was right up through a waterfall. In some parts, the water was only ankle-deep. In other parts, the water was chest-deep. Sometimes we were on trails. We were never far from this lovely river that is loaded with waterfalls of all shapes and sizes.
But no matter what you had to do, Raymond and Jaime were always right there, telling you where to grab or where to put your foot. That sure made it a lot easier!
At one point, we came to a steep waterfall and the only way to go was straight up through it! Jaime scrambled up to the top quickly and secured a rope that would be used to keep us from falling as we climbed up the falls.
One-by-one we clipped the rope to our harness and climbed to the top. Finding your footing on this waterfall was a little tricky. But in the end, everyone in the group made it to the top with no problems.
Climbing to the top of this waterfall was really fun, challenging and was definitely the highlight of the morning!
Lunchtime!
After we all finished the climb up the waterfall, it was time for lunch, so we headed back to where the van was parked. Along the way, Jaime explained the different vegetation all around us – bananas, coffee, citrus, passion fruits, and pineapples, among other things. He also pointed out all sorts of plants traditionally used for medicinal purposes. Acampa has local people that take care of the land, maintain the trails, farm it and pick the coffee. Jaime explained the difference between the grades of coffee – what makes some coffee gourmet and some just OK.
With all this exercise, we were all hungry. We arrived back to the van to find that Raymond had headed back ahead of us to get a nice local lunch all set up on their shaded picnic tables. Lunch included roasted chicken, BBQ ribs, name (a local root vegetable), tostones, salad, rice, soda and water. There was more than enough for everyone to have seconds. Even Pancho had some! It was all delicious.
An Afternoon of Zipping
After we were all full, rested and had the opportunity to use the facilities (that would be the big rock or tree I mentioned earlier), they handed out more equipment – our zip line pulley thing. Here we go!
We set off on a hike for about 20 minutes, mainly uphill (you know, so we can zip down!). That short hike was the hardest part of the whole day. But we did it at a decent rate, with a few stops along the way to catch our breath and take a swig from our water bottles.
When we arrived at the first zipline platform, we got back into our harnesses and helmets while Raymond and Jaime explained how to do the zip lining, safety precautions, how and where to hold the gear, etc. After they doube-checked that everyone had their harness on correctly, it was time to zip!
One guide went across to the next tree platform, and one guide stayed on our end. One-by-one, they clipped you onto the zip lines. When you were ready, you sat down in your harness and took a giant step over the edge of the platform. Then off you go! We thought it was really easy and a lot of fun!
The first line was short – so that you could get the hang of it. Then the next 4 lines were longer – about 200-feet or so. Some were pretty high up, too! There was one where you got going really fast! One girl in our group said it was the best part of her whole vacation. Another woman, who was very anxious about it, admitted it was really exciting.
After everyone completed all of the ziplines, we hiked down a bit to another waterfall, and then we followed the river down toward our van. Along the way there was a spot where you could go into a waterfall and get a natural massage, and the last waterfall, that had a lovely swimming pool under it. Then a quick walk back to the van and our day was done. We all were wet, tired, a bit dirty, but happy about the experience!
Planning for your Day
You will be wet for most of the day. You need to wear comfortable hiking clothes that can get wet and/or dirty. Acampa suggests that you wear your swimsuit under your clothes. I don't know if that's so important. I'd suggest that you should wear shorts and shirt that will dry quickly (which means no cotton fabrics). You will also need closed-toe shoes that can get wet. That can mean old sneakers, water shoes, hiking sandals, or somethings similar. I wore Crocs. No matter what people were wearing, everyone was slipping around equally on the wet rocks and mud.
You will need to carry your own gear and a drink (if you want it), so bring a small backpack or daypack that can get wet. They have drybags available for the electronic gear (cameras, etc.) that you don't want to leave in the van. I suggest that you leave cellphones and the like in the van. They won't do you any good where you're going! Oh, and leave the flashy jewelry in your hotel … Pancho won't be too impressed by it!
Their farm is typical Puerto Rican clay soil, it gets slippery when wet (and since you are in a rain forest … it is usually wet!). We lucked out and did not get any rain until we were back at the van, but it still was a bit slippery. The trails are small and natural, so you sometimes need to hold onto things to get stable or a grip. They have ropes on the steep trails for you to hold onto for stability.
Bring a towel and a change of clothes. You'll leave this stuff in the van until the end of the day. You can change (outside) at the picnic area – boys in one spot, girls in another. Or you can wait … they stop at that local store again on the way home, so you can change in their bathrooms, use the potty, and get a snack/drink.
The ride home was another 90 minutes. It was the same as the trip in the morning … some people slept, some people chatted the whole way. We got back to our cars at the the mall parking lot by about 4:30pm. They told us that they usually get back a little later, so plan on 5:00om or 6:00pm return.
One nice thing is that they had "outs" along the way at each adventure point. If there was something that you didn't want to do, there was always a way around it, so you could meet up with the group at the next point. But our whole group did everything and had a ball! You do need to sign a release form, so you need to take responsibility for what you physically feel you can, or can't, do.
To do this tour, you need to be decently fit. Acampa says this trip requires a "moderate/high" level of fitness. I think moderate would do. I felt some sore muscles the next day, not bad, just enough to remind you of the wonderfully active day you had! They have a weight limit of 230 pounds, due to the size of the equipment. I don't know about a minimum age restriction, but I don't think that little kids would be able to do it.
Details
The cost is $159 per person, which includes transportation from/to the San Juan area, lunch, tax and all necessary equipment.
If you're happy, let them know it — Don't forget to tip your your bartender, tour guide or trip operator if you enjoyed yourself. Gratuities are appreciated and typically aren't included in the price they charge you.
Your day starts with pick-up at your San Juan area hotel, or the mall, at 7am. It ends around 6pm.
Wear clothes that can get wet/dirty and closed-toe shoes. Bring a small backpack or daypack that can get wet. Bring a change of dry clothes and a towel for the end of the day. Bring a bottle of water to keep in your backpack. Bug spray might be useful in the morning until you get wet. Realize that cameras, etc. may get wet and ruined! Use the provided dry bags.
Acampa requires a minimum of 6 people to do conduct this trip. If you have a smaller group, you will be combined with other people to make up the minimum. If they don't have at least 6 people, your trip will be canceled or postponed.
Allow a full day for this trip.
You can call Acampa at 787-706-0695 for more information.
You can refer to Acampa's web site for more information and to learn about the other trips that they offer.
PuertoRicoDayTrips.com assumes no responsibility regarding your safety when participating in the activities described in this article. Please use common sense! If your mother or that little voice in your head tells you that you are about to do something stupid … then don't do it!