Find a Little bit of Everything in the Aguada Museum
This museum has closed.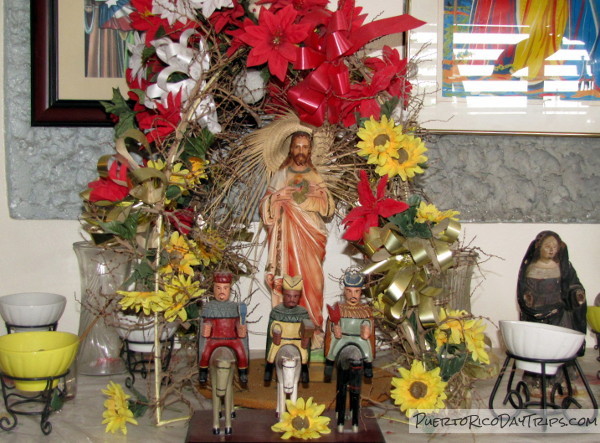 While searching for things to do in the north-west region of Puerto Rico, I came across information about a little museum in Aguada that was both interesting and confusing. Confusing because various sources I found referred to it as the Museo de Aguada (Aguada Museum), the Museo Agricola (Agricultural Museum), and the Museo de Santos (Carved Wooden Saints Museum). As it turns out, this little museum has all those things, and more. Anyone interested in the history of Puerto Rico (both ancient and recent) would probably enjoy this place.
This museum, (officially called the Museo Agricola de Aguada) is on the grounds of the old Aguada train station (circa 1890s-1950s). It is comprised of a number of buildings with exhibits inside, and a number of historical items outside. They have free guided tours of the museum, which really helped explain a lot of the things on display (which I believe all were donated by locals).
Our Visit to the Musuem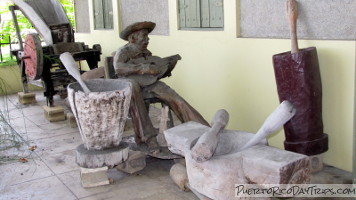 We arrived at the museum one morning, without calling ahead. Calling ahead is not required, but I would recommend it, especially to see if they can have an English-speaking guide available.
We explored the outside garden areas while we waited for our guide to get ready. Outside, we found a nicely restored locomotive and some freight cars. The main building of the museum was the old Aguada train station, which explains all of the old railroad equipment and memorabilia scattered around the buildings. There were also lots of old agricultural tools, and other historical objects like buggies, presses, and mortar/pestles.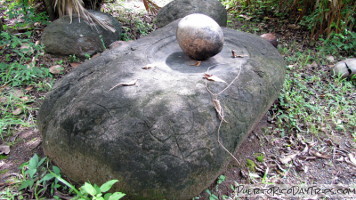 We met our (Spanish-speaking) guide and started the tour at the back of the property, where they have some rocks with pre-Columbian petroglyphs. The Aguada area has a long history with the native peoples, from long before Columbus arrived, and the museum has many items on display that were uncovered in Aguada.
After the tour of the outdoor part of the museum, we went inside. The museum has a few rooms, the first one had a number of nice wood carvings of saints (locally called Santos) — some old and some new. There were also some old religious artwork and altar pieces, and even an exact replica of the town's church.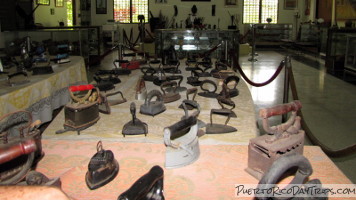 The next room had wood carvings, both old and new African items, artwork, a variety of musical instruments, church alter pieces, pre-Columbian clay pieces — and what I would describe as the world's largest and most complete clothes iron collection (seriously!). There were antique Santos, a number of models of buildings made out of toothpicks and matchsticks, and more "stuff" than is possible to list here.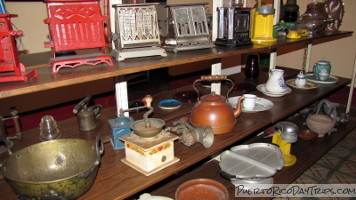 After we finished in these rooms, we moved on to the front building, which has a beautiful (original) tile floor. Here, the guide explained about the railroad station house, where the ticket office and waiting rooms were, etc. Today, it is set up as a furnished house — overflowing with more "stuff" (lots of which are antiques). There is so much "stuff" that it is hard to know where to look.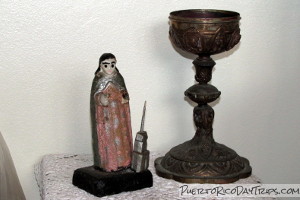 There are old and new artworks and crafts, things found on shipwrecks, and collections of radios, lamps, and old housewares. People from Aguada have donated all sorts of things that they have collected both locally and from around the world. It's like an over-stuffed antique shop or garage sale. Seriously. They have one of everything — including a mounted deer head!
Sadly, our Spanish is not great, so we didn't understand everything the guide was saying, but we really enjoyed the visit. It was so eclectic and broad that there is something everyone will find interesting!
Details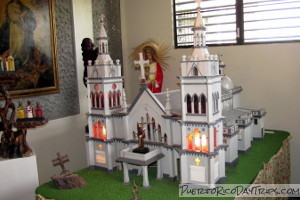 Admission and guided tour are free. There is free parking in the lot next door.
The museum is open Monday to Friday from 8am to 12noon. The guide said that they may be able to arrange a visit at another time or on the weekend if you call ahead and set it up.
Allow about 1 hour.
The phone number for the museum is 787-868-6300. The phone number for the Aguada Tourism Office is 787-868-3120.
The museum is located at 7 Nativo Alers Avenue in Aguada.
We are in the process of updating the maps we use on our web site. While we're working on that, you can click on the GPS coordinates below to view the location on Google Maps ...
PuertoRicoDayTrips.com assumes no responsibility regarding your safety when participating in the activities described in this article. Please use common sense! If your mother or that little voice in your head tells you that you are about to do something stupid … then don't do it!