Cool Off at an Ice Skating Rink
6/13/19 Post Maria- The skating rink is still closed. I will report when I see it has reopened.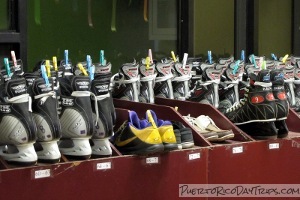 While growing up in the north-eastern part of the States, we would strap on skates a go out onto any frozen body of water for fun every winter. As it turns out, anyone in Puerto Rico can try ice skating too! This is a great way to spend some time while you're on the west coast, especially if it is raining, or it is too hot, or you are too sunburned to go to the beach.
If you are exploring the western past of Puerto Rico, the Aguadilla Ice Skating Arena is a cool (literally!) place to spend an hour or more of your vacation. And, it is the only ice skating rink in the Caribbean!
Background Info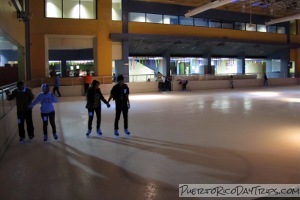 Aguadilla is a town on the western coast of Puerto Rico. The town owns and administers a few tourist attractions, like a bowling alley, skate park, Las Cascadas water park, and the ice skating rink. They do a great job with all of them, keeping them well-maintained and affordable.
The ice skating rink is open 7 days/week, and is unique on the island. The size of the skating rink is about 115'x62′, and is it used by the Puerto Rico Ice Hockey Federation.
Our Short Visit
We went to the ice skating rink on a Sunday evening in early August. Though the rink can hold about 300 people, there were only about 25 skaters on the ice that night. Ice skating is not a typical thing to do in Puerto Rico, so I have to say that I was surprised that they did not offer even the smallest amount of "how to" instructions before opening the door and letting the people onto the ice.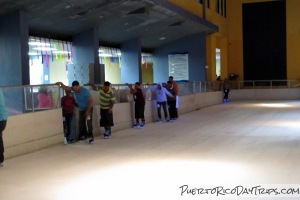 So the brave people who decided to try ice skating were hugging the wall for dear life for the first 20 minutes, until they got the basic hang of it.
There were 2 employees who were skating around, keeping an eye on folks, and picking up anyone who fell. They also did offer some basic instruction to people who were trying and asked for some advice.
We had a good time watching the skating session. People started out so tentatively, and then really started getting the hang of it. But I did think that it was sort of unfair — the skates they rent out are hockey skates, so there are no cut edges to help you start and stop like on the figure skates I grew up using. Also, they don't use the Zamboni between sessions. So by this evening session, the ice was pretty chewed-up from all of the earlier sessions.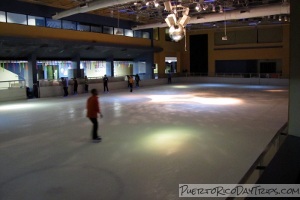 It was refreshing inside the arena, so long pants are a must. Both the daytime and evening skating session have music. Additionally, the evening skate sessions have a laser and light show, and even a mirror ball! It reminded me of the roller-skating rinks when I was growing up in the States in the 1970s!
Overall, it really is an enjoyable, family-fun activity.
Some Tips If you Go
It is cold inside — we guessed about 60° or 65°F. So dress appropriately — long pants, sweater and SOCKS! Actually, socks are required to use the skates, so bring them. If you don't have socks with you, you will have to buy them for $3. They also rent gloves for $3.
Details
Day time sessions (last one 5:30p) are $10 and night sessions are $13/hour. Sessions are 1 hour in duration. Prices include skate rental. Prices do not include IVU.
The skating rink is open to the public daily, including holidays. Closed on Good Friday. All sessions are 1 hour in duration, with 30 minutes between sessions. Daytime sessions start at 10am, 11:30am, 1pm, 2:30pm, 4pm, and 5:30pm. Evening sessions start at 7pm, 8:30pm, and 10pm.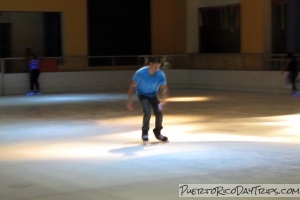 Minimum age is 3 years old. Socks are required for rented skates.
You can call them at 787-819-5555 for more information.
You can visit the Aguadilla Ice Skating web site for more information.
Lockers are available for $1 each.
Non-skating family members can enter for free. There is plenty of seating, a snack room, and game room.
The rink can be rented for birthdays and other parties. There are activity rooms, a sports bar, food concession, arcade, and some meeting rooms available.
The ice skating rink is located at Paseo Colón, Plaza Placido Acevado, Carretera 442 KM. 4.2, in Aguadilla.
We are in the process of updating the maps we use on our web site. While we're working on that, you can click on the GPS coordinates below to view the location on Google Maps ...
PuertoRicoDayTrips.com assumes no responsibility regarding your safety when participating in the activities described in this article. Please use common sense! If your mother or that little voice in your head tells you that you are about to do something stupid … then don't do it!