Enjoy a Flamenco Dinner Show at Barrachina
Due to COVID- the show is not happening at this time. .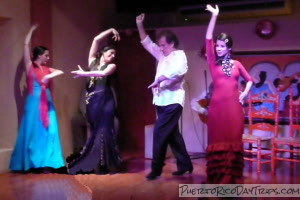 It's a fact: many people really enjoy Dinner Shows. If you're one of those people, then you're in luck! Depending on the night of the week, there are a few different dinner shows to choose from in Old San Juan. If you are in town on a Friday or Saturday evening, there is a Flamenco Show at Barrachina Restaurant on Calle Fortaleza.
Seating begins at 7:00pm and reservations are required. The show is inside, in an air-conditioned room with a stage at the far end. We were seated at the third table in the front and had an unobstructed view of the stage. The room had about 10 tables in 2 rows along the sides of the room. I don't know how the view was further back in the room, but the room isn't that big so the view couldn't have been too bad. Ask for a table in the front when you make your reservation, or get there at 7:00pm sharp to get the best seats. The show starts at 8:00pm and lasts 1 hour.
Free Show with Dinner Purchase
The show is "free" with a minimum dinner and drink purchase of $25 per person. They have a pretty extensive menu – mainly Puerto Rican food, but they have a little bit of everything (price range for entrees was about $16 – $30). They have a full bar and they always give a sample of their yummy Pina Colada. The food is good (not great in our opinion). The service was fantastic, many waiters and servers always there to answer questions, take your order, refill your water, serve and clear the dishes. They do try to get as many people served (and, ideally, cleared) before the show starts, so the wait staff doesn't block the stage during the show. But you can order when you want and take as long as you want with your meal.
Enough About the Food. What About the Show?
The Flamenco guitarist plays for about 45 minutes while you have drinks and start eating your dinner. The show started promptly at 8:00pm. The show consists of 3 female dancers, a guitarist, a percussionist and a male singer/percussionist/dancer.
The women danced together and also separately, each with a slightly different style. The musicians were also was very good, changing tempo and rhythm with the dancers movements. The singer had a nice voice. The whole show was well done and very good. It was a very enjoyable evening.
The show is free with a dinner purchase.
.
Reservations are required.
You can call Barrachina at 787-725-7912 for more information or to make a reservation.
You can check the Barrachina web site to review their menu.
Barrachina is located at 104 Fortaleza Street in Old San Juan.
Click on a placename below to view the location on Google Maps ...
PuertoRicoDayTrips.com assumes no responsibility regarding your safety when participating in the activities described in this article. Please use common sense! If your mother or that little voice in your head tells you that you are about to do something stupid … then don't do it!