Visit a Vineyard and Taste the Wines of PR
Update June, 2018- Post Maria- They are NOT going to reopen. How sad to lose such a beautiful place.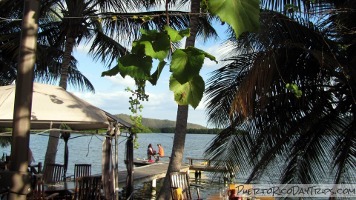 When you think of Puerto Rico, wine might not be your first thought for a local beverage — but it should be. Yet another great example of the island's diversity is the Bodegas Andreu Solé vineyard and winery in Guánica.
The coastal Guánica region has just the right weather conditions for growing grapes, and the winery is serving up some really nice local wines and liqueurs, and live music, in a beautiful waterfront setting.
Some Background
The Andreu family had a vineyard in Spain. When they moved to Puerto Rico, they brought some of the grapevines with them to continue their family wine-making tradition. They found the fertile coast of Guánica to be a warm, sunny and dry region where they would be able to grow their grapes.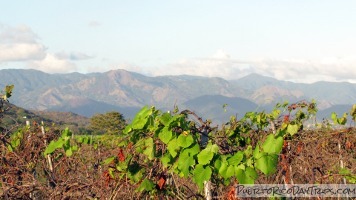 It became an experiment to find which varieties of grapes would be able to adapt and produce quality grapes for wine-making. They have brought in some vines from California, and other places, that they thought would adapt to this tropical climate.
Beginning in the early 1980s, they planted the vines — some tempranillo, some merlot, and some white muscatel (for the sangrias and liquors). As with any type of farming, it wasn't easy, but the vines have adapted over time, and are producing.
In 2009, Juan Bodegas Solé decided to open Bodegas Andreu Solé restaurant/bar to serve their wines.
They farm the land, and produce their artisanal wines and liquors, using only natural/organic techniques. Their wines are produced only in small batches — just enough to supply their own restaurant/bar. They are only open on weekends, and they have live music. On Sundays, they offer tours of the vineyards.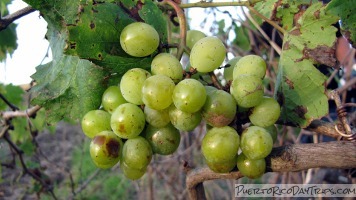 The grapes are usually harvested beginning in late June through November, so that would be a great time to go and really see the vines at their peak. In the winter months (that's when we went), the vines are dormant and being pruned, so they are not as lush and beautiful.
They have a big party (open to the public) every year on the owner's birthday on October 20 (reservations required) — everyone is able to help pick the grapes and enjoy the wine-making process in person.
Our Visit to the Winery
We had some friends (who enjoy wine) visiting from the States, so we took at trip to check out the winery and vineyards.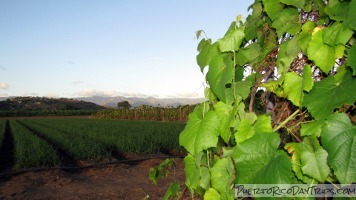 The Bodegas Andreu Solé vineyards consist of 8 acres of a larger 500-acre farm in Guánica. The rest of the 500 acres is shared among other farmers growing all different kinds of crops, including papayas, tomatoes, onions and cilantro.
They offer different vineyard tour packages, all of which include the tour and a glass of wine. Different packages include sangria and liqueur tastings, and some include finger-food or a meal. We chose a package that included samples of each of their wines, sangrias, and liquers, and some tapas (to offset the alcohol!). The tastings/food come after the vineyard tour.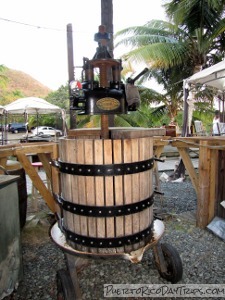 For the tour, we had a bilingual guide (make sure to request that when making your reservations) that took us out to the vineyard and explained the history of the winery, told us about the grapes, explained the growing and harvesting process, and answered all of our questions. Then we went back to the winery, where we saw the machines they use to make the wines, and they described the whole process — from grapes to bottling. It was all quite interesting. Being such a small operation, they do it in small batches with hand-cranked presses (and, no, they don't smash the grapes with their feet, Lucy-style … we asked!).
The wine they produce is a mix of a few types of grapes — mainly the tempanillo and merlot grapes, but there are a few other types, too. They don't use sulfites to preserve the wine, so to mellow and deepen the flavor of the wine, they add in some aged port.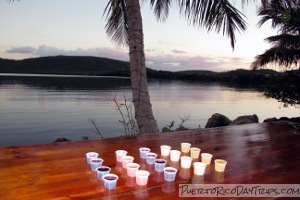 The samples we tried included their red wine Doce Calles, 4 types of sangria (red, sparkling, white, rose) and the 6 flavors of liqueurs called Guaynia (all sorts of flavors like mango, mandarin, guanabana, coffee, coconut, even cilantro). They were all good. The wine is balanced, yet fruity tones … very enjoyable and drinkable! They also have a white wine made from the muscatel grapes called Solé, but that was not available for tasting the day we went.
After tasting, we got to choose our favorite wine or sangria, and they brought a glass of our choice to enjoy with our tapas as we watched night fall over the water.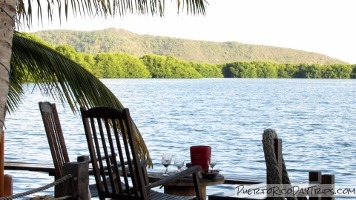 The restaurant/bar is lovely, and right on the water at Guánica Bay. Tables are under grape arbors, which are lit up at night with little lights. We all decided this would be a great and romantic place to come with a special someone. They always have some live music. What could be better? Good wine. Special company. A beautiful setting … It is really worth a visit.
Details
They are not going to reopen..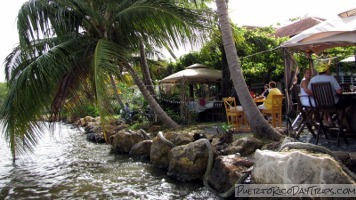 You can visit their web site for more info. Their Facebook page has more last-minute information.
To get there, take Road 116 in Guánica to Road 3116. The winery is located on Road 3116 KM 2.5 in Guánica, just before Parador 1929 on the left. Watch carefully for their bamboo fence and open gate.
We are in the process of updating the maps we use on our web site. While we're working on that, you can click on the GPS coordinates below to view the location on Google Maps ...
PuertoRicoDayTrips.com assumes no responsibility regarding your safety when participating in the activities described in this article. Please use common sense! If your mother or that little voice in your head tells you that you are about to do something stupid … then don't do it!