BODIES … the Exhibition in Old San Juan
This exhibition is now closed. If you are looking for information about the similar exhibition being held in Old San Juan in 2011, please refer to this other article about Body Worlds.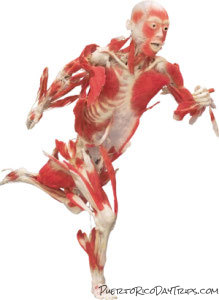 The world-renowned BODIES … the Exhibition will be on display in Old San Juan starting November 22, 2008 for a limited time. (Now extended until the end of May,2009 due to popular demand!).
In case you're not familiar with this exhibit, it is an amazing way to look into the human body. Some people find it grotesque, but on display are real human bodies and organs that have been dissected to the most minute detail, rubberized, then reassembled. You see the blood vessels, muscles, bones … all of it.
I think I read there are 7 bodies and more than 200 organs on display. It is neat, they have bodies displayed as if they were in motion, they have a room with fetuses, also some unhealthy organs, so you can see what unhealthy habits/environments (like smoking, pollution) do to the body. I really thought the circulatory system part was fantastic. There are signs at each display that will explain what you are seeing. The signs have English translation on one side and Spanish on the other. In a few rooms there are guides who answer questions, explain some of the pieces you are looking at, or tell you how the BODIES exhibits are made, etc.
It is a fascinating and educational at the same time. It lets you see what you look like under your skin.
This exhibit is not for the squeamish, and small children may not like it. My niece (about 8 years old) only lasted about 10 minutes in there before she had to leave.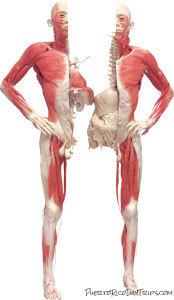 Admission is $20 for adults and $16 for kids. $18 for seniors 65 and over. Tickets can be purchased at the door or over the phone. There is an added $1 "service charge" to each ticket. For $5 they offer a hand held device that offers more in depth information about the body. Rent one and have the family share it. They take cash, ATM or Visa only (no MasterCard, AmEx, etc.).
The exhibit is open 7 days/week from 10:00am – 10:00pm starting November 22, 2008. I have heard it will end May 31, 2009.
Allow a couple of hours to really enjoy the exhibit.
You can call 787-724-2722 for more information or to purchase tickets.
You can visit the official BODIES web site for more information on the exhibit.
Located in the Galeria Paseo Portuario building on Recinto Sur in Old San Juan. That's the yellow parking deck that's across the street from Eden Spa. This is just 2 blocks behind the Sheraton Hotel and cruise pier 3. The entrance to the exhibit is marked with lots of BODIES signs.
PuertoRicoDayTrips.com assumes no responsibility regarding your safety when participating in the activities described in this article. Please use common sense! If your mother or that little voice in your head tells you that you are about to do something stupid … then don't do it!