Body Worlds: A Trip into the Heart
This exhibit is now closed.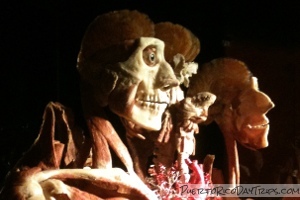 If you are at all interested in the workings of the human body, then a trip to Body Worlds: The Cycle of Life & A Trip into the Heart (Un Viaje por el Corazon) will really intrigue you. This touring Gunther Von Hagens exhibit is currently open, for a limited time, at La Galería Paseo Portuaria in Old San Juan.
It features a number of whole human bodies, and numerous body parts and organs that have undergone a plastination process. And each body and organ has information about how that part works and the role it plays, written so that everyone can understand and learn. It is an enjoyable experience for everyone.
I thought that Body Worlds was a fascinating experience. Not only does this exhibition present the heart and how it works, but it also has bodies (about 20 of them), and loads of organs and body parts from people of all ages — showing how our bodies change over time, and how unhealthy choices affect us. Because these are real human bodies, and the plastination technique brings out the most intricate of details, you see things as they are — like what actually happens to your lungs if you smoke, what obesity looks like from the inside, etc.
Our Visit, Mid-week late in the afternoon
We really enjoyed this exhibition. There was a little bit about the heart, but mostly it was a workings of the human body — from head to toe, and everything in between, at various times throughout a lifetime.
I was extremely impressed by the body of the pregnant woman, the skin as an body organ, and the exhbit of all the blood vessels in the head. But there was so much other cool stuff — yes, I am a medical nerd!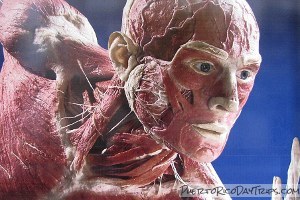 We rented an audio guide, and I totally recommend that you spend the extra $5, too. It really goes into more details, and explains each exhibit more than the printed placards. We spent about 2 hours going through it, but it could be done slower or faster.
The information placards at each exhibit are bi-lingual, and we noticed lighting wasn't great. At the whole-body exhibits, the English version of the description was on the back of the free-standing Spanish signs, so it was dark, a bit hard to read, and difficult to even get to at times. We started just turning the signs around instead of trying to read in the dark!
As opposed to the similar Bodies Exhibition that was in Old San Juan in 2008/2009, these bodies have all been donated by people who wanted their bodies used to help educate others. That made us feel better about the exhibit.
Warning: This exhibition is not for the faint of heart. These are real, dead people cut up and open so that you can see everything. You should also note that the plastinated bodies are "naked", so the reproductive organs are visible (if that kind of thing bothers you, or if you don't want your children seeing everything).
This is a pretty popular exhibit, so plan accordingly. We went at about 3pm mid-week, just after the busloads of school children left. There were only about 6 other (live) people there … perfect!
Details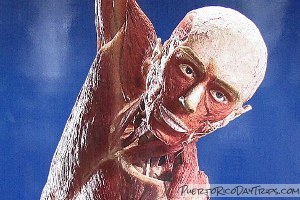 This exhibit is now closed in PR.
We are in the process of updating the maps we use on our web site. While we're working on that, you can click on the GPS coordinates below to view the location on Google Maps ...
PuertoRicoDayTrips.com assumes no responsibility regarding your safety when participating in the activities described in this article. Please use common sense! If your mother or that little voice in your head tells you that you are about to do something stupid … then don't do it!