Discover the World Inside Your Head
Update: As of early May 2011, this exhibit has closed. It is no longer in Puerto Rico.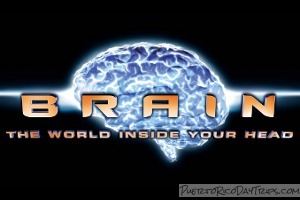 For a limited time, there is an exhibit in Caguas about the human brain that will educate and entertain you and your kids. This exhibit, that first premiered in the Smithsonian Institution in Washington DC, is now available here in Puerto Rico.
BRAIN: The World Inside Your Head is a hands-on educational mini-museum all about our brains, how they work and what can go wrong. Though it is geared toward kids, it is still educational for people of all ages.
What to Expect
All written information in the entire exhibit is bilingual (English & Spanish). The videos are only in Spanish … and, unfortunately, this includes the 3D movies at the end of the exhibit (though everyone may still enjoy the 3D images).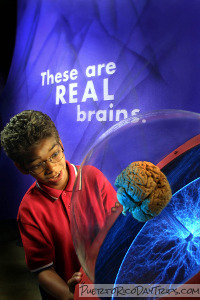 It is a 2-floor exhibit. The first floor is dedicated to how the brain works — neurons, development of our brains and how scientists first learned about the brain. There are a number of hands-on tests you can try to test your brain and experience its workings.
There are samples of real brains of animals and one human brain that you can see. There is a lot to read, but if you take the time, it is really interesting.
The second floor has information and explanations about what can go wrong with the brain … from mental illness to drug addiction. It also has a cool section of optical illusions you can try … with explanations about why you see what you do (or don't see!).
The exhibition concludes with about 40 minutes of 3D movies about the brain, neurons and your senses. These 3D movies are offered in Spanish only.
Our Visit & Tips on Visiting
It seems that lots of school kids attend this exhibit mid-week during the morning. We went on a Friday afternoon and it was empty — there was a total of maybe 10 people in the whole place — we loved it! There is only one hands-on exhibit at each area. So, if there were lots of kids, it would take a long time to get your chance to try the experiments. It took us about 2 hours total to do the exhibits and see the 3D movies.
Details
Admission: adults $15, kids (ages 4-15) $15, seniors (60-74) $10.69, people over the age of 75 $2.19, others (students with ID, veterans, and handicapped) $15. Tickets are available (for these prices) at the door. You can also purchase tickets online at TicketCenter, but those will cost you more. There is limited free parking at the science center.
The exhibit is open Monday – Thursday 9am to 4pm, Friday – Sunday 9am to 6pm.
This exhibit will be open until the end of April 2011.
Allow at least 2 hours.
You can call 787-653-5170, 787-792-5000 or 939-475-9697 for more information.
This exhibition is in the C3TEC (Centro Criollo de Ciencia y Technologia del Caribe) at 65 Calle Betances in Caguas. For people that are familiar with the area, it's in Antigua tienda Sears de Caguas.
Here are some GPS coordinates that should help: [gps data="C3TEC parking lot:18.228612:-66.035654″]
PuertoRicoDayTrips.com assumes no responsibility regarding your safety when participating in the activities described in this article. Please use common sense! If your mother or that little voice in your head tells you that you are about to do something stupid … then don't do it!