Ride a Horse on a Beach Just Minutes from El Yunque
Post Maria- 1/20/18- The stables were destroyed in the hurricanes, and the trails to the beach where also messed up. They are currently not runing tours.Hoping they can rebuild. Until then, you can ride on the beach using Hacienda Carabali.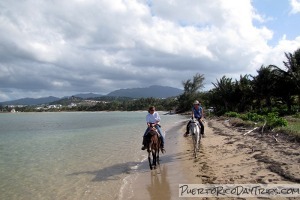 Riding a horse along the sand on a tropical beach is just a dreamy experience for most riders. You can "catch" that dream just minutes from El Yunque National Forest at Catch a Dream Ranch. We did just that, and enjoyed 90 minutes of fun, with some great picture opportunities to boot!
Catch a Dream Ranch is located in Rio Grande, up the hill from the Wyndham Rio Mar Resort, and just minutes from the rain forest. Offering 2 trips daily, they are scheduled so that you can enjoy a beach horseback ride, and still have time to explore El Yunque one the same day.
Our Trip
We took on this tour with some friends, one who had never ridden a horse before, and one who had a little riding experience. Ray and I have ridden a number of times in the past.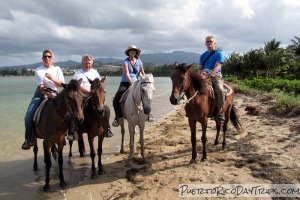 We met José just seconds from the Wyndham Rio Mar Resort, and followed him to the ranch. He then proceeded to give us the longest, most informative, yet still interesting and amusing introduction to riding a horse we have ever received. He really put our inexperienced friends at ease. He then asked us to rate our abilities on a scale of 1 to 10, and then he selected a horse best matched to our abilities.
José says he is bad with names, so he renamed us our horses' names. I was "Coco" for the duration of our ride, and he was a wonderful horse.
The tour started out walking through a wooded area. This was part of a mangrove forest, and the horses did fine walking through the puddles and mud. The stable dogs accompanied us for most of our trip. We eventually emerged from the forest on a road, which we walked (or trotted, if we felt comfortable) until we got to the path to the beach.
We spent a good 45 minutes walking along the Rio Grande beaches. At about the half-way point, we stopped for photos — it's a great photo stop, with El Yunque in the background. He even had our friend rear his horse up to get a Lone Ranger shot! Really fun! And then we headed back to the ranch. We all really enjoyed ourselves.
Some Observations
The ranch is nothing to look at, but the horses appeared to be pretty well cared for. They use the beaches in the the Espiritu Santo Nature reserve, in the Las Picuas beach area. Due to the location, it is an ideal half-day beach horseback adventure, and leaving time for you to still enjoy the beach or rain forest.
Details
The cost is about $60 per person for a 90-minute ride. Cash only. Transportation from the San Juan area is available for an additional fee.
If you're happy, let them know it — Don't forget to tip your your bartender, tour guide or trip operator if you enjoyed yourself. Gratuities are appreciated and typically aren't included in the price they charge you.
This trip is offered daily at 10am and 3pm. They want you to arrive 30 minutes early for the orientation talk and to get fitted to your horse.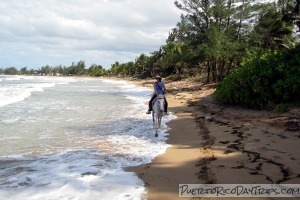 Call for minimum the age for riders.
Allow about 2 hours, start to finish.
Call Lyoda (the owner) at 210-305-2997 for info and reservations. Best time to call is between 12noon and 2:15pm, which is the time between tours.
They have a Facebook page .
They take out a maximum of 6 riders at a time.
Closed toe shoes and long pants are required. We also suggest a hat, sunscreen, and sun glasses. Bring a camera and the guide will take your picture! I suggest using a knapsack so it doesn't get jostled on the ride. They go out rain or shine. We weren't bothered by bugs, but having some insect repellent with you can't hurt. Since you may be going through mud and water, wear something you don't mind getting wet or dirty.
Lyoda will tell you where the meeting point is, but it will be near the Wyndham Rio Mar Resort in Rio Grande.
Figure on about a 1-hour drive to get from the San Juan area to Catch a Dream Ranch.
We are in the process of updating the maps we use on our web site. While we're working on that, you can click on the GPS coordinates below to view the location on Google Maps ...
PuertoRicoDayTrips.com assumes no responsibility regarding your safety when participating in the activities described in this article. Please use common sense! If your mother or that little voice in your head tells you that you are about to do something stupid … then don't do it!