Cayo Matias: Local Island Day Trip
Sept 2020- They have restarted the boat trip but only on weekends and with advanced reservations.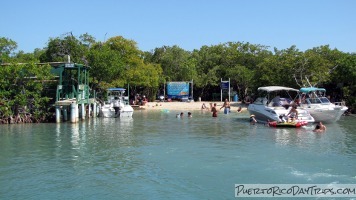 Puerto Rico has many tiny islands just off the coast to the east, west and south that are always an adventure to explore. Some are more beautiful than others. Some are more remote than others. Some are more popular than others. Going to each one has been an experience, to say the least.
Cayo Matías is a small mangrove island located off the coast of Salinas, on the south east part of Puerto Rico. It is maintained/operated by the town of Salinas. It is a popular local hang out. Being an island, it is only accessible by boat. If you don't have your own boat, on weekends, there is a small ferry called La Paseadora that you can take over to the island.
Cayo Matías has a small beach area where you can play, and a number of openings in the mangroves at the shoreline where you can set up your stuff, picnic (you are allowed to BBQ), and have a nice view. La Paseadora has been bringing people to this island for years, we recently decided to check it out.
Our Day on the Island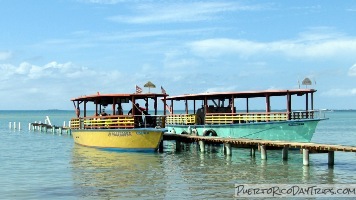 Initially, we had a little trouble finding La Paseadora. As it turns out, it is located behind Ladi's Restaurant.
Once we found it, the Captain was great. They allow you to bring anything/everything you need to enjoy your day. And you do need to bring everything — there are no facilities of any kind on this island.
The trip over is a beautiful 20-minute ride past mangrove islands. There were about 20 other people on the boat with us, and once we got to the island we knew we would not be alone … it was packed with local boats, jet skis, and people. We went on a "winter" day, so I can only imagine how packed it gets during the summer!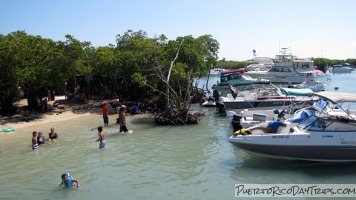 The majority of the people had set up their spots right by the small beach, so we walked a bit and found some empty spots to set up our blanket.
Be aware, there was seaweed with sand fleas, so we were very happy to have brought insect repellent with us. We had some nice sand and drift wood for a bench. But there wasn't much breeze.
The "swimming beach" area was small — maybe 30 feet wide by 25 feet out before you were into the boat channel.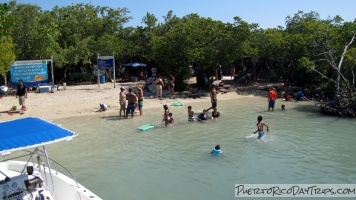 There were loads of people hanging out around the beach, with jet skis and boats tied up in and near the "swimming" area, reducing the available room. So you really could only use it as a place to pop in and cool off. There are no lifeguards, so you are on your own for water safety.
The bottom in the swimming area was muddy and silty, so the water was not clear and not good for snorkeling.
The shoreline along the north and east sides of the island were really shallow, silty, and had lots of sea urchins. Though there were some good views of the big island from there, those were not places for swimming.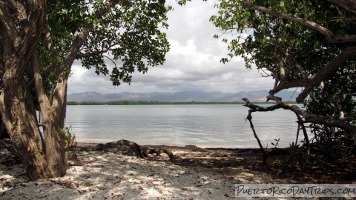 There was a little path on the eastern part of the island that cut across to the south shoreline, so we went exploring. The water on that side of the island was rough, and the breeze was lovely. There is a little automated "light house" on the south side. It's not anything special to look at, but there was a flat concrete pad there that we used to spread out our picnic lunch.
We found some nice shells and coral pieces, and poked in the shallow water tide pools and watched fish. We were alone on this side of the island, and it was actually pretty and enjoyable! But we had to go back to the crowded side and get the boat back to the mainland.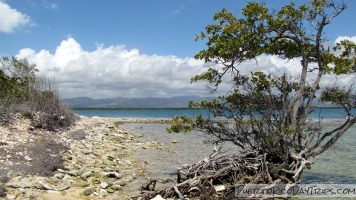 We called the boat captain when we were ready to leave (as he suggested), but had to wait about 1½ hours for the boat to show up. During that time we helped the local kids collect hermit crabs!
The ride back was nice too — the captain went a different way around the mangrove islands. It was a pretty boat ride.
This was not my favorite out-island, but this is a very popular local spot. If you go, don't expect a lot of privacy, space or quiet! But if you are into a very local weekend beachy experience, this would be it! As seems to be typical of these places, there was some trash scattered around the island, but not as bad as some places we've been.
Details
The trip on La Paseadora is $7/person, round-trip. Kids are less.
La Paseadora ferry operates on weekends and holidays. The first boat from the mainland to the Cayo Matías is about 9am. The last boat from Cayo Matías back to the mainland is about 6pm. The don't run the ferry on any set schedule — they wait until there are enough people to make the trip worth it. You can come and go on the boat whenever you want, but don't expect them to show up just because you called them. You just have to chill out and wait, they will show up eventually. You can call 787-930-1036 or 787-565-2770 for info.
You can get info on their Facebook page.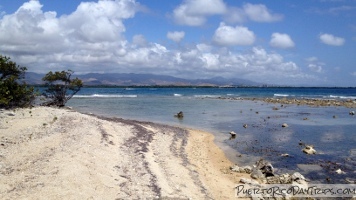 Bring everything you need for a day at the beach, including food, water, sunscreen, insect repellent, camera, etc. Remember to take your trash back to the mainland at the end of your day.
There was a run down/homemade shack on the island marked as the "ladies' room". It was really nasty looking. I was too scared to open the door to even check it out.
To get there from the San Juan area, take Route 52 south to exit 65. Then take Route 1 south, and follow signs for La Playa. Go straight at Route 10 to Carratera 701 (Camino de Playa). Park in the grass lot across from the church. The boat is docked on the pier behind Ladi's Restaurant.
We are in the process of updating the maps we use on our web site. While we're working on that, you can click on the GPS coordinates below to view the location on Google Maps ...
PuertoRicoDayTrips.com assumes no responsibility regarding your safety when participating in the activities described in this article. Please use common sense! If your mother or that little voice in your head tells you that you are about to do something stupid … then don't do it!