Discover Some of the Best of Culebra
2/21- Due to limited Ferry space, they can't offer the tour that provides ferry tickets. If you are on Culebra, they are offering the snorkel tour.
Culebra has a bunch of wonderful things about it. For us, two major ones are the great beaches and the underwater critters that you can encounter while snorkeling. Who wouldn't want to visit one of the top 10 beaches in the world AND come face-to-face with sea turtles, and other neat sea creatures, all in one day? We make sure to visit Culebra on our own for at least a couple days every year.
If you don't want to go it alone, Culebra Island Adventures offers a tour that gives you a taste of some of the best stuff on Culebra. They coordinate all the transportation and guide you, so that you get the most out of the experience.
About Culebra
Culebra is a small island to the east of Puerto Rico. The western side of Culebra is loaded with coral reefs, and it is home to the Luis Peña Marine Reserve, so there are lots of fish and other sea life to be found. It is our favorite place to snorkel on the island. Some of the best reefs are a bit difficult to get to from land, so kayaking to them one of the best ways to go.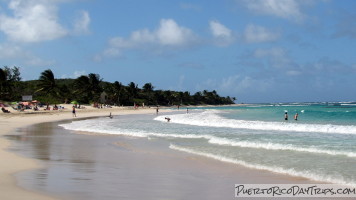 Culebra also has a number of beautiful beaches. Playa Flamenco is a must-see beach — white sand, clear blue water, and amenities make it a wonderful day-trip destination.
But getting to Culebra can be a hassle — you either have to get the ferry from Ceiba (which sells out, and can be stressful and confusing) or fly. Once on Culebra you need to get transportation to the beaches, get snorkel stuff, underwater camera, kayak rental, etc. Culebra Island Adventures offers a couple different tours, where they take care of all the details. All you have to do is show up and let them show you some of the best stuff on Culebra.
Our Visit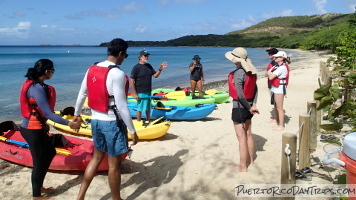 We recently took a 3-day mini-vacation to Culebra with my brother and sister-in-law. Our plans called for beaches and snorkeling. One morning, we made plans to go kayaking and snorkeling with Culebra Island Adventures.
We met up with Damian, Diego and Laura from Culebra Island Adventures at Playa Tamarindo at 10:30am, where they had their kayaks all set up and ready.
After getting us geared-up (snorkel, mask, fins, life jacket), they gave a quick demo on how to kayak, and away we went. Our group was 6 people total, with 2 guides (one in the front, and one bringing up the rear). Their kayaks are 2-person, sit-upon ocean kayaks.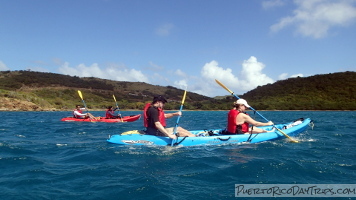 We kayaked for about 20 minutes, until we got to the reef offshore from Playa Tamarindo Grande, where we would be snorkeling. The water here is about 15-20 feet deep, but it is clear, so you can see well. The coral was pretty, and the guides would dive down and find us things to look at and hold (like sea stars, urchins, etc).
This reef is in the Luis Peña Marine Reserve, so it is a great spot to snorkel, with lots of fish, sea fans, corals of all colors, lobsters, and a couple large groupers. We snorkeled here for about 45 minutes, then got back into our kayaks and back to where we started on Playa Tamarindo.
When we got back to the beach, we were offered a snack of sandwiches, chips, apples, soda, and water. After our snack, we snorkeled from the beach with our guide to what big sea critters we could find.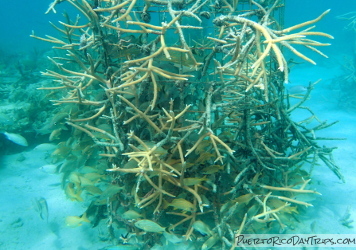 There are almost always a few turtles out in the sea grass beds that are just off-shore within a 3-4 minute swim (if yo know where you are going!). There are usually sting rays there, too.
We snorkeled around, finding turtles, sting rays, and more fish. Our guide showed us the Elk Horn coral "farm" just off-shore, where there were university students measuring the growth. There were lots of fish in the coral-growing pens. Once the coral grows to a certain size, it is transplanted onto existing reef structures. You can see that the coral is doing pretty well, and we're seeing a lot more fish that are calling the new reef "home".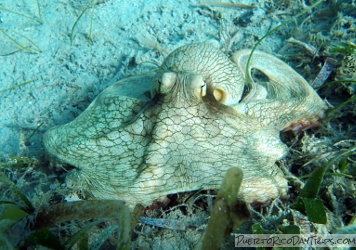 After checking out the coral farm, we headed back toward the beach. Along the way, we saw a spotted ray, even a nice octopus (that put on a great show for us), and some other small sea critters that the guide pointed out to us.
It was a fun morning, and we got some great photos. My brother and sister-in-law were so thrilled because this was the closest they have ever been to sea turtles and the octopus. Really cool!
Some Thoughts and Observations
Culebra Island Adventures only offers their kayak tours in the morning (11am). In the afternoon, the wind usually picks up, and that makes it more difficult to paddle the kayak.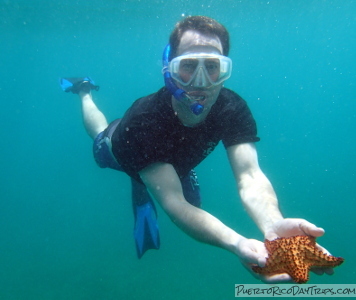 It is a nice family business, operated by mom, dad, and their son. They take a lot of photos during the trip (over 450 from our trip), which they upload to a Facebook album for you to share. They also offer an option where you can buy the photos from your trip.
They say they like to keep the kayak group small, with a maximum of about 18 people (9 kayaks or so).
For people that don't want to kayak and just want a guided trip to see the turtles, they offer a tour that is just that (with a snack and photos).
Normally, when we review an activity that is not free to the public, we pay the admission price out of our own pockets. However, we just want you to know that the guys at Culebra Island Adventures were kind enough to offer us this trip for free. While we don't feel that this free ride influenced our review one way or the other, we felt that we should tell you, just as a matter of fact.


Details
The basic Sea Venture 1 tour (that we described above) costs $54, and includes kayaking, snorkeling, and transportation on Culebra. They have other options (for an additional cost) that include the ferry from Ceiba (Sea Venture 2) $59. It includes a stop at Playa Flamenco. All tours include snacks.
If you're happy, let them know it — Don't forget to tip your your bartender, tour guide or trip operator if you enjoyed yourself. Gratuities are appreciated and typically aren't included in the price they charge you.
They run tours on 7 days a week.
If you're staying on Puerto Rico, allow a full day (8:30am until after 6:00pm). The actual kayak/snorkel part is about 3 hours.
You can call them at 787-529-3536 for more information.
You can visit the Culebra Island Adventures web site for more information or to make a reservation.
You can email them at info@CulebraIslandAdventures.com for more information.
If they are booked or not offering a tour on the day that you want to do it, Kayaking Puerto Rico offers a similar tour.
Click on a placename below to view the location on Google Maps ...
PuertoRicoDayTrips.com assumes no responsibility regarding your safety when participating in the activities described in this article. Please use common sense! If your mother or that little voice in your head tells you that you are about to do something stupid … then don't do it!