Shop Beach-side at the Urban Market in Condado
The Market will restart again March 4th, 2018! .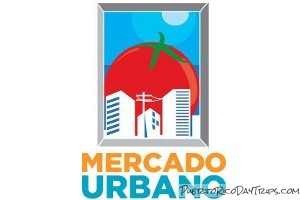 Are you looking for a fun shopping experience in San Juan? On the first Sunday of every month, the Urban Market (Mercado Urbano, in Spanish) is set up at La Ventana al Mar in Condado.
Under big tents, this market holds about 40 or 50 vendors of local, Puerto Rican made products. Most of the vendors offer samples, so you can try before you buy. Everything is home grown or home made on the island. You'll be able to find plants, flowers, soaps, breads, sangria, coffee, cheese, vinegars, ice cream … all sorts of things. It is a great stop.
A Little Bit of Everything
I can't believe it took me so long to make the time to visit this market. I fell in love at first sight! The market started in December 2009 and has been getting bigger/better each month. It is held at Plaza Ventana al Mar, under big tents, ocean-front, with 40 to 50 local vendors (from all over Puerto Rico) from 9am (or so) to 5pm (or so) on the first Sunday of every month.
There is something for everyone. And I learned a lot about Puerto Rico! Did you know there is a goat farm on the island that makes cheese?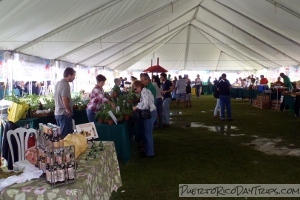 There were vendors for all sorts of coffees, fresh fruit, vegetables and herbs, sauces, honey, candy, sangrias, Coquito, and what caught my eye (of course) — plants, herbs, delicious pineapples (and frappes) and the coolest ice cream flavors. Have you ever had rose petal, jasmine or basil ice cream? Yum! Stop by and try them! You can get great gifts, treats and/or souvenirs (for yourselves and others!).
The farmers/producers are right there, so you can talk with them, ask questions and, best of all, many of the vendors let you try their products before you buy, so you know you will like it when you get home. That is way better than any supermarket.
At it is all fresh and locally made/grown in Puerto Rico. By shopping at this market, you will be supporting local jobs and industry. It is a win-win situation!
The market is a joint effort of the Department of Agriculture, The Tourism Company and Banco de Desarrollo Económico to help the local farmers and agriculture specialists in Puerto Rico. And there was music (live at times) throughout the day. How can you not love this?
Details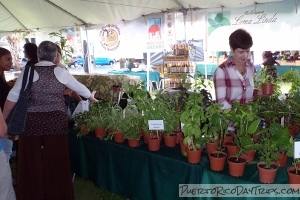 The Mercado Urbano is open from 9am to 5pm on the first Sunday of the month. Due to popular demand, the Mercado Urbano is also held at different places around the island on other days of the month. Keep an eye out for their signs, or follow their Facebook Page for up to the minute information on locations.
Parking is on the street or in pay parking lots by the hotels. Pay attention to the no parking signs … The police will ticket illegally parked cars.
The tents are set up in a grassy park, so wear appropriate shoes.
Arrive early for the best selection. The flower people were sold out when we got there at mid-day.
The market is held at La Ventana al Mar on Ashford Ave in Condado. That's located next to La Concha resort and a short walk from the Marriot Stellaris Resort and Casino.
Click on a placename below to view the location on Google Maps ...
PuertoRicoDayTrips.com assumes no responsibility regarding your safety when participating in the activities described in this article. Please use common sense! If your mother or that little voice in your head tells you that you are about to do something stupid … then don't do it!