View the Earth from Above Photo Exhibit in Old San Juan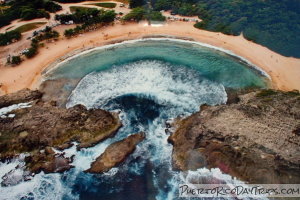 THIS EXHIBIT IS NOW CLOSED
This is a must do for everyone visiting Old San Juan.
A beautiful collection of Yann Arthus-Bertrand's works, called Earth from Above, will be on temporary display along the Paseo de la Princesa in Old San Juan, beginning November 19, 2008 and running through June 30, 2009. This is a fantastic collection of aerial photographs of the land taken all around the world.
We originally saw this display last year when it was on exhibit in Caguas, PR. We are glad it has returned to PR. I can't recommend it enough. It is extremely moving. Some photos are beyond beautiful, yet some are sadly enlightening as to the poor conditions of some places in the world and in which some people live. It will make you realize the world is a fragile and beautiful place, and that we need to stop wasting, and start conserving, this wonderful planet.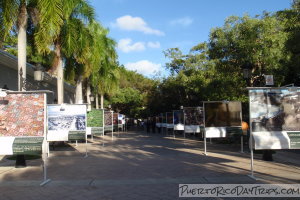 The photos are on display outside, along the Paseo de la Princesa in Old San Juan. These are large photos, easily 4×6-feet, so you can really see the details. Each photo is accompanied by an informational placard, in both English and Spanish, that identifies and describes the photo, and gives the location where the photo was taken.
The exhibit is outdoors and is free.
The exhibit is available for viewing 24 hours/day.
There are over 100 photos. You can spend a couple minutes, or a couple hours, enjoying this exhibition.
If you are not familiar with artist, you can visit his web site to find out more about his work and this exhibition.
PuertoRicoDayTrips.com assumes no responsibility regarding your safety when participating in the activities described in this article. Please use common sense! If your mother or that little voice in your head tells you that you are about to do something stupid … then don't do it!