Visit the Vieques Biobay Without Staying the Night
Currently, they are not running tours over to Vieques. .
Sept 2016 -Puerto Rico Tour Desk offers a similar trip (a boat trip from Fajardo over to Vieques to see the biobay and back the same night) on a few nights a month. Check PR Tour Desk website for more information.
August 18, 2011 – Tour operators are not allowed to have guests swim in Mosquito Bay on Vieques.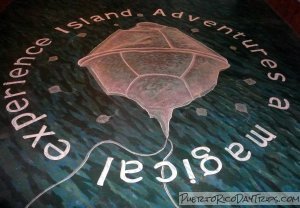 I have visited all 3 biobays in Puerto Rico, and Mosquito Bay in Vieques really seems to out-glow the others. It is really an experience you should to have, even if you have already been to the Fajardo biobay or La Parguera biobay. You can either stay over on Vieques and visit it while you are there for a few nights, or take this trip.
OK, now lets get down to business …
What do you get when you mix a boat ride, a good meal al fresco, watching a glowing bio bay on a tropical island, and sipping Pina Coladas under stars? You get the East Island Catamaran tour to the Vieques bio bay.
East Island Excursions offers trips almost every night on their power catamaran from Fajardo to Vieques so you can experience the bioluminescence in Mosquito Bay. They depart from the Puerto del Rey marina in Fajardo. Here are notes from our experience with this trip: They ask you to arrive at the marina by 5:00pm (or so, exact time depends on the time of year). If you're driving yourself, make sure you take into account rush hour traffic out of the San Juan area that will occur from 4:00pm – 6:30pm during the week.
Getting to the Boat
I like the Puerto del Rey marina because it is easy to find, and has ample gated parking for the guests. When you arrive at the marina, tell guard you are going with East Wind and he will let you in. Turn left and continue along that drive. Pass the building and fountain on your right, and keep going until you see the East Wind sign indicating to park on the grass/stones on the left.
After you park head down to the boat slips – you will see the East Wind boats and kiosk. Here you pay and then pick your dinner choices. There are about 10 things to choose from, which vary from Puerto Rican favorites, some Mexican options and, of course, the ever present hamburgers and cheeseburgers.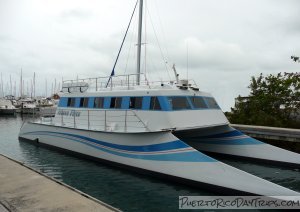 Once the captain gives the OK, you may board the vessel. There are tables and cushioned benches to sit on.
We had a 3 person crew: the Captain and 2 mates. They offer you beverages right away and once you get underway (about 5:15pm) , they start with the rum drinks. Unlimited soft drinks, juices and rum drinks are all included in the price of the trip. The Pina Coladas and rum punches were good, but you could get rum in any soda or juices they had. They also offered different beers, but these were $2 each.
The catamaran had 2 bathrooms with marine heads, which were clean. It is an experience using a marine head, especially on a moving boat in rough seas! You might want to wait until you get to the restaurant!
The Trip Over
Their power catamaran is fast, it took only about 45 minutes to get over to Vieques. The trip over is usually mildy bumpy to pretty rough. The way back is usually less rough. The boat is a catamaran, so that helps, but occasionally people do get seasick. The crew is very helpful in offering ways of preventing it and bags if needed. Ray tends to get seasick, so he took Dramanine before we left home, just in case. This might be a good precaution for others with the same problem.
Dinner on Vieques
Once you dock on Vieques, you get onto a waiting taxi and they drive you across Vieques to the restaurant. The guides from East Island talked about Vieques along the way- very interesting. It was still light out so we could see the scenery and the wild horses at the beaches.
Within about 10 minutes, you get to the restaurant. It was open air and very efficient. It is run by Island Adventures, the same people that operate the biobay tour. The food and soft drinks came right away. The food was good and everyone enjoyed their meals. The restaurant had clean bathrooms. Use them, as they are the last you will see until you get back onto the catamaran about 1.5 hours later. There is also a gift shop at the restaurant.
After eating, they give you a brief talk about the biobay and then you get onto this old school bus and head off for your tour. You are on this BOUNCY bus ride through the dark for about 15 minutes until you arrive at the biobay. Kids love this part, older people…not so much. But it is the only way in to see the biobay. They have this all timed really well. We arrived, got off the bus while the tour before ours was just getting off the boat and onto our bus.
To the Biobay
Once you get off the bus, you get onto this flat electric pontoon boat and ride into the bay. They use electric motors, so it eco-friendly and extremely quiet. You can notice the glow around the boat immediately. The organisms glow when they are disturbed, so the wake of the boat glows. It looks almost fake, like there must be light on under the pontoon boat. Another cool thing is when the fish in the bay are frightened by our boat, they swim off and leave a glowing trail behind them. Really neat!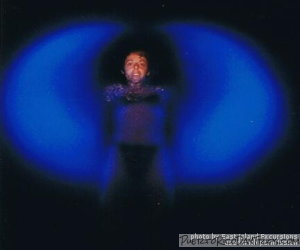 They stop the boat in a nice dark section of the bay and the crew tells you about the bay, mangroves and the dinoflagellates (those are the organisms that make the bay glow). The guys on the boat are knowledgeable and interesting. They bring up buckets of the water so you can play in it and make it glow. Have it run down your arm- it is like sparkly glitter- really cool.
We tried getting pictures and even through the glow is very bright, it is difficult to get any useful photos.If you want to try, you should set your camera to ISO 1200 or higher, turn the flash off, and set it for a long (4 or more seconds) exposure. But because the boat is moving, any picture you get will probably be blurred anyway. Take a look at our recent article on taking photos in the biobay. We finally got some decent photos, and we give you some pointers in that article. Note: this was during the time when swimming was "allowed".
Afterwards, the crew showed us the different constellations. It was nice and dark in the bay area, so you should be able to see tons of stars. The crew also brought around a handful of mud from the bottom of the bay. This is some disgusting smelling stuff, but it is full of vitamins and minerals. You could give yourself a facial with it if you wanted, and could get past the smell!
After looking at the stars, they take you back to shore. There you get onto the BOUNCY bus which takes you back to the taxis, which take you back to the catamaran, and your waiting crew, for the ride home and more rum drinks. Bring dry clothes and change in the catamaran bathroom before heading off toward Fajardo. You will be more comfortable. The way back is usually smoother and seems so much faster. We were back in Fajardo in a quick 30 minutes, and our evening of fun was over. It was about 10:15pm.
The Details
July 2015 – East Island Excursions is currently not offering this trip. Latest word from the company is that they have no idea when the will be able to offer this trip again.
Sept 2016 -Puerto Rico Tour Desk offers a similar trip (a boat trip from Fajardo over to Vieques to see the biobay and back the same night) on a few nights a month. Check PR Tour Desk website for more information.
They run trips almost every night per month, except nights just before and after full moon. Check our moon calendar and make sure you go on a moonless night. I really applaud East Island and Island Adventures for not scheduling trips when the moon is not right. They want to make sure that you really will have the best experience possible.
The cost of the trip is $119.00 (plus tax) per person. That includes the catamaran between Fajardo and Vieques, taxi to/from the biobay, dinner in Vieques, the biobay tour itself, and drinks on board the catamaran.
If you're happy, let them know it — Don't forget to tip your your bartender, tour guide or trip operator if you enjoyed yourself. Gratuities are appreciated and typically aren't included in the price they charge you.
They run tours most nights of the week and depart from the marina in Fajardo around 5:00pm.
You need to make reservations ahead of time. They need at least 12 people on a trip, so unless they get that many reservations for the night you want to go, it may be canceled. This happened once to us before we could make the trip. Just be a little flexible with dates.
Allow 5 to 6 hours total.
You can call them at 787-860-3434 for more information.
You can visit their website at www.EastWindCats.com
Directions to the marina: From the San Juan area, take Route 3 or Route 66 east. Continue on Route 3 east to Fajardo. Just as Route 3 merges with Route 53, you'll see an exit sign for Puerto del Rey marina. Take that exit, cross under Route 53 and follow the road to the marina on your left. Please note that if you get to the toll booth on Route 53 then you have missed the exit.
East Island offers transportation to/from the marina at an additional cost
Travel time from the San Juan area to the marina is about 60 to 90 minutes, depending on traffic and the route taken (Route 66 versus Route 3).
Click on a placename below to view the location on Google Maps ...
PuertoRicoDayTrips.com assumes no responsibility regarding your safety when participating in the activities described in this article. Please use common sense! If your mother or that little voice in your head tells you that you are about to do something stupid … then don't do it!