El Yunque Rules Change for Summer/Holiday Weekends
Update- Nov.30, 2017- El Yunque has NOT yet reopened after the hurricanes. It sustained a lot of damage to the trails and roads. It is being worked on and we will post when they have reopened.
This will be in effect in summer starting
June
weekends.It is also on stand-by for any other days when there is high visitation.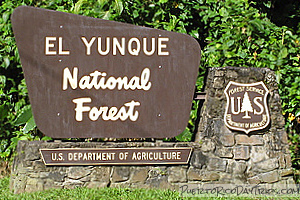 In the summertime (and especially in July) and holidays (like between Christmas and 3 Kings day, Easter Week etc), many locals and visitors flock to El Yunque National Forest to get away from the heat and enjoy the cool refreshment of the rain forest. Over the last few years, during July holidays and weekends, Road 191 North has become a zoo, overflowing with people and cars. Believe me when I say that this has a huge impact in reducing the enjoyment factor of the peaceful rain forest experience.
During summer, on certain weekends and holidays, the National Forest Department is going to be changing forest access a bit to help limit the congestion. This new procedure will be called Traffic Control Operations.
My advice is to avoid El Yunque National Forest on the weekends and/or get there early — the forest opens at 7:30am daily.
The New Rules
There are a limited number of legal parking spaces on Road 191 North. On these dates, once all these spaces are filled, Traffic Control Operations will be activated and the Police will be closing Road 191 North at KM 7.9 (just below La Coca Falls). As people leave the forest and parking spaces become available, they will allow new cars into the forest.
There will be electronic signs posted on Route 3 and on Road 191 (before you get to the National Forest) to alert you to the current parking situation. And you can tune to 1710 AM on the radio when you are in the Rio Grande/Rain Forest vicinity to hear current info.
Starting 7/13- One other big new rule is they are really trying to enforce is Trash Free Zones in El Yunque, beginning with La Mina Falls area. Visitors will be "encouraged" to only take items to the Falls that will not make trash. They will not allow BBQ's, radios, foam/paper products, etc anywhere by the rivers. This will also be started down by the Puente Roto area and Angelito Trail area.
Other Options
If you want to avoid the congested area of Road 191 North, there are some other options for getting a rain forest experience. Just realize that the whole area in El Yunque, especially in areas that have rivers and waterfalls, will be crowded on weekends in summer.
PuertoRicoDayTrips.com assumes no responsibility regarding your safety when participating in the activities described in this article. Please use common sense! If your mother or that little voice in your head tells you that you are about to do something stupid … then don't do it!