Ride an Electric Bike Around Town
I have to say that exploring Old San Juan is one of my favorite things to do. But, honestly, it is HOT. So riding an electric bike around town is really nice … you get around quicker than walking, and you get a nice breeze as you zoom quietly along. And now, Old San Juan, and beyond, has become more bike-friendly, with bike lanes to separate bikes and motorized traffic. We did a tour with E-Bike Tours from Old San Juan to Condado, and we had fun and stayed cool. It is a great way to see some of the areas a bit farther away from the main Old San Juan tourist area.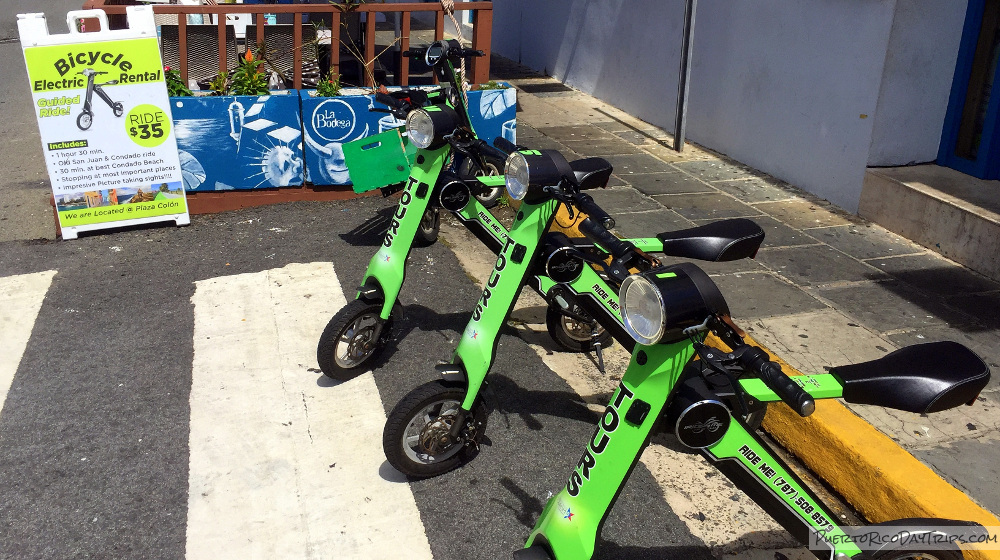 Our Tour
The E-Bike Tour is a side business of the restaurant La Bodega del Viejo San Juan. You will see the bike sign in front of the restaurant. You go to the restaurant to check-in, sign the waivers, and get your helmet. We made a reservation for the tour ahead of time, but you can stop in and see if they have a tour available.
The bikes are small, so they are easy to get on and off. Since they are electric, it is a little different than riding a bike … you don't don't have to pedal. It is more like a scooter, with a key, gas lever, and hand brakes on the handles; and they max out at around 20 MPH. Our guide showed us how to use the bikes with a quick demonstration. After that, we donned our helmets, walked the bikes down to the bike path, and we were off!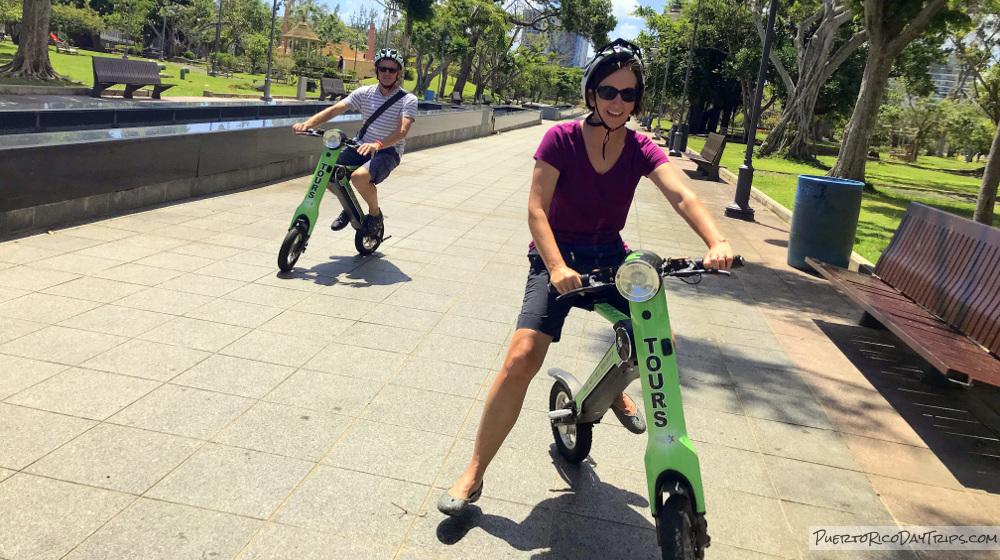 At first we were a little wobbly and jerky, with the speed-control and brakes, but we quickly got the hang of it. The best part was that there are now bike lanes around the area, so we were out of traffic, and throughout most of the tour, we didn't have to ride in traffic at all. It was nice!
It is a 90-minute tour, which really went by quickly. We rode from Old San Juan, down Constitution avenue, through a park, across the Dos Hermanos Bridge to Playita Beach. Along the way we passed many interesting sites, and our guide stopped and told us about them, and gave us a chance to take photos. He road sideways on his bike, so we chatted with him throughout the tour.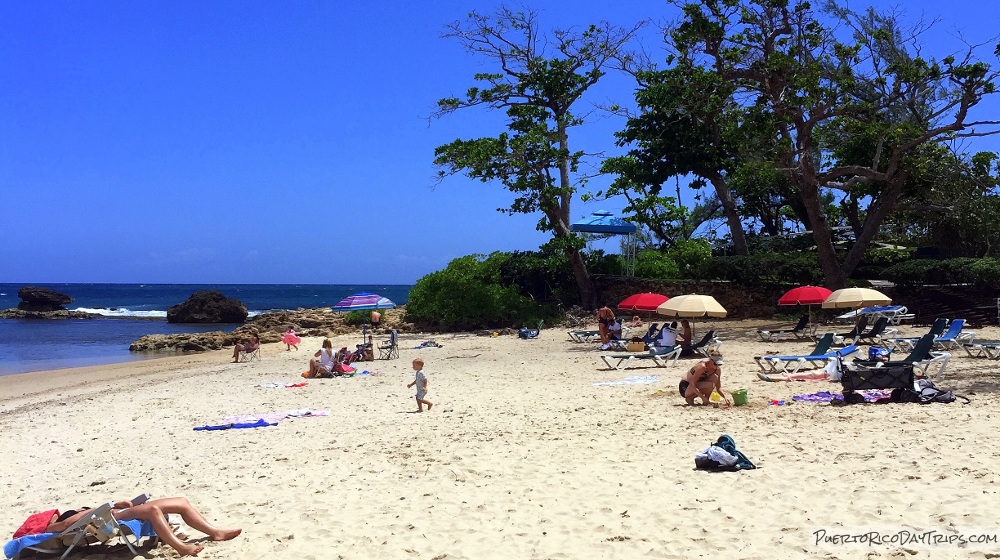 They usually stop for a little while at the beach so you can take a dip if you want or relax on the beach. We didn't want to "go to the beach", so we just stopped for a few minutes to take some photos, and buy a soda. We made it a quick beach-stop because we wanted also go over to the area near Playa Escambron.
We backtracked the bridge, then up to see the "baston" and beaches at Escambron, and then up past the Capitol building. Some of this was "off-roading" a little, and these little scooters did fine. Then back on the bike path and into Old San Juan along the waterfront on Luis Munoz Rivera Avenue. The breezes were wonderful! And it was a nice way to see a lot of the area in a short amount of time.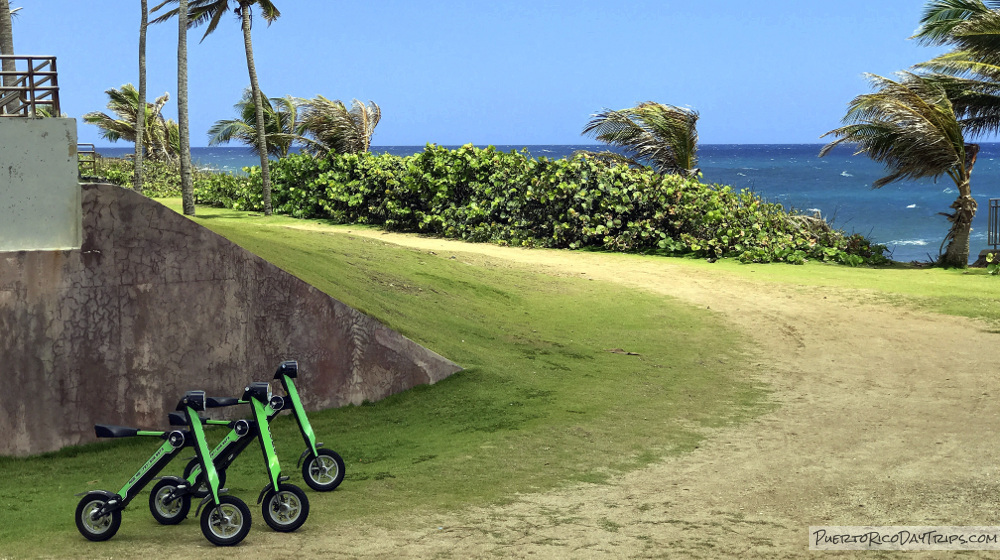 Details
The cost of the E-Bike Tour is $35 plus tax per person.
They run tours Monday to Sunday from 10am to 5pm.
You need to be 12 years old to ride, and minors need to be accompanied by an adult.
The tour is 90 minutes, so allow up to 2 hours from start (signing paperwork, etc) to finish.
You can call 787-469-3397 or (787) 508-8579 for more information or to make a tour reservation.
The tours operate out of La Bodega del Viejo San Juan restaurant, which is located at 413 Calle San Francisco. That's the corner between Plaza Colón and Fort San Cristobal.
We are in the process of updating the maps we use on our web site. While we're working on that, you can click on the GPS coordinates below to view the location on Google Maps ...
PuertoRicoDayTrips.com assumes no responsibility regarding your safety when participating in the activities described in this article. Please use common sense! If your mother or that little voice in your head tells you that you are about to do something stupid … then don't do it!