Get Personal with an Erin Go Bragh Snorkel Sailing Trip
Post Maria- They lost both boats in Maria, BUT Capt Dan got a new boat and has reopened as Calico Jack Pirate Ship!!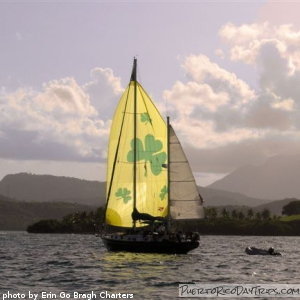 There are many places to snorkel around the island of Puerto Rico, and most of the best snorkeling in the north-east is around the out-islands of Culebra and Vieques and the small islets off of Fajardo (Icacos, Lobos, Palominos and Palominitos). Access to these islets is provided by different types of boats out of the various marinas in the Fajardo area. There are two sailing options, the large catamarans and smaller 6-passenger sailboats like Erin Go Bragh.
Sailing Catamarans
If you're looking for a party boat with lots of people, then look no further than one of the companies that run a snorkel catamaran. These large sail boats typically carry 40 or more passengers of all ages and skill level. All of those catamaran operators are fundamentally the same, they all go to almost the exact same spots, at the same time, and follow almost the exact same schedule. It is a fun but crowded day.
Erin Go Bragh Sailboat Charters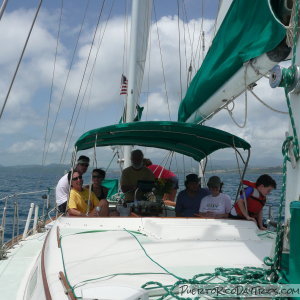 If you're looking for something that's more intimate, more relaxing, less crowded, and a lot less cookie cutter than the catamarans, then you should check out Erin Go Bragh Charters.
We went on a snorkeling day sail the other day with Capt. Bill and Ingrid aboard the 50-foot Gulfstar Ketch Sailboat, the Erin Go Bragh III. Though this sailboat heads for the some of the same spots for snorkeling as the catamarans, this trip had a distinctly different feel to it.
The first and most noticeable difference is that the Erin Go Bragh takes a maximum of 6 passengers. So it is more intimate and relaxing. Another difference is that lunch was a delicious BBQ cooked right on the boat. And probably the biggest difference is the fact that Ingrid lives right on the boat! So not only are they taking you out snorkeling for the day, they're actually inviting you into their home for they day and treating you like family!
Our Day On (and Under) the Water
We were scheduled to set sail at 10:00am, and they asked us to arrive at the marina around 9:30am. After parking the car in the main parking lot at the marina, we walked down the pier to the slip where the Erin Go Bragh is berthed. We could have hitched a ride on one of the many golf carts zipping around, but we decided to walk and take our time and look at the different boats in the marina.
When we arrived to the sailboat, the other passengers (a honeymoon couple and another couple with their 8 year old son) were already on-board. After introductions all around, we had an orientation briefing that included the location of the life jackets, fire extinguishers and how to operate the marine heads (toilets). And then we were off.
We motored out of the marina and took some time to observe the iguanas sunning themselves on the piers and rocks. Once we got clear of the marina and out into open water, they hoisted the sails and shut off the motor. One of the great things about this trip is that you are part of small intimate group. You may be asked to help with some ropes or you can "help" steer the boat. You have time to talk to and get to know everyone on the boat with you and really relax and enjoy the sea, ocean breezes and the company. There was an open bar with beer, sodas, water and different hard liquors, so they could make almost any cocktail you could have wanted. They also put out chips and salsa for snacks. It was like a little get together of friends.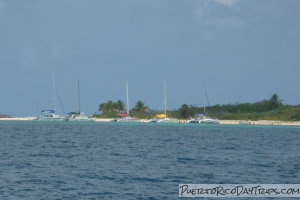 The best part of the Erin Go Bragh trip (snorkeling-wise) is that they try to avoid the catamarans, so you have a better snorkel experience. The spots they choose to snorkel each day depend on the wind and water conditions, and the other boats. Since there were about 6 catamarans at Icacos (with a total of a couple hundred people in the water), They decided to go to the reef near the private island of Lobos. That was great for me since we have been snorkeling on the reef at Icacos many times and never to Lobos.
Once we got to Lobos (I think it was around 11:30am), we hooked up to an empty mooring and got geared up. They have plenty of snorkel gear in different sizes on the boat for you to use and Capt. Bill gave lessons on how to use the equipment. A nice thing about this snorkel spot is that there were only 2 other (small) boats moored here, so there weren't that many people in the water.
So in we went! The reef system near Lobos is very healthy, with different kinds of corals (including some huge brain and elkhorn coral) and lots of fish life. I think it is one of the nicest snorkel reefs I have seen in Puerto Rico so far. We saw parrot fish, tangs, angel fish, a small barracuda, and many other fishes. Our favorite one, that we had never seen before, had a long skinny nose with an florescent red-orange tip! We looked up the name in the books they had on the boat, but I forget what it was called now! Anyway, I lose track of time when I'm snorkeling, but I'd guess that we were out in the water for 45 – 60 minutes before we swam back to the boat.
Once we got near the boat, we realized we had been invaded! All of the catamarans that were originally anchored over at Icacos had moved over to were we were moored. The water around Lobos was now thick with snorkelers!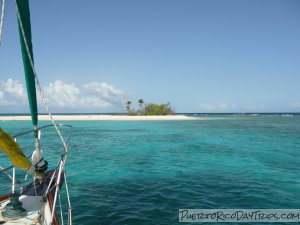 Luckily for us, while we were out having fun, Ingrid was busy cooking. So when we got back on board and dried off, it was time for lunch. As one of the catamarans went past our boat we heard "Do I smell barbecue?" and "Can you spare a brother a rib?" We all got a kick out of that. Our lunch was hot BBQ chicken and ribs, with rice & beans, a green salad and fresh bread (pan de agua). If you let them know when you book your trip, they can customize the lunch depending on your dietary restrictions (vegetarian, kosher, etc). The food was excellent, and there was plenty for seconds.
After lunch, they turned on the music and we motored past the island of Palominos (which is very pretty) and dropped anchor near the tiny islet of Palominitos. This little spit of island is beautiful just in the fact that it is empty except for about a half dozen lone coconut trees. The reef around the island didn't appear as healthy as the reef at Lobos, but there was still a good variety of fishes to enjoy. After snorkeling and walking on the beach, we all made our way back to the boat for a little surprise birthday party for the 8 year old birthday boy! We had a yummy chocolate cheesecake with strawberries. That certainly made the day even more special for everyone.
After the little party, it was time to weigh anchor and set sail back to Fajardo. Since the wind was light, they were able to unfurl their custom shamrock spinnaker. It's not every day that you see a boat decked out in shamrocks sailing through the Caribbean.
After a lovely sail back to the marina, we said our good-byes. It was about 5:30pm when we got back to our car. All in all, it was a really relaxing and enjoyable day.
Captain Bill Henry passed away April 20, 2009. He will be greatly missed by all who knew him. But the tradewinds are still blowing and a sailboat must sail. Ingrid has retired but Captain Dan now operates the company and also charters a second sailboat- a 45-foot Moody Sailboat called Tanto Amor. So the dream still continues-sailing charters providing the wonderful personalized service that Erin Go Bragh is famous for.
Details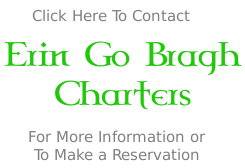 The trip is priced per person, and only a little bit more than the big snorkel boats. You could also hire the whole boat exclusively for your group of up to six people. Prices include BBQ lunch, snacks, open bar (beer, alcohol drinks and soda) and use of snorkel equipment. These prices do not include Puerto Rico sales tax nor gratuity.
If you're happy, let them know it — Don't forget to tip your your bartender, tour guide or trip operator if you enjoyed yourself. Gratuities are appreciated and typically aren't included in the price they charge you.
Day sails are typically from 10-ish in the morning to 5-ish in the afternoon. They may be able to adjust their times to work within your schedule.
Bring sunscreen, sun glasses, towels, hats, extra T-shirts for snorkeling to avoid the sun on your back, comfortable shoes and an underwater camera, if desired. If you're prone to seasickness, you may want to take a Dramamine or similar OTC meds about 30 minutes before you get onto the boat.
You can call 787.860.4401 or 787.231-3901 for more information.
Their email address is egbc @ egbc.net (without the spaces)
The website is www.egbc.net
Trips are by reservation only. They fill up quickly, so you should book early!
If you had your heart set on this trip, and Erin Go Bragh is unavailable, there are 2 other 6 person sail boat available, but they operate as private charters (you rent the whole boat). Try Ventajero. Their phone number is 787.645.9129. Or for ½-day trips, try Serenity Sea Tours at 787-435-1358 or VIPSnorkeling.com
Directions from the San Juan area – Highway 3 to Fajardo. Stay on 3 until the road becomes Route 53. Take the first exit (it is marked Puerto Del Rey). Go under the highway. Go through 2 traffic lights and the marina entrance is on the left. Park inside the marina – there's plenty of parking.
Puerto del Rey Marina is about 35 minutes from Rio Grande, and about 60-90 minutes depending on traffic and the route chosen.
We are in the process of updating the maps we use on our web site. While we're working on that, you can click on the GPS coordinates below to view the location on Google Maps ...
PuertoRicoDayTrips.com assumes no responsibility regarding your safety when participating in the activities described in this article. Please use common sense! If your mother or that little voice in your head tells you that you are about to do something stupid … then don't do it!