Sailing & Snorkeling with Erin Go Bragh
Post Maria, they lost the boats in the storm BUT a new boat is here and they will be restarting trips mid-November 2018!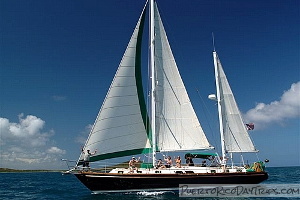 We recently had the pleasure to spend another day sailing and snorkeling on the Erin Go Bragh III in the waters around Icacos and Lobos. It was a lovely day weather-wise, the food was delicious (of course), and the day was relaxing & fun. We even shot some nice underwater video while we were snorkeling.
Meeting at the Dock
The other day we got a phone call from Ingrid to invite us out with them on a Friday. As it turned out, that Friday was Ray's birthday … it was a perfect way to spend the day!
When we arrived at the boat, we met the other two couples who would be sailing with us. Both couples were on "quickie vacations without their kids", and one of the couples was also celebrating an anniversary — so they were looking for some peace & quiet, and some adult conversation.
Now, of course, kids are allowed and welcome on the Erin Go Bragh III— but it just turned out on this day that it would be adults only. Perfect!
A Day Out at Sea
We motored out of the marina and once we were clear of the mainland we hoisted the sails. The Erin Go Bragh III in all her glory! There wasn't much wind that day, and the seas were very calm, so we enjoyed a leisurely sail over to the island of Icacos. It is amazing how relaxing and quiet sailing is. Ingrid served drinks and delicious chips & mango salsa. It was wonderful!
Once we got to Icacos, we noticed all of the snorkel catamarans on the south-east end, so we went to the reef off the north-east of Icacos! We had the whole place to ourselves and we snorkeled for about an hour. During that time, Ingrid and the Captain were cooking our lunch — BBQ ribs & chicken, rice with beans, salad, and fresh bread. We finished snorkeling and got back on board the boat hungry and ready for lunch. But as we were just about ready to eat, ALL the other snorkel boats came over and anchored right next to us. We were suddenly surrounded by hundreds of people.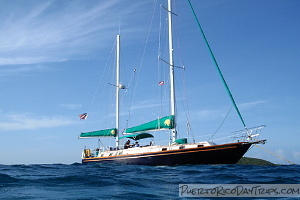 Ingrid decided we need peace and quiet, so we moved! We went to the far south-east end of the reef where we were alone again. We got to eat our meal in peace and quiet after all!
Following lunch, we went snorkeling again. Then, since we still had some time, they moved the boat to Lobos Caye, and some of us did some more snorkeling, and some people stayed on board on sunbathed, or just enjoyed the peacefulness of an afternoon on the water.
After we got back on board, we had cake to celebrate the birthday and anniversary. What a nice way to celebrate a special day!
After our little celebration, we set sail for home. Some people napped, others chatted, some sunbathed. So relaxing. It was a perfect way to unwind.
Snorkeling & the Underwater World
Some of the people on the boat that day were not all that comfortable in the water, but they were well taken care of. In addition to snorkel gear (snorkel, mask and fins) they were fitted with a floatie that enabled them to snorkel around in confidence.
It is always interesting to hear people's reactions to seeing the underwater world. It is so different than our everyday lives topside. That is one of the many reasons we like snorkeling and diving so much. The colors, shapes and diversity of sea life, and the chance to see something unexpected just keeps us going back under water!
On This trip, the variety of marine live was pretty good — we saw sting rays, a baracuda, lots of fish, a huge school of blue tangs, and our turtle friend!
Normally, when we do an activity that is not free to the public, we pay the admission price out of our own pockets. However, we just want you to know that the folks at Erin Go Bragh Charters were kind enough to offer us this trip for free. While we don't feel that this free ride influenced our opinion one way or the other, we felt that we should tell you, just as a matter of fact.


Details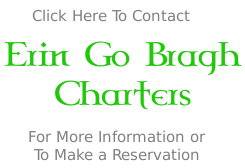 The trip is priced per person, and only a little bit more than the big snorkel boats. You could also hire the whole boat exclusively for your group of up to six people. Prices include BBQ lunch, snacks, open bar (beer, alcohol drinks and soda) and use of snorkel equipment. These prices do not include Puerto Rico sales tax nor gratuity.
If you're happy, let them know it — Don't forget to tip your your bartender, tour guide or trip operator if you enjoyed yourself. Gratuities are appreciated and typically aren't included in the price they charge you.
Day sails are typically from 10-ish in the morning to 5-ish in the afternoon. They may be able to adjust their times to work within your schedule.
Bring sunscreen, sun glasses, towels, hats, extra T-shirts for snorkeling to avoid the sun on your back, comfortable shoes and an underwater camera, if desired. If you're prone to seasickness, you may want to take a Dramamine or similar OTC meds about 30 minutes before you get onto the boat.
You can call 787.860.4401 or 787.231.3901 for more information.
The website is www.egbc.net
Trips are by reservation only. They fill up quickly, so you should book early! They also have a second sailboat – a 45-foot Moody Sailboat, called Tanto Amor .
Directions from the San Juan area — Highway 3 to Fajardo. Stay on 3 until the road becomes Route 53. Take the first exit (it is marked Puerto Del Rey). Go under the highway. Go through 2 traffic lights and the marina entrance is on the left. Park inside the marina — there's plenty of parking.
Puerto del Rey Marina is about 35 minutes from Rio Grande, and about 60-90 minutes depending on traffic and the route chosen.
We are in the process of updating the maps we use on our web site. While we're working on that, you can click on the GPS coordinates below to view the location on Google Maps ...
PuertoRicoDayTrips.com assumes no responsibility regarding your safety when participating in the activities described in this article. Please use common sense! If your mother or that little voice in your head tells you that you are about to do something stupid … then don't do it!