Hamilton: An American Musical in Puerto Rico
21 December 2018 – The show has been moved to the Centro de Bellas Artes Luis A. Ferré in Santurce.
As of 10:05am on 10 November 2018, these the "regular admission" tickets are sold out. A limited number tckets will be available in January through the lottery process described below (through the Hamilton app). Additional "regular admission" tickets may be made available at a later date.
In January 2019, for just 24 performances, the smash Broadway hit Hamilton will be in Puerto Rico, with Lin-Manuel Miranda reprising his role as Alexander Hamilton. This is a must-see event, which will raise funds to help support the Arts in Puerto Rico following the devastating hurricanes of 2017.
Award-winning composer, lyricist, and actor Lin-Manuel Miranda, his family, and Hamilton have partnered with the Flamboyan Foundation to create the Flamboyan Arts Fund. As critical components of Puerto Rico's tourism, arts and culture are pivotal to the vitality and the economic recovery of the island. In this time of social and economic change following Hurricane Maria, the arts can build hope, stimulate the economy, and enrich people's souls.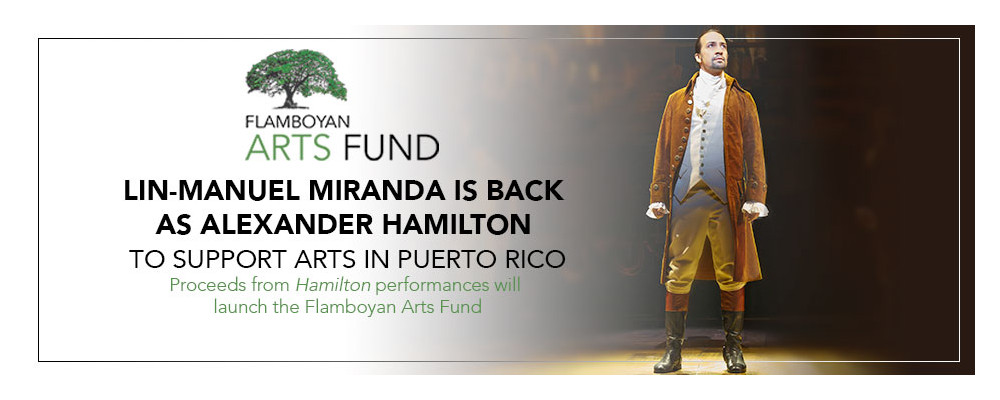 When Are The Performances?
Performances of Hamilton will be at the Teatro de la Universidad de Puerto Rico, Recinto de Río Piedras (UPR University Theater in Río Piedras) Centro de Bellas Artes Luis A. Ferré de Santurce from 8 to 27 January 2019. All performances will be in English, as originally presented on Broadway. Shows run Tuesdays through Sundays. Evening shows are at 7:30pm Tuesdays through Saturdays. Matinees are at 1:30pm on Wednesdays, Saturdays, and Sundays. There are no evening shows on Sundays. There are no shows on Mondays, nor on 11 January 2018. You can view the full schedule on the Hamilton web site.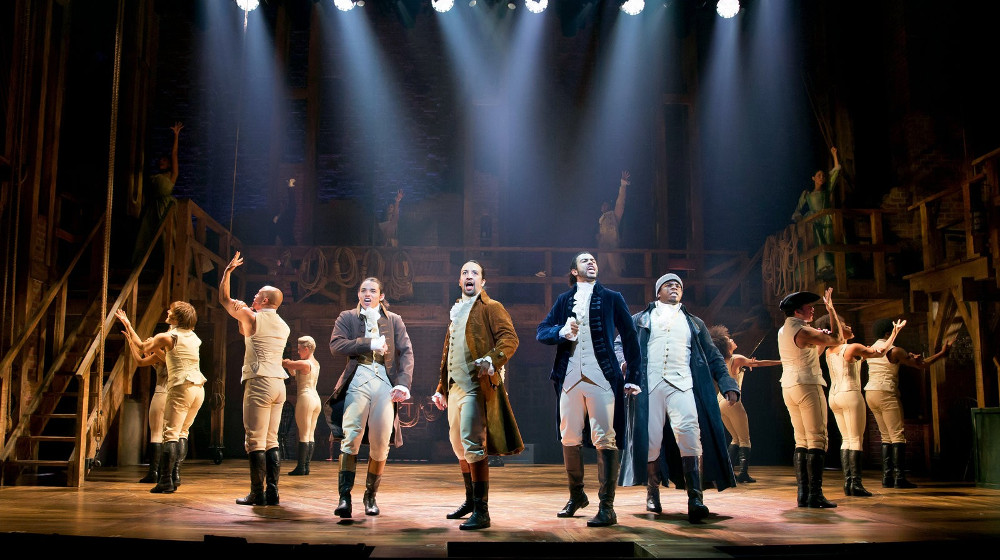 I Want Tickets! How Do I Get Them?
There are a few different ways to get tickets. Here's what you need to know.
Regular Priced Tickets
Tickets went on sale on Saturday, 10 November 2018, starting at 9am. Tickets will be available in-person at all Ticketpop locations in Puerto Rico, on-line at Ticketpop.com, and in-person at the ticket office at the Teatro de la Universidad de Puerto Rico, Recinto de Río Piedras. There will be no phone sales on 10 November 2018.
VIP Tickets
In addition to the regular general admission tickets, there will be a limited number of VIP Tickets that will be sold to launch the Flamboyan Arts Fund. These VIP Tickets — which are $5000 each — are tax-deductible, and include premium seats, and access to a VIP post-show reception curated by Chef José Andrés and others. These will be available for purchase on 10 November 2018 exclusively from the Flamboyant Arts Fund web site.
Puerto Rico Tourism Packages
The Puerto Rico Tourism Company will have a limited number of tickets that will be sold as part of tourism packages that include 3-night stays in Puerto Rico. For more information, visit the Puerto Rico Tourism Company web site.
Lottery — for Puerto Rico Residents Only
Lin-Miranda has set aside 10000 tickets, that will be sold for $10 each via a lottery system, for Puerto Rico residents only. 1000 of these tickets will be exclusively available to Puerto Rico college students, with valid student ID, for the matinee performance on 9 January 2019. If not sold-out by students, all remaining tickets for that performance, and two subsequent Wednesday matinees, will be sold for $10 via digital lottery.
Over 200 tickets will be sold to residents via lottery for all other performances. It will be by a digital, random lottery. One entry per person per performance. The lottery systems has lots of rules, and time constraints that need to be met.
The lottery opens at 11am two days prior to the performance and closes at 9AM the day before the performance. If you win, they will send an email a little after 11am on the day prior to the show. In the email, they will send a link to purchase the tickets. You will have until 4pm to purchase your tickets online using a credit card. If you don't pay by 4pm, you will lose your ticket. Then, you must pick-up the tickets (with a valid photo ID that matches the winner's name) up at the box office between 11:01am – 4pm the day prior to the performance.
You can enter the lottery through the Hamilton mobile app or online at the Hamilton ticket lottery site. The official Hamilton app is available for all iOS and Android devices in the Apple App Store and the Google Play Store. Each winning entrant may purchase up to two (2) tickets. For more complete details, visit the Hamilton ticket lottery site.

What Are The Terms For Regularly Priced Tickets?
There is a maximum purchase limit of four (4) tickets per account for Hamilton's three-week engagement on the island. Ticket prices will range from $99 to $339, which includes TicketPop fees and local sales tax (IVU).
Tickets must be picked up in person on the date of the performance at Teatro de la Universidad de Puerto Rico, Recinto de Río Piedras. In order to pick up your tickets, you will need to present the credit/debit card used to buy the tickets AND a valid government-issued photo ID (matching the name on the credit/debit card). Tickets can ONLY be picked up the day of the show. Window opens 2 hours before curtain time.
Tickets will only be handed to the owner of the credit/debit card used to buy the tickets. Tickets will not be handed over if the names on the ID and the debit/credit card do not match the name on the order, or if the ID is not of the person who is picking up the tickets. Tickets cannot be picked up by a third party.
Other Info
The show runs 2 hours 45 minutes, including intermission.
Hamilton is appropriate for ages 10+. The show contains some strong language. Every patron, regardless of age, must have a ticket. Children under 5 years old are not allowed in the theater.
Tickets sold out quickly. You can try calling Ticketpop closer to event for any available Tickets. Check for availability on-line at Ticketpop.com.
For more information about the show itself, visit the offical Hamilton web site.
We are in the process of updating the maps we use on our web site. While we're working on that, you can click on the GPS coordinates below to view the location on Google Maps ...
PuertoRicoDayTrips.com assumes no responsibility regarding your safety when participating in the activities described in this article. Please use common sense! If your mother or that little voice in your head tells you that you are about to do something stupid … then don't do it!