Fly Like a Bird in a Hang Glider
Post Maria- Currently they are not running Hang gliding trips. We will update this when they reopen, hoping for Fall 2019.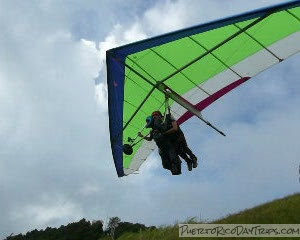 Have you ever wanted to soar like a bird over the mountains and treetops? If you have, then hang gliding is something that you may want to try.
We found a way that you can try it during your vacation in Puerto Rico. You can go on a Tandem Discovery Flight with Team Spirit Hang Gliding & Paragliding. During a tandem flight, you are up in a hang glider with an experienced pilot who does all of the work. You're really just along for the ride and excitement!
Preparing for our Flights
We recently spent a day doing tandem flights with Team Spirit. Our day started by meeting Keishya and Bob, who are licensed hang glider pilots, at the flying launch site in Canovanas on the south side of El Yunque National Forest. The launch site is a grassy field at the edge of a cliff, about 1740 feet above sea level.
While Bob was preparing the hang glider, Keishya was giving us a briefing on basic passenger skills, which included what to expect and what we had to do during our flights. She was very thorough and patient during the briefing. We got the chance to ask lots of questions, and she reviewed stuff with us until we were comfortable with our understanding of what we were about to do. We decided that Ray would go up with Bob first, and that I would go second. It's at this point that you want to take the opportunity to use the rest room before your flight.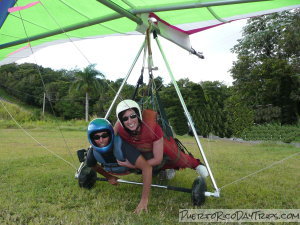 Once we were through with the briefing, we went over to where Bob was finishing setting up the hang glider. There, Bob helps you get into the harness and helmet that you would wear during our flights. After suiting up, they have you practice running in tandem until Bob feels confident that you're running in unison with him. That's the one of the most important things in a tandem flight, you have to "be one" with the pilot. Next, they hooked into the hang glider on the ground so that you could feel what it would be like in the glider up in the air. What actually happens is you end up laying, face down, suspended in your harness from the glider. It is a full-body harness, that completely supports your body from your shoulders to your ankles.
After they get through all of the training and practice, they issue you a temporary "student" permit from the US Hang Gliding and Paragliding Association (USHPA). Now you are official and ready to go!
Up, Up, & Away
Once you feel comfortable and have gotten answers to all of your questions, Bob moves the glider to the launch position. Once he's ready, they hook you into the glider next to Bob. This is the point where the rubber meets the road and your adrenalin starts to pump. You stand there, looking over the edge, as they monitor the wind and weather conditions. When everything is perfect, Bob gives the word and the two of you run off the edge of the cliff and fly away.
Seriously, it happens so fast you don't have time to even think about being scared. When the conditions look right, Bob yells "Ready?" followed by "CLEAR!", which is your cue to start running. And off we ran. And in like 2 steps, we were flying! It is really cool. You can tell Bob loves flying, he is just having a ball up there!
Once you are flying, Bob steers the glider around, looking for uplifts (drafts) and thermals that allow you to climb higher and higher. Thermals are rising columns or bubbles of warm air. Hang gliders circle and climb in these thermals, to get height, so you can fly longer. We made it to over 2500 feet above sea level. We were higher than the mountain ridge and we could see San Juan and the Atlantic Ocean to the north and Vieques and the Caribbean Sea to the east. The mountains, fields, clouds, and water you see on your flight are so beautiful.
The flights are usually between 10 to 30 minutes in duration. Both Ray and I were in the air for 21 minutes each. But we had totally different flights. Ray went in the morning, when it was cooler and there was a stronger wind, so he had more uplifting drafts and did a more sweeping flight. I went after lunch, when it had warmed up, and we caught more thermals, so we actually circled up and got higher.
The weather conditions can totally change the flying experience, so every trip is different. When I was in the air, there were many red-tail hawks flying around soaring on the uplifts and thermals. Bob would use those soaring birds as a thermal location guide (along with his electronic instruments!) so that we could use the thermals to gain height. There I was, flying alongside the birds!
Your landing can be one of two ways – standing up or rolling on the glider's wheels. Ray's landing was a rolling landing, and it was a bit bumpy. My landing was a standing landing, mainly I think because I am smaller and it is easier for Bob to ignore my presence. But they prepare you for either type of landing, so it was all good.
Looking Back on Our Flights – Some Thoughts
If you are prone to motion sickness (as Ray is), you may want to take something like Dramamine prior to your flight. There are sudden upward and downward movements and turns, similar to being in a small plane or on a roller coaster. Some pre-medication can help you make the most of this exciting experience.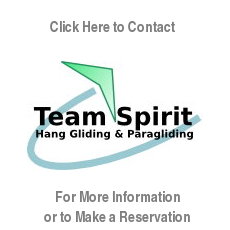 They teach you a lot during the training briefing. But when all is said and done, I think it's best to just realize that Bob does not need your help. If you just stay in constant contact with him (as instructed), and stay out of his way, that will be the best. They say that your hand can be on the bar. But I found that Bob needed to maneuver the bar (sometimes out of my reach) to fly the glider. So I quickly decided to stop "helping" hold the bar still. I ended up letting go of it and just enjoyed the ride.
The launch site and the landing site are pretty far away from each other, so it takes about 2 hours per person (start to finish). If you have more than 2 people in your party who want to do a flight, you'll probably get hungry and/or thirsty. Consider bringing some non-alcoholic drinks and a brown-bag lunch.
Obviously, hang gliding is not for everyone, and it may not be on your must-do list. But you may want to reconsider. It really is an experience of a lifetime. You're up there flying like a bird. It reminded me a lot of being in an open sided helicopter, but hang gliding is much more peaceful and provides a much better view!
About Team Spirit Hang Gliding
Team Spirit is owned and operated by Bob Hastings and Keishya (KEE-sha) Salko. Both Bob and Keishya are Licensed Advanced Instructors and Pilots for hang gliding. In addition, Bob holds the highest designation achievable in tandem hang gliding – the Tandem Administrator rating – and he is also an Advanced Level rated and certified instructor for paragliding. These licenses and designations of mastery are issued by the USHPA organization.
In addition to offering the Tandem Discovery Flight that we've talked about here, Team Spirit offers classes in hang gliding and paragliding for those who want to learn to pilot one of these gliders on their own, and flying tours for visiting rated HG or PG pilots. Team Spirit is a full-service USHPA affiliated and certified HG/PG school, with a full complement of rental equipment for those with official rating cards.
The Tandem Discovery Flight is $185 per person, plus tax. Reservations can be secured with a $50 deposit on your Visa or MasterCard. There is a 48-hour cancellation policy.
If you're happy, let them know it — Don't forget to tip your your bartender, tour guide or trip operator if you enjoyed yourself. Gratuities are appreciated and typically aren't included in the price they charge you.
Tandem flights are offered 7 days/week. Reservations are required.
Hang gliding is a weather-dependent activity. Your flight may be postponed or canceled do to unfavorable winds and/or rain. If it is canceled, they will attempt to reschedule your flight for another day. If this is something you really want to do, schedule it for early in your vacation just in case it gets pushed back by a day or two.
You should allow a minimum of 2 hours per person for tandem flights. This would include your briefing, practice, the flight itself and driving between the launch and landing sites.
You can visit the Team Spirit Hang Gliding Facebook page for more information.
You can call Team Spirit Hang Gliding at 787-850-0508 or 787-645-7708 for more information or to make a reservation.
It's important to wear closed-toe shoes that you can run in (no flip-flops or sandals).
Passengers must not exceed 6'2" in height or 220 pounds in body weight.
Passengers under 18 years of age are required to have a Parent or Legal Guardian present.
Team Spirit offers flying tours for visiting rated HG or PG pilots. Prices vary based on services required, but can include glider rental, guided instruction, cross country retrieval, ratings clinics. They also offer intensive courses for beginners or novice levels.
The launch site in Canovanas is about a 45-minute drive from the San Juan area. You will be responsible for driving yourself to the site. Team Spirit will provide driving directions when you make your reservation.
There is another hang gliding company called Aventuras Borincanas located in Vega Baja. I don't have any specifics for them, but you can contact them at: 787 318-3473 or email them- info@aventurasborincanas.com.
We are in the process of updating the maps we use on our web site. While we're working on that, you can click on the GPS coordinates below to view the location on Google Maps ...
PuertoRicoDayTrips.com assumes no responsibility regarding your safety when participating in the activities described in this article. Please use common sense! If your mother or that little voice in your head tells you that you are about to do something stupid … then don't do it!