King Tut Comes to Old San Juan
Update 07 May 2011: The King Tut exhibit is no longer in Old San Juan.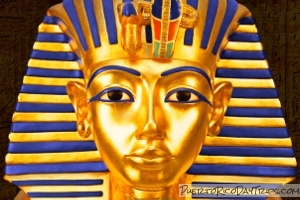 Yes, you read that correctly … Egyptian history has come to Old San Juan. Tutankhamen: The Exhibition opened on September 9 and will be on display at least until March 2011 (and it may be extended beyond that).
The exhibition contains replicas of some of the ancient treasures from King Tut's tomb, and objects from some of the other Egyptian pharaohs.
What You Can Expect to See
This is the first exhibition to come to Puerto Rico that is dedicated to the treasures from King Tutankhamen and other Egyptian pharaohs. The exhibit has information and objects from four pharaohs: Tutankhamen (or Tutankhamun, as his name is sometimes spelled), Rameses II, Tutmosis III and Cleopatra, and some other, historically significant, Egyptian pieces. The collection is said to contain over 250 museum quality replicas and reproductions of Egyptian treasures.
When you first enter the exhibition, you watch short, BBC documentary about King Tut — his life, death and burial. Once the documentary is over, you move on to the first exhibition salon where a replica of King Tut's chariot is on display. The exhibit contains a few different display areas, each dedicated to a different figure in Egyptian history — Cleopatra, Ramses II, Akhenaten, Tutmosis III and Tutankhamum.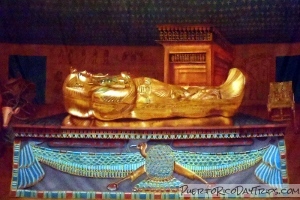 As expected, the majority of the exhibition is dedicated to the Boy King, and Howard Carter's discoveries in 1922. There is a replica of King Tut's tomb and many of the objects buried with him. You'll see replicas of the 3 sarcophagi and the burial headpiece.
There are also statues of Cleopatra, Ramses II and a life-size recreation of the tomb of Tutmosis III. There is some information on mummification, canopic jars (used to preserve internal organs), and even ancient trauma surgical procedures from the Edwin Smith papyrus. There is also a display of recreations of the Book of the Dead on papyrus.
The area with the movie at the beginning only holds a limited number of people, so they let you into the exhibit in groups. This is great since it limits the number of people pouring into the exhibit areas so it never should never really get crowded inside.
Each salon has informational signs, in Spanish and English, with background info on each pharaoh and the related objects that are on display. There is also a guide stationed in each room to explain things and answer questions.
Our Impression
Having seen other Egyptian artifacts in museums, but having never been to a King Tut exhibit before, we were really excited to have the chance to go to this show. We were the first ones into the exhibit on the opening day of what was being advertised as The Greatest Exhibition on Earth Comes to San Juan!
Our first impression is that it just really wasn't what we were expecting. We were a little disillusioned to hear that the objects on display were replicas. That small, but important, tidbit is not mentioned anywhere — we had to ask.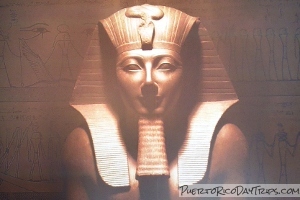 The presentation and displays could have been better. They did a lot of construction and hieroglyphic painting in the exhibit hall to try to set the mood, but I still did not get the feeling like I was in the tomb, or even in Egypt.
Overall, the exhibit was educational, but I don't think there was enough information to really understand what they were displaying — like why was Cleopatra underwater? And then, there was the seemingly useless info board about dengue and malaria. It might have been great for them to mention that King Tut had malaria and it probably played a role in his death at the age of 18.
One of the good points of not having enough information was that it inspired us to spend a couple hours doing research on Egypt and King Tut once we got back home. Now we know more than we ever knew about the Boy King!
According to one of the guides we spoke with, the exhibit contained some actual artifacts from the Egyptian pharaohs, some replicas and some reproductions. That means that some were the real thing, some were copies but exact in every detail and some were close to the original but may be somewhat different (for instance, the scale may be different).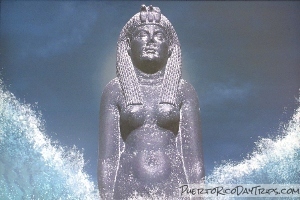 But there was nothing to tell us which was which, so I was confused at times — not knowing what was to scale, and what was reproduced smaller just to give one an idea of what it may have looked like in real life. For example, in King Tut's tomb room, there is a display of small boats and a small golden shrine. Well the boats were the actual size as found in the tomb but the shrine was a miniature reproduction. We only found that out by talking with the guides.
Though the price list at the door has a price for audioguides, we were told that audioguides were not available. Maybe that would have helped explain more. I hope they will be available in the future.
All in all, I liked the exhibit — I just left wanting more. If you go, make it a point to talk to the guides in each area — they are eager to share the info about the objects in each room. They will help enhance your experience and knowledge on the exhibit.
Details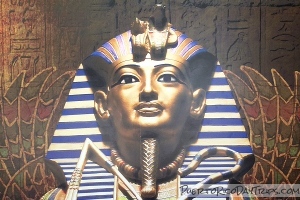 Ticket prices: Adults $19, Children (age 4-10) $14, Students (with ID) $16.00, Seniors/Handicap $17.00, VIP Fast Pass $29, VIP Fast Pass (child) $19, Audio Guide $5. Tickets can also be purchased on-line at TicketCenter, but at a higher price.
The exhibition is open 7 days/week from 9am until 8pm.
Allow 1 to 1.5 hours to get through the exhibit.
The exhibit is being staged at the Galeria Paseo Portuario in Old San Juan. That building is located on Calle Recinto Sur, just behind the Sheraton Hotel, about 2 short blocks from the San Juan Bay (and cruise ship piers).
You can locate the King Tut exhibit on our interactive map.
PuertoRicoDayTrips.com assumes no responsibility regarding your safety when participating in the activities described in this article. Please use common sense! If your mother or that little voice in your head tells you that you are about to do something stupid … then don't do it!