Dance on the Water in Old San Juan
Oct 2018- The Rumba party boat has not yet restarted tours after Maria. I will post when I see it has restarted.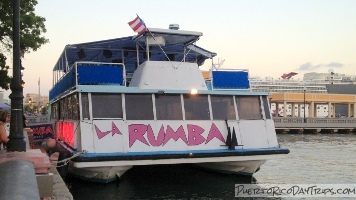 If you like to dance, and you find yourself in Old San Juan on a weekend night, you have options with the various local nightclubs. But if you want to go to a club that's a little different, La Rumba Party Cruise might be just what you are looking for.
This boat is a floating nightclub, with a DJ, dance floor, and bar service. While it is only a 2-hour experience, it is fun and different than other clubs (and we know that because we go dancing all the time — not!).
Our Party Cruise
La Rumba Party Cruise is docked at Pier 1 (right at Plaza Darsenas) on Friday, Saturday and Sunday evenings. They have the music going to draw you in, and Sunday is apparently "family night" … they had a big bubble machine, which was great fun for all the kids while the boat was in port.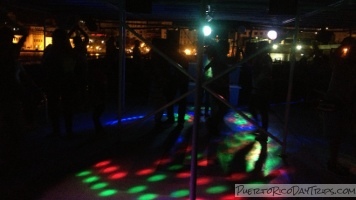 We went on the first trip of the night, on a Sunday. We were surprised at how many kids were on this trip, but it is family-friendly and kids like to dance, too. The music was loud and some of it had more "adult" lyrics, but otherwise no real issue for kids being there. I assume that there are fewer kids on the later cruises.
The boat itself has two levels. The first floor is enclosed, and it has the bar and a dance area. The second floor is open, with benches around outside, and a covered dance floor with lights.
There is a DJ that plays music. They have karaoke on Sunday nights. Luckily, only one person tried it!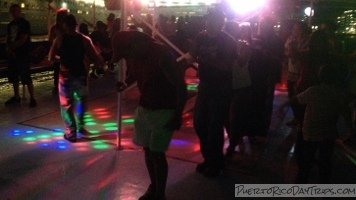 Other than that, the DJ played requests and salsa, meringue, and pop music from the 80s, 90s, and today. There is a small screen TV with music videos, and there were different lights all around the dance floor.
The music was loud (or maybe we're just getting old!), but you could find some quieter places on the back and on the port side of the boat. The boat can hold 150 people, but our cruise had only about 40 people on it. A number of people were dancing, but many were just enjoying the sights and the night air on the water.
Their published schedule lists 3 or 4 cruises per night, but that might vary on slower nights. We went on the "7:30pm cruise" … they let us on the boat at 7:30pm, and the cruise left the dock at about 8:45pm. We then spent about 1 hour out on the water in San Juan Bay.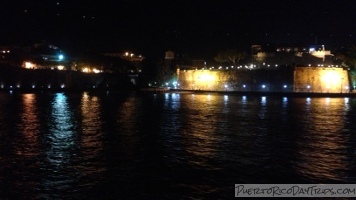 During the first hour (while we were on the boat but still docked), they had 2-for-1 Happy Hour drink specials. The drinks were reasonably priced — mixed drinks were 2 for $6, and beer was 2 for $5.
I enjoyed the boat trip. It was a beautiful night; breezy and clear. We got some nice photos of Old San Juan at night.
We cruised up to the San Juan Gate, then turned around and cruised past the new Bahia Urbana area. There were some cruise ships in port, so we cruised around by them, waving to the people on board.
Details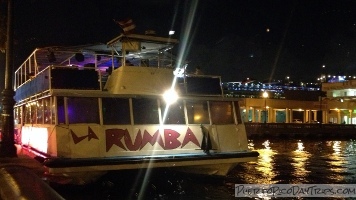 The cost is $20 for adults, (locals get a $5 discount with ID), $8 for kids 6+ years old. Kids under 6 are free. Discount for seniors. Tax not included in prices.
The published schedule is Friday 10:30pm, 12:30am, 2:00am; Saturday 9:30pm, 11:30pm, 1am, 2:30am; Sunday 7:30pm, 9:30pm, 11:30pm. Assume it will NOT leave on time!
Allow about 2½ hours from the time they let you on the boat.
You can call 787-375-5211 or 787-525-1288 for more information.
You can visit La Rumba Party Cruise Facebook page for more information.
Dress is casual. Bring your camera for pics of Old San Juan from the water.
La Rumba docks at Pier 1 in Old San Juan, by Plaza Darsenas.
We are in the process of updating the maps we use on our web site. While we're working on that, you can click on the GPS coordinates below to view the location on Google Maps ...
PuertoRicoDayTrips.com assumes no responsibility regarding your safety when participating in the activities described in this article. Please use common sense! If your mother or that little voice in your head tells you that you are about to do something stupid … then don't do it!