Enjoy Traditional Music & Dance at the Le-Lo-Lai Festival
This show is temporary canceled until further notice.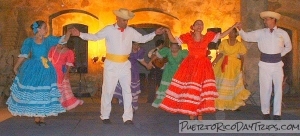 The Le-Lo-Lai Festival is a wonderful cultural program of traditional music and dance, sponsored by the Puerto Rico Tourism Company.
The Festival consists of different dances and music of the island and its heritage. These shows are free of cost and are amazingly high quality. They are offered at different places around San Juan, and are well worth the trip to see a performance.
Puerto Rico is a blend of the Spanish, indigenous Indian, and African peoples who have made this island their home. The different music and dance of these peoples have come together to make a style that is unique to this island.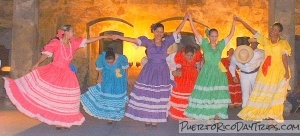 I have been to the show in San Cristobal a number of times. The musicians play island instruments like the cuatro, guiro, bomba, and guitar. The singers do a wonderful job, and the dancers are colorful and really seem to enjoy doing the show. The narrator gives a short history (in both English and Spanish) of Puerto Rico, and the dancers and musicians showcase this through the music and dances of the island. The music echos off the walls of the fort, really making for wonderful sound. And the bomba drummers are outstanding – you won't soon forget the power behind the music.
Time and Place: Tuesdays at 6pm at Fort San Cristobal.
You can call the Puerto Rico Tourism Company at 1-800-866-7827 or (787) 721-2400 for more information.
We are in the process of updating the maps we use on our web site. While we're working on that, you can click on the GPS coordinates below to view the location on Google Maps ...
PuertoRicoDayTrips.com assumes no responsibility regarding your safety when participating in the activities described in this article. Please use common sense! If your mother or that little voice in your head tells you that you are about to do something stupid … then don't do it!