Enjoy More Music & Dance with Le Lo Lai
This show is canceled until further notice.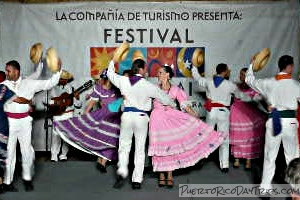 We recently had a chance to attend another performance of the Le Lo Lai Festival in Old San Juan. This is a folkloric music and dance show presented by the Puerto Rico Tourism Company at various locations around Puerto Rico. We attended a Tuesday-night show at Fort San Cristobal. It was nice to see that the show has been updated since our initial review back in 2007.
This year's show is totally different from the show we saw last time. They even have different musicians, singers and dancers. The show starts with modern dances and works backward through time to the early days in Puerto Rico. Before each dance segment there is a narrative to explain what you are going to see. The narrator gives the explanation first in Spanish and then in English.
This show started with the Salsa, since it is the "official" dance of the island and Puerto Rico is the Salsa capital of the world! The three couples performing this dance made it look so fun and easy. I think I will have to take lessons!
Between dance numbers the live band and singers to a number of songs, to give the dancers time to change costumes. They all did a nice job – the music was lovely. There is a guitar player, a guiro player (this is a gourd instrument) and a quatro player (an old time Puerto Rican version of a guitar – which is almost a lost instrument!). The songs are all in Spanish, but very enjoyable to a non-Spanish speaker.
The second segment was a formal 19th-century Puerto Rican dance, like at a cotillion of the upper class Spanish here on the island. The dancers wore lovely formal costumes with big, Victorian-style dresses. Next, they performed Jibaro folk dances from the Puerto Rican mountains and countryside. These dances were colorful and lively.
That was followed by Bomba drum players and dancers. The Bomba is a style of dance in which the dancer challenge the drummers to match their drumming to the dancer's steps and body movements. This is extremely entertaining to see and hear.
The final dance is pretty old. It was an example of what they did back before newspapers and other mass-communication. The dances and music tell a story – this one was about a train going from the south shore to Bayamon (on the north shore). You can see how the dancers movements mimic a train. Toward the end of this dance, they grabbed people from the audience to go up and dance. (If you watch the video, you can see me up there dancing front and center, in the shorts and sneakers!) Go on up and participate – the PRTC was giving participants a little souvenir to take home.
You can call the Puerto Rico Tourism Company at 1-800-866-7827 or (787) 721-2400 for more information.
PuertoRicoDayTrips.com assumes no responsibility regarding your safety when participating in the activities described in this article. Please use common sense! If your mother or that little voice in your head tells you that you are about to do something stupid … then don't do it!