Ride a Horse to New Heights in Cidra
Post Maria- they have not reopened. They are hoping to reopen at the end of 2018.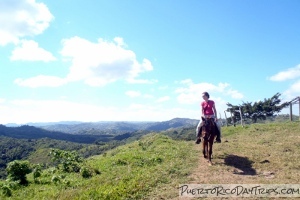 The center of the island is full of mountains, and the views from these peaks can be breathtaking. If you want to get to a these views, and not get out of breath doing it, consider going on horseback at Hacienda Madrigal in Cidra. Not only do you get to enjoy a horseback ride, you enjoy the cool fresh air of the Puerto Rican countryside.
Where is this?
Cidra is about 45 minutes south of San Juan, and up high in the mountains. When we first moved to Puerto Rico, we lived very close to this area, so we remember it fondly. It is a beautiful, natural place and, being so high up, it is at least 15 degrees cooler than at sea level. It is really a lovely place to visit.
Hacienda Madrigal offers guided horse rides around their beautiful 400-acre ranch. We went on a 2-hour horse ride and enjoyed the experience.
Our Ride
We arrived early, on a beautiful sunny day, so we had some extra time to look around the hacienda. It is a lovely place, and they have some of the most beautiful horses boarded there. We watched a number of show horses being bathed, exercised, trained, and examined by a vet.
Before we knew it, it was time for us to get onto our horses. These were work horses, so they were not as pretty as some of the others we were admiring, but healthy none the less.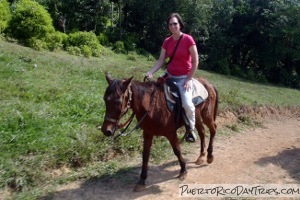 The horses we had for our ride were very slow horses, who slowly walked up and down the numerous hills and mountains on the hacienda. Along the way there were beautiful views, and we crossed a stream/river, and some cow pastures as we worked our way up and up to the top of the mountain. It was lovely, cool and breezy.
Our guide did not speak English, so request an English-speaking guide (if needed) when making your reservation. But he did not try to speak much to us in Spanish, either. He rode behind us, so we had to call back to him at every intersection which way we should go. It was a bit annoying. One other point is that no one asked us, before saddling us up, if we knew how to ride. Nor did they offer any instructions before we started the ride. All a bit odd.
The fact that our horses walked so slowly made the whole ride kind of boring. They got up to a fast walk for a total of maybe 2 minutes during the whole 2-hour ride. They might have gotten up to a trot for a couple seconds. We later learned that they had put us on the children's / beginners' horses.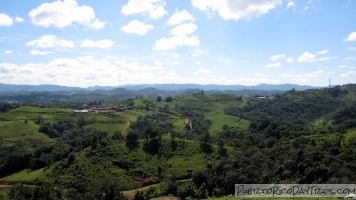 On the plus side, it was an easy ride, and I did not have body aches from being bounced around on a faster trot.
Not all of their horses are slow. While we were taking pictures at the peak, another group on a 1-hour ride came up to the peak at a fast gait. They stayed at the peak for a while and then went riding past us, leaving us in their dust. They got back to the stable and were long gone before we got back to the stable. You may want to request a horse with some spunk if you have some experience riding and want some "action".
Other Stuff in the Area
Make a point to stop for lunch (or dinner) at Don Jose, also on Carratera 173 in Cidra, before or after your trip. Other things in the area you can pan to do to make a full day out of it: The Botanical Gardin (Jardin Botanico), the Caguas Museum route.
Details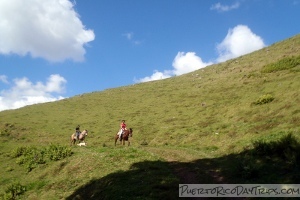 The cost of a 2-hour ride is $50/person. The cost of a 1-hour ride is $30/person.
If you're happy, let them know it — Don't forget to tip your your bartender, tour guide or trip operator if you enjoyed yourself. Gratuities are appreciated and typically aren't included in the price they charge you.
The offer horseback riding Tuesday – Sunday from 11am to 5pm.
Minimum age to go horseback riding is 8. Kids under 16 must be accompanied by an adult. Weight limit of 250 pounds.
Helmets are available. You have to ask for one if you want one. Bring a hat, sunglasses, sunscreen, water, and a camera. There is a restroom near the stable, and another at the peak where you stop mid-way through the ride.
For more information or to make a reservation, you can call 787-739-3453 .
You can visit the Hacienda Madrigal web site for more information.
By default, the tour guide will speak Spanish only. Not that there is a lot of talking involved in this tour, but if you prefer an English-speaking guide, you must request that in advance.
Driving directions from the San Juan area: Take Route 52 south from San Juan, to exit #21. Take Route 172 west to the town of Cidra. From Route 172 in Cidra, make a right onto Carratera 173 north. They are located on Carratera 173, KM 2.9 in Cidra. As you drive down their long driveway, you'll come to the back of the horse-boarding area. Drive around that building, to the other end. That's where you'll find the office.
Allow 45 to 60 minutes to drive there from the San Juan area.
We are in the process of updating the maps we use on our web site. While we're working on that, you can click on the GPS coordinates below to view the location on Google Maps ...
PuertoRicoDayTrips.com assumes no responsibility regarding your safety when participating in the activities described in this article. Please use common sense! If your mother or that little voice in your head tells you that you are about to do something stupid … then don't do it!