Soar Through the Treetops on a Zip Line
Update May 26, 2018- Post Maria- They are not yet open. We will update the article when they reopen.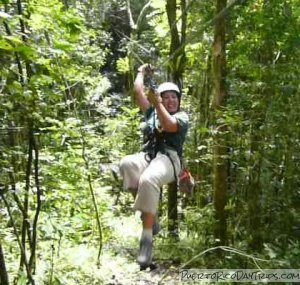 Have you ever wanted to soar from tree to tree like Tarzan? We found some people that will help you zoom from tree to tree through the forest on a zip line. And without even breaking a sweat!
The Original Canopy Tour company opened their first forest canopy tour adventure in Costa Rica in 1992. Since then, they've expanded into many other places and now, to Puerto Rico. The first one on the island! Around the end of 2007, the Original Canopy Tour company opened a forest canopy tour adventure at La Marquesa Forest in the City of Guaynabo, just 30 minutes outside of San Juan.
Getting On-Line
We had always wanted to try a zip line tour, so on a recent cruise we found a place in Antigua that did it, and we were hooked on this "sport". When we heard that this new zip line opened right here in Puerto Rico, we knew we had to go! We contacted the company, set up a tour and away we went.
We did the tour in February 2008. At that time, their operation was still kinda "new" and a little "rustic", for example, there was no visitor center, office or bathrooms. We just parked the car, walked over to their SUV full of gear, and started gearing up.How things have changed!
A zip line canopy tour allows you to sail from tree to tree and platform to platform on a network of pulleys and double horizontal cables that are mounted above the forest floor. During the adventure, you wear a harness (that attaches you to the cable system), helmet and gloves. Here are notes from our trip: The staff members will help you with your gear and make sure that all your gear is on properly and securely.
We found it is a good idea to use the restroom before gearing up, because once you have that harness on, taking care of your business would be challenging, to say the least.
From the parking lot, you take a tram to the zipline course.
The First Zip
Once you get to the first platform, they give you a "lesson" and safety briefing, which explains the equipment and how to control your speed on the zip lines. Once you have your gear on and the harness is tightened, you never really touch your gear yourself. The staff will hook you to the cables and unhook you from the cables before and after each traverse.
A word of advice here: Clothing is important to think about before going on a zipline adventure. You have to realize that you will be tightly strapped into this harness, which goes around each leg and your waist. Make sure you wear shorts that are long enough to cover at least a few inches below your bottom so you don't get chaffed from the straps. And, men, I would suggest not wearing boxers this day – you want your delicates up and out of the way. Make any necessary personal adjustments before stepping off the platform as all your weight ends up on these straps. Wear sneakers or shoes with gripping soles – no sandals or flip-flops. Make sure to take a picture when you are in full garb – you'll look like a real adventurer!
And Away You Go!
So now you're all strapped in and ready to go. Take a deep breath and head on up to the first platform. It sounds scary – standing on a small platform 50 feet above the forest floor. You worry that you are going to fall to your death or something. But really, I think it was ok. They have loads of redundant safety devices – helmets, harnesses, loads of carabiners and a safety line. You're always tethered to something – you're either hooked to a line on the platforms, or you're on one of the zip lines. This company has something like 8 other zip line tours in other countries, and have been around almost 20 years. They have never had a serious accident. That made us feel better! Honestly -I really don't think it is that scary once you do the first one (that one is always the one that requires the most nerve!).
OK, back to why one goes on the tour in the first place- The zip lines: There you are, standing on the edge of this platform that is up in a tree. They have already attached you to a safety line, so you won't fall off this platform. Now you step up to the ziplines. These are 2 thick horizontal cables that run from the tree holding the platform to another tree some distance across the forest. You get hooked to both lines (the thinking is, so if one breaks the other will hold you). Then after all the safety checks are done, they have you step off, put your feet up … and away you go. You can get going pretty fast on some of the longer runs. It was exhilarating fun!
But you are in total control. You control your speed by simply pulling down on the zip line (that's why you wear gloves). Go as fast as you feel comfortable, but don't slow down too much. Besides missing out on the fun, you may stop before you get to the other platform, and then you would have to pull yourself across. We just go for it and speed along through the forest!
See … Wasn't That Easy?
Really that was all there was to it. They call it a canopy tour, but really you are below the canopy, zipping through the tree branches. Each traverse (that's what they call the zip line from one tree to the next tree) is over way too quickly. Once you arrive at the next tree and platform, there will be a staff member there to unhook you from the zip line and hook you to the safety line.
Just when you are feeling safe and secure about zipping, they add another element of fright to it – there is one "rappel". Really this is a short controlled descent, but the stepping off the edge of the platform does require some guts.
This course consists of 8 zip line traverses, 14 platforms and one rappel.
Fun For All Ages, Shapes, & Sizes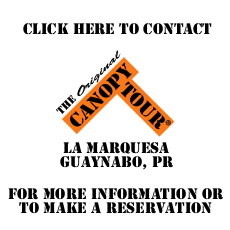 Can anyone do it? Well, they say it is for anyone over 5 years old or 45 pounds in weight. Though if you have some health issues (like vertigo, pregnancy or seizures), you may want to reconsider.
The only real "work" involved in zipping is you have to be able to hold your legs up, and put one arm up and behind you (that's your brake). If you can do these things, than you can probably do it!
Some of the zip lines are higher above the platform than others. That makes it a little more difficult to get on and off of the cables. So, if you're under 5'6" or so, you may have to do a little jumping or standing on your tippy-toes while they hook and unhook you.
2013-So much has changed at the Forest Park- they now have completed an aviary, and butterfly house, they have a play area and a aerial tram (all included in the price). Fun for everyone in the family. Check out the park info La Marquesa Forest Park article
Prices vary depending on whether you are on a cruise or hotel tour, or are local. Locals pay $80 per person, no transportation provided. Visitors cost $100 per person, no transportation provided. If a visitor needs transportation the cost is $125 per person. Prices do not include IVU (sales tax). Reservations required – no walk ins. Contact them for specifics. Note: they have contracts with many cruise lines, so if you are here on a cruise, you may be required to book through your cruise line.
If you're happy, let them know it — Don't forget to tip your your bartender, tour guide or trip operator if you enjoyed yourself. Gratuities are appreciated and typically aren't included in the price they charge you.
Closed Mondays. The tours are at 9am, 11:30am, and 2:30pm. and reservations are required. They sometimes even have night tours (in the dark) available!
Transportation can be arraigned from certain hotels in SJ.
Allow 1½ to 2 hours for the tour. Larger groups take longer.
You can call 787-789-1598 for more info. This is the best way to contact them.
You can visit their website www.CanopyTourPr.com for more info.
You can send them an email at reservations@CanopyTourPr.com for more info. If you send them an email (or contact them through our web site) and you don't hear back within about 24 hours … CALL THEM. The phone is often the best way to contact them!
Directions from the San Juan area: Take Road 2 South to Road 20 South . Look for the toll booth on your left, then take the second exit after the toll (it doesn't have an exit number). This will put you onto Road 834. Then go straight across through the light and continue on Road 834. Road 834 eventually ends on Road 835. Turn left and then follow signs to the park. (There's a big parking field across the tee with Road 835).
Drive time from the San Juan area is approximately 30 minutes.
We are in the process of updating the maps we use on our web site. While we're working on that, you can click on the GPS coordinates below to view the location on Google Maps ...
PuertoRicoDayTrips.com assumes no responsibility regarding your safety when participating in the activities described in this article. Please use common sense! If your mother or that little voice in your head tells you that you are about to do something stupid … then don't do it!